LTC Hal Moore Summoned to a Woodshed Session?
LTC Hal Moore Summoned to a Woodshed Session?
There is a detail that LTC Hal Moore mentioned in his book We were soldiers and young that is quite intriguing. This detail is also recorded in the Daily Log of G3/IFFV, Nhatrang on November 15:
- 21:05H: 1st Cav (Col Beaty): Lt Col Moore will arrive Saigon 1130 in morning (to brief Gen DePuy).
LTC Hal Moore wrote on page 216 of his book:
Around midnight [November 15] Lieutenant Colonel Edward C. (Shy) Meyer, 3rd Brigade executive officer, passed me an astonishing message: General William Westmoreland 's headquarters wanted me to "leave X-Ray early the next morning for Saigon to brief him and his staff on the battle." I could not believe I was being ordered out before the battle was over! I was also perplexed that division or brigade HQ had not squelched such an incomprehensible order before it reached me. My place was clearly with my men.
"To brief Gen DePuy"? General DePuy might have needed the input of the battalion field commander of LZ X-Ray in his decision to withdraw one Air Cav battalion to entice B3 Field Front Command to maintain the statu quo of their troops positions before they realized the balance of opponent units had switched from 2:2 to 3:2 (1/7, 2/7 and 2/5 Air Cav vs 7th and 9th NVA Battalions). However, it was more likely that the reason for the summon was that General DePuy needed to meet face to face with LTC Moore to give him an order that would be difficult for him to swallow. General DePuy might have already encountered or anticipated LTC Moore's resistance against such an incomprehensible order which went against his initial search and destroy mission in executing an air assault into Chu Pong. General DePuy might have told him his real mission of diversionary move in support of the pre-planned B-52 airstrikes was achieved and that for the operational concept of the campaign to carry on, he needed to extract 1/7 Air Cav as the next step.
If such an order had not been squelched by Brown and by Knowles at brigade and division forward HQ, it was because these two commanders had conveyed to DePuy that they sensed that Moore would oppose to the order of withdrawing his 1/7 AC in the heat of the battle when they suggested to him that idea in mid-morning and mid-afternoon of November 15, respectively. Moore wrote on page 202 and page 210:
Mid-morning, before Tully arrived, Colonel Tim Brown flew in for a visit. (…) Just before he departed, Colonel Brown told us that we had done a great job but now that Tully's fresh battalion was coming in, along with two rifle companies of the 2nd Battalion, 7th Cav, he would likely pull us out of X-Ray the following day.

(…)

Within half an hour after the Tully task force had returned to X-Ray [4:30 p.m.] Brigadier General Richard Knowles came up on the radio asking permission to land. (..) Before leaving, General Knowles told us that he would direct Tim Brown to pull my battalion and the attached units out of X-Ray the next day and fly us back to Camp Holloway for two days of rest and rehabilitation.
Colonel Moore got to voice his objections against the order. He wrote on page 217:
Around 1:30 a.m., I got Shy Meyer on the radio and registered my objections to the order in no uncertain terms. I made it very clear that this battle was not over and that my place was with my men - that I was the first man of my battalion to set foot in this terrible killing ground and I damned well intended to be the last man to leave. That ended that. I heard no more on the matter.
It is noteworthy that the order was not passed on to Moore by Colonel Brown himself, but rather by Lieutenant Colonel Meyer, 3rd Brigade executive officer.
One might speculate the reason Moore 'heard no more on the matter' was he might said to Meyer or let Meyer understand that he would not object to pull out his battalion in the middle of battle heat the next day as long as he is allowed 'to be the last man of his battalion to leave'.
Moore did not realize how fortunate he was. Otherwise, the last word he would have heard would be, 'You are relieved of the command of 1/7 AC', just like Colonel Stockton, Commander 1st Squadron, 9th Cavalry was relieved of his command by General Knowles on November 2 for his undisciplined behavior in a successful ambush operation. Moore wrote on page 33:
The move saved the day, but it also cooked Stockton's goose: General Knowles said he had ordered Stockton to obtain his explicit permission before committing Ted Danielsen's Alpha Company troops to action. The incident ended with Stockton being transferred to a staff job in Saigon, and the division losing one of its most controversial and successful battalion commanders.
In any case, the extraction of 1/7 Air Cav - and B/2/7 Air Cav - was announced around 11:00H of November 16 as recorded by G3 Journal/IFFV:
- 11:00H: 1st Cav Adv Maj Boyle - At 0735 2/7 killed 8 VC (BC), est 100 KIA in area. 1/7 and B/2/7 to be extracted to camp Holloway when contact with enemy is broken. No time estimated.
And at 11:35H:
- 11:35H: 1st Cav Maj Turner - (Encoded) - Present plan extract 1/7 and B/2/7 today, then pull back 2000 meters to defensive position.
From LTC Moore's side, he wrote in We Were Soldiers Once… and Young, page 229:
At 10:40 A.M., with two fresh battalions - Bob Tully's 2nd Battalion, 5th Cavalry and Bob McDade's 2nd Battalion, 7th Cavalry - now in or on the way to X-Ray, Colonel Tim Brown ordered the weary survivors of my 1st Battalion, 7th Cavalry to prepare to pull out for some needed rest. Brown also told us that Captain Myron Diduryk's Bravo Company, 2nd Battalion and Lieutenant Sisson's platoon from Alpha Company, 2nd Battalion, which fought alongside us, would also have the same opportunity to rest and refit. We would fly by Hueys to Landing Zone Falcon, and from there by CH-47 Chinook transport helicopters on to Camp Halloway in Pleiku.
The fact that General DePuy, who was J3 chief, MACV in charge of B-52 airstrikes, got personally involved in the LZ X-Ray battle is an indication that the main action in the LZ X-Ray battle was Arc Light and 1/7 Air Cav's role was secondary and was in support of that Air Force's action, contrary to the general belief that the Arc Light Operation was in support of the ground forces.
General DePuy was executing the operational concept designed by ARVN G3/II Corps (G3 Journal/IFFV, 11/15/1965):
- 10:30H: MAVC J3 (Gen DePuy) Gen DePuy called Col Barrow and asked if Arc Light had been cleared with CG II Corps. Col Barrow replied yes, CG II Corps has approved Arc Light. Target area approved by Col Barrow and Col McCord. Also Gen DePuy wanted to know if the elem of 1st Cav had received the 151600H restriction on not going west of YA grid line. Col Barrow informed Gen De Puy that the 1st Cav had acknowledged receipt of the restriction and would comply. Gen DePuy personally changed target configuration.
This plan had been studied by J3/MACV in coordination with G3/II Corps since September 1965, before the Communists launched the Plâymę campaign with the attack at Pleime camp on October 19, 1965 (Intelligence Aspects of Pleime-Chupong Campaign, page 6):
The Chu Pong base was known to exist well prior to the Pleime attack and J2 MACV had taken this area under study in September 1965 as a possible B-52 target.
General Knowles reveals that the purpose of the insertion of the Air Cavalry troops at LZ X-Ray on November 14 was to "grab the tiger by its tail" and to hit its head with B-52 airstrikes from November 15 to 16. He also explains the reason for pulling out of LZ X-Ray on November 17 and moving to LZ Albany was "to grab the tiger by its tail from another direction" and continued to hit its head with B-52 bombs from November 17 to 20.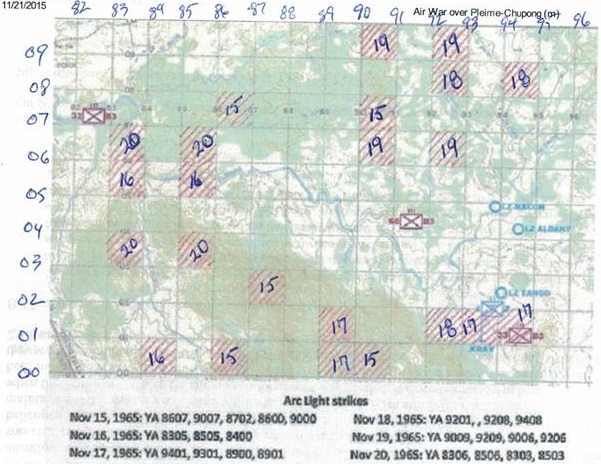 Nguyen Van Tin
1 July 2014
Updated 11/29/2015
Documents
- Primary
- Books, Articles
* Pleiku, the Dawn of Helicopter Warfare in Vietnam, J.D. Coleman, St. Martin's Press, New York, 1988.
* We Were Soldiers Once… and Young, General Harold G. Moore and Joseph L. Galloway, Random House, New York, 1992.
* "First Strike at River Drang", Military History, Oct 1984, pp 44-52, Per. Interview with H.W.O Kinnard, 1st Cavalry Division Commanding General, Cochran, Alexander S.
* The Siege of Pleime, Project CHECO Report, 24 February 1966, HQ PACAF, Tactical Evaluation Center.
* Silver Bayonet, Project CHECO Report, 26 February 1966, HQ PACAF, Tactical Evaluation Center.
- Viet Cong