Intelligence Gathering at Ia Drang
Usually, in a battle, whichever side has better intelligence than the opposite side, that side has more chance to win the battle. This principle is correct in the case of the Chu Pong-Ia Drang battle.
An overall picture of the intelligence gathering at Ia Drang can be obtained by putting together the pieces of information contained in the following primary source documents:
1. Pleiku, the Dawn of Helicopter Warfare in Vietnam, J.D. Coleman, St. Martin's Press, New York, 1988.
2. We Were Soldiers Once… and Young, General Harold G. Moore and Joseph L. Galloway, Random House, New York, 1992.
3. First Engagement With American Troops at Pleime-Iadrang, General Pham Huu An, Chien Truong Moi, Memoir, Quan Doi Nhan Dan Publishing House, Hanoi, 2002.
4. Pleiku Campaign, 1st Air Cavalry Division Headquarters, General Harry Kinnard, March 4, 1966.
5. Pleime Battle Viewed From G3/I Field Force Vietnam, G3 Journal, I Field Force Vietnam, October 1965.
6. Than Phong 7 Viewed From G3/I Field Force Vietnam, G3 Journal, I Field Force Vietnam, November 1965.
7. Tribute to a Brilliant Commander, General Norman Schwarzkopf, It Doesn't Take A Hero, Bantam, 1992.
8. Why Pleime, General Vinh Loc, Information Printing Office, Saigon, September 1966.
9. "First Strike at River Drang", Military History, Oct 1984, pp 44-52, Per. Interview with H.W.O Kinnard, 1st Cavalry Division Commanding General, Cochran, Alexander S.

Valuable Intelligence Gathered

I.D. of units and their respective roles were quickly ascertained by G2/II Corps (Why Pleime, Coleman): first attack in phase I: 33rd Regiment NVA at Pleime campsite, 32nd Regiment NVA at ambush site; second attack in phase II: 32nd Regiment NVA, 33rd Regiment NVA, 66th Regiment NVA, H-15 Main Force Battalion (local unit), one battalion of 120 mm and 82 mm Mortars, one battalion of 14.5 mm Anti-Aircraft Machine guns. I.D. of Field Front B3 Commanding Officers were also known: General Chu Huy Man wearing a second hat as Commanding General of Military Region IV, and his principal assistants Colonel Quan, Assistant to the Commanding General, and Senior Colonel Ha Vi Tung, Chief of staff (During the Indo-China war, Ha Vi Tung was commander of the 803rd Regiment which together with the 108th Regiment constituted the main forces of the Viet Minh in the Central Highlands. To their credit were the occupation of Kontum and the defeat of French Task Force #100 on Highway 19).

As soon as the two 32nd and 33rd Regiment withdrew from the ambush site and the vicinity of Pleime camp, G2/II Corps knew that they were ordered by Field Front B3 Command to return to their initial staging area before the attack in Chu Prong- Ia Drang complex (Why Pleime). And from there on, the various positions of the two regimental headquarters as well as Field Front B3 headquarters were known by the days and in real-time from October 27 to November 13, the day before the landed assault conducted by 1/7th Air Cavalry Battalion into LZ X-Ray (Pleiku, Coleman):
On 10/27, the lead elements of the 33d had closed on it forward assembly area, the village Kro (ZA080030); on 10/28, the 32d Regiment had nearly closed its base on the north bank of the Ia Drang; on 10/29, the 33d Regiment decided to keep the unit on the move to the west, to Anta Village ( YA940010), located at the foot of the Chu Pong Massif; on 11/1, the 33rd regiment headquarters closed in at Anta Village; on 11/2, by 0400 hours, the 2d, the regimental CP had arrived at Hill 762 (YA885106); on 11/05, units of 66th Regiment continued to close in the assembling areas in the Chupong-Iadrang complex; on 11/07, the depleted 33d Regiment licked its wounds and waited for its stragglers to come in, meanwhile the remainder of Field Front forces were quiet; on 11/08, only fragmented units and stragglers remained east of the Chu Pong-Ia Drang complex; on 11/09, the 33d Regiment gathered in the last of its organic units; on 11/11, the three battalions of the 66th Regiment were strung along the north bank of the Ia Drang river (center mass at 9104), the 32nd Regiment was also up north in the same area (YA820070), the 33rd Regiment maintained its positions in the vicinity of the Anta Village, east of the Chu Pong mountains.
Besides units' movements and positions, G2/II Corps, in many instances, also knew what was going on within the regimental and divisional headquarters (Pleiku, Coleman):
- On 11/1, soon after arrival at Anta Village, the regimental cadres held a conference in an attempt to discover what was allowing the US forces to make such repeated, accurate air strikes. It was concluded that only spies within the ranks could be furnishing the location and movement of the regiment's elements.

- On 11/2, the NVA division headquarters (Field Front) got the news the 66th Regiment due to arrive soon in South Vietnam and begin moving into assembly areas in the Chu Pong-Ia Drang area.

- On 11/04, the 33d Regiment was ordered out of its base at Hill 732, which it had hardly reached, and onto the eastern slopes of Chu Pong in the vicinity of YA922010 with its battalions (when they closed) to take up positions from Hill 732, down through Anta Village (940010) to the north bank of the Ia Meur (980000).

- On 11/08, the 33d Regiment began to assess its losses.

- On 11/09, the 33d Regiment began to count noses. There were many missing. The regimental muster brought these casualty figures:

| | | |
| --- | --- | --- |
| Units* | Approx Strength Prior to Pleime | Percent or Number of Casualties |
| 1st Battalion | 500 | 33% KIA |
| 2d Battalion | 500 | 50% KIA |
| 3d Battalion | 500 | 33% KIA |
| Regt Mortar Company | 120 | 50% KIA |
| Regt Anti Acft Company | 150 | 60% KIA |
| Regt Signal Company | 120 | 4 KIA-16 MIA |
| Regt Transport Company | 150 | 50% KIA |
| Regt Medical Company | 40 | 80% KIA or MIA |
| Regt Engineer Company | 60 | 15 KIA or MIA |
| Regt Reconnaissance Co | 50 | 9 KIA |

In total, the headcount showed 890 men of the original 2,200 killed, with more than 100 missing and still more suffering from incapacitating wounds. Materiel losses were also heavy with the Regimental Anti-air-craft company losing 13 of its 18 guns and the Regimental mortar company losing 5 of its 9 tubes. Six more mortars were lost by the battalions, along with most of the recoilless rifles. The ammunition, food and medical supply losses also had been crippling.

- And at Field Front headquarters north of the Ia Drang, it was a day of situation analysis.

- On 11/11, Field Force B3 decided a second attack on Pleime camp scheduled for 11/16.

- On 11/12, Field Front units continued preparations and rehearsals for the scheduled attack on Pleime.

- On 11/13, Field Front forces began staging in the Chu Pong-Ia Drang area in preparation for movement to Pleime and the projected 16 November attack. Some recon parties and transportation units already had moved out.
Another piece of major significant intelligence obtained following the discovery of 33rd Regiment' hospital by 1st Air Cavalry Brigade on November 1, was a map showing enemy supply and march routes (Why Pleime, Pleiku, Coleman):
The capture of the aid station was a major find for the division and besides the opportunity it provided for destruction of NVA forces, it also yielded documents, including one particularly valuable map, that revealed enemy supply and march routes. These, in turn, were converted into intelligence that led to further interdictory bombings by the Air Force.
With such abundance of precise intelligence, II Corps knew more about B3 Front than B3 Front about II Corps (Coleman):
With this intelligence coup, the Communists were put in a unique position in the Vietnam War. They knew less about the opposition than the opposition knew about them.
Intelligence Gathering Methods
According to the mutual agreement on a "modus operandi", II Corps and 1st Air Cavalry Division operated based on Joint intelligence (Why Pleime). The G2 intelligence officers of different units worked closely with each other (Coleman): LTC Bobby Lang, 1st Air Cavalry Division Forward CP; Major William P. Boyle, II Corps G2 Advisor; Major Wilmer Hall, 1st Air Cavalry Brigade; Captain John Prichard, assistant G2 3rd Air Cavalry Brigade; Colonel Nguyen Van Phuoc (24th Special Tactical Zone), LTC Ngo Tan Nghia and Captain Luong (IPW team), G2 II Corps.
The contribution from 1st Air Cavalry Division consisted mainly on radar and infra-red reports from aerial surveillance and target acquisition platoon and Radio Research Unit (Pleiku, Coleman):
h. Target detection and destruction. Operations by the division in the Pleiku area refined a previously tested technique of detecting and reacting to enemy targets of opportunity. The DTOC received direct SLAR and infra-red (I-R) reports from the aerial surveillance and target acquisition platoon (OV-1 Mohawk) and USAF sources, plus reports and the Radio Research Unit.
II Corps contribution consisted mainly on interrogations of prisoners and ralliers, recon missions by Montagnard Eagle Flight teams and VN Airborne Rangers teams inserted inside enemy territories, and radio intercept reports :
- Interrogations of prisoners and ralliers: there were about 150 prisoners and ralliers captured during the Pleime campaign (Coleman); all prisoners and ralliers were brought to the Interrogation of Prisoners of War Center set up at II Corps Headquarters; intelligence information generated from VC prisoners and ralliers contributed greatly in understanding clearly the enemy situation; Colonel Hieu emphasized this point in listing 24 such interrogations reports out of 32 sources in the reference section of "Why Pleime"; prisoners confirmed that the second attack planned on Pleime camp for November 16 would be an all-out attack to overrun the camp immediately (Why Pleime).
- Recon missions by Montagnard Eagle Flight teams: CIDG Eagle Flights were attached to 1/9th Cavalry Squadron to be used as scout and recon teams from 1 to 15 November (Pleiku):
B 2/9 Cav Sqdn was returned to squadron control at 1230 hours and the squadron (-) began search operations in the area of the Le Thanh District Headquarters (ZA246245) with a Special forces CIDG "Eagle Flights" attached. The attachment, despite the aerial connotation, actually was a Montagnard ground reconnaissance group consisting of six, 5-man scout squads.
- VN Airborne Rangers: II Corps initially used 2 Airborne Ranger Companies to gather information about enemy troops distribution around Pleime Camp, which lead to the determination of enemy intention to interdict rescue operation by air (Why Pleime); VC intelligence discovered that the 1st Air Cavalry Division air assaults were, in the majority, lead by Airborne Rangers (Why Pleime):
2nd Phase: use small detachments and coordinate with Vietnamese Special forces Rangers to conduct raids into our rear (28 Oct to 11 Nov 1965).

Vertical landing by "frog leaps" into our rear by helicopters (28 Oct. to 10 Nov. 1965). Forces used: from one battalion to one company of US troops or two companies of US troops coordinated with Vietnamese SF Rangers.

Before landing. Reconnaissance of landing zones by repeated air reconnaissance or by small Vietnamese SF Rangers teams.

Vietnamese SF Rangers or US reconnaissance elements always land first to secure the LZ for the landing of riflemen, fire support elements and CP.

After landing. The Vietnamese SF Rangers usually push far in patrols.
VN Airborne Rangers usually operated stealthily deep in enemy territories (G3 Journal/IFFV) :
- 10:35H: II Corps (Sgt Minney)(encoded) Request Delta Team locations and no fire zones for them.

- 11:00H: II Corps (Capt Ushijima) Ref your encoded msg (Concerning loc of Delta Tms). II Corps has no knowledge of their locations.
They acted as eyes and ears of LTC Ngo Quang Truong, Airborne Brigade Commander (Schwarzkopf), in radioing to him enemy positions for Truong to call in artillery strikes and in alerting him that the 5th Airborne had been shadowing by an enemy battalion-sized force (Why Pleime).
- Radio intercept reports: Amid radio intercepts of enemy communications were messages in Mandarin; it was one of those relayed to him by G2/II Corps that LTC Hal Moore said help him in determining the enemy troop position in Chu Pong massif, before his landed assault into LZ X-Ray (Moore):
Over a cup of coffee, Matt Dillon passed along one interesting piece of information that the radio relay intercept team attached to our headquarters had come up with. Says Dillon: "They had made an intercept of a coded message in Mandarin dialect, like a situation report, from a position somewhere on a line from Plei Me camp directly through a clearing at the base of Chu Pong mountain. The intelligence lieutenant had a map with a line drawn on it. He said that the radio transmitter was somewhere on this line."
The message was in Mandarin dialect because of the presence of Chinese Advisors with enemy troops. G2/II Corps learned from prisoners that there was one Chinese Advisor for each three of the 32nd, 33rd and 66th Regiments (Why Pleime); Coleman said a surgeon captured at the regimental hospital appeared to be a Chinese:
There was also the captured NVA medical staff, including a larger-than-average man who Oliver still believes was a Chinese surgeon.
The presence of Chinese Advisors was exploited by the Psywar team to entice defection among the enemy troops: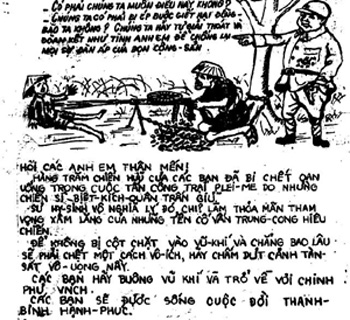 All the real-time intelligence information on movements, positions, communications, reports, analysis of the regimental and divisional headquarters by the days mentioned above were gathered from radio intercepts. They were messages sent by Chinese Advisors at regimental level to Chinese Advisors at divisional level and vice versa. Unknowingly, they were the " spies within the ranks" that the enemy cadres tried to uncover! The Chinese Advisors were more carefree in their radio communications than their VC counterparts, because they and their VC counterparts also, did not suspect that G2/II Corps had any radio interceptors that could understand the Mandarin dialect. They failed to count Colonel Hieu, II Corps Chief of Staff, who was born in Tianjin, China and only returned to Viet Nam at the age of 20 years old!
Coleman mentioned "special agents" as one of the intelligence sources. It was unlikely that G2/II Corps was able to insert such agents within the enemy ranks. They were nothing other than the unintentional Chinese "spies".
G2/II Corps assessed that the VC had a decent radio transmission system that allowed them to apply the mobile ambush tactic at Pleime (Why Pleime):
4) They can apply such tactics because adequate means of communications are now at their disposal.
However, communications were only adequate at regimental and divisional levels. Below that, Commanders, especially in the heat of the battle, still had to depend on foot messengers. General Nguyen Huu An wrote about his November 14 counter-attack at LZ X-Ray (Huu-An):
Only late that day did I met the officer that commanded the 66th Regiment - La Ngoc Chau, the regimental political officer. Chau revealed that the regimental formation had been dismantled by the enemy, and he had lost communication and was only in control of the 7th Battalion and the enemy situation close to this battalion.

The information provided by political officer Chau coupled with reports from recon teams, allowed us to identify the enemy confronting our 7th Battalion was US 1st Battalion minus belonging to 3rd Air Cavalry Brigade. I and Dang Vu Hiep, as commanders of the forward command post, after a brief consultation, decided to use the 7th Battalion to swiftly attack US 1st Battalion.

After listening to my directives, Chau reported:

- We lack time, I will be able to control the enemy position, but how can I relay the plan to our troops in time to organize a night attack.

I said:

- While advancing to the staging area, tell your company officers to walk by your sides, and while marching explain to them their tasks and plans of attack to the company and battalion commanders; upon closing in the assembling area, leave the troops behind, have the rest of company and battalion commanders spread out in recon and coordination missions at the battleground. The enemy had just landed and their feet still wet, our immediate attack had the advantage of the element of surprise.

(…)

B3 Front Command maintained close communication with our forward command post by radio. Knowing that we were in control of both the 66th and 33rd Regiments, our superiors were reassured.
In Pleime, Trận Chiến Lịch Sử, page 172, Colonel Hieu indicated there existed a well-equipped communication system between the Chinese Advisors in Phnom Penh and Hanoi:
The natural corridors often mentioned by General Delange in 1951 would not be efficient without the existence of Cambodia, without the concealment of Red Chinese advisors who enjoyed full amenities living in Pnom Penh, without the excellent communication by ways of telephone and airgram between Phnom Penh and Hanoi.
- Another intelligence source was documents captured, in particular at the regimental hospital site (Coleman):
Stockton also decided to immediately evacuate … what eventually became a couple of duffel bags full of documents. It was, as Oliver noted, "a G-2 dream come true."
Amid these documents, was a valuable map that revealed the supplies and march routes (Why Pleime, Pleiku, Coleman):
It was a beautifully preserved sketch map that showed the major infiltration trails leading from Cambodia through the Ia Drang Valley into the Chu Pong Massif and, from there, the attack positions at Plei Me. Besides showing the principal routes of the approach used by the 33rd and 32nd Regiments, it pinpointed many important unit locations and other valuable data.
That map undoubtedly helped G2/II Corps in providing to LTC Ngo Quang Truong, Airborne Brigade Commander, the knowledge in positioning the ambush site that cornered the 635th Battalion NVA on its withdrawal corridor to Cambodia (Schwarzkopf).
- Last but not least, individual enemy troop's diaries were also valuable intelligence sources in reading the morale of the enemy combatants (Why Pleime). Colonel Hieu quoted lengthily the diary of Vuong Luyen, an assistant platoon leader belonging to the NVA 32nd Regiment:
The following pages are translated excerpts from the diary of Vương Luyện, an assistant platoon leader belonging to the NVA 32nd regiment. Luyện is also a member of the Communist Party and began to write his diary since 26 August 1964, when his unit started to leave North Vietnam for the infiltration into South Vietnam.

This diary is only one among numberless others captured by the ARVN and US Forces during the big battles of Pleime, Chu Pong and Ia Drang.

Theses pages are selected because their author has written more regularly and with more details than the others, especially about the ambush on Provincial route #5 from Pleiku to Pleime. They cover the period from 16 October to 10 November 1965, the preparation for the ambush, the failure of the VC and their distressing withdrawal to the Chu Pong mountains.
Conclusion
I hope that by this study on intelligence at Ia Drang, I succeed in dispelling once and for all the myth that the 1/7th Air Cavalry Battalion landed assault into LZ X-Ray with sketchy American intelligence (Cochran):
The choice to go into the Chu Pong, a longtime enemy sanctuary (near the Cambodian border) into which ARVN had never gone, was not mine. It was either that of General Knowles or the brigade commander. We hadn't looked at the area. It wasn't intelligence that led us there. If anything, it was the lack of intelligence, and this seemed a logical place.
It is amazing and unthinkable that General Kinnard could have uttered such a statement when he was the one who signed off the Pleiku Campaign After Action Report, which contains all the daily intelligence reports that revealed the VC regimental and divisional headquarters' movements and positions. The only explanation for this contradiction is that he was not its author, Captain Coleman was, and he did not read closely its contents before or after signing his name, nor was he in command of the Pleiku Campaign, General Knowles, his deputy commander, was and under the control of ARVN II Corps Command. Because of the precise knowledge provided by intelligence of the time and place of staging phase conducted by the three Regiments, 32nd, 33rd, and 66th, in preparations and rehearsals in view of the planned second attack against Pleime camp, II Corps Command was able to apply the operational concept consisting in annihilating the enemy with B52's carpet bombings from November 15 to 22, 1965 all over the Chu Pong-Ia Drang complex.
Nguyen Van Tin
10 August 2011
Documents
- Primary
- Books, Articles
* Pleiku, the Dawn of Helicopter Warfare in Vietnam, J.D. Coleman, St. Martin's Press, New York, 1988.
* We Were Soldiers Once… and Young, General Harold G. Moore and Joseph L. Galloway, Random House, New York, 1992.
* "First Strike at River Drang", Military History, Oct 1984, pp 44-52, Per. Interview with H.W.O Kinnard, 1st Cavalry Division Commanding General, Cochran, Alexander S.
* The Siege of Pleime, Project CHECO Report, 24 February 1966, HQ PACAF, Tactical Evaluation Center.
* Silver Bayonet, Project CHECO Report, 26 February 1966, HQ PACAF, Tactical Evaluation Center.
- Viet Cong