- The tasks: reorganization of the torn-off NVA 32nd, 33rd and 66th Regiments and reestablishment of destroyed logistical installations.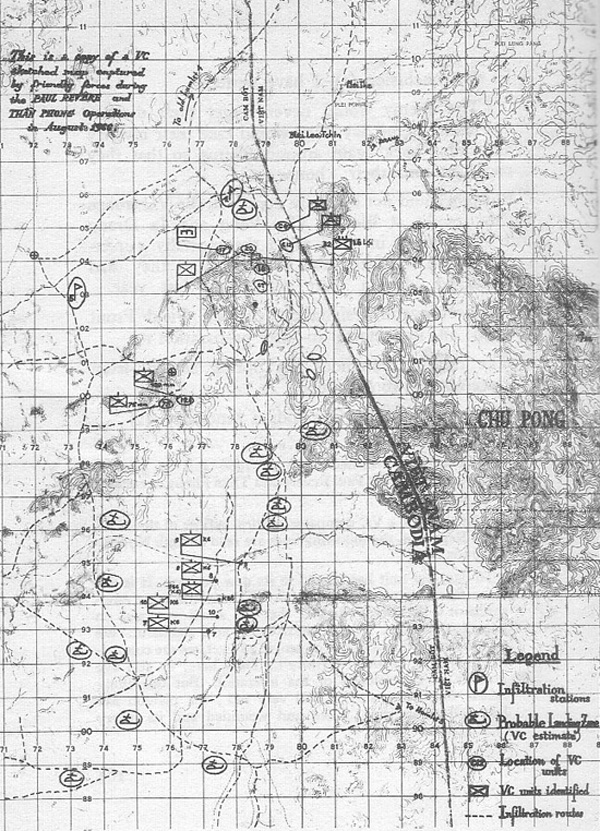 With more than ten "infiltrated contingents", varying from platoon to battalion size and also with elements from the NVA 9th Regiment (3), the casualties of the three regiments were replaced. The Field Front also took its final appellation as the NVA Lê Lợi Division Headquarters. (See The VC Order of Battle). A huge logistical center was established at Stung Streng and two supply points of food and equipment registered West of the Chu Pong Massif, in Cambodian territory.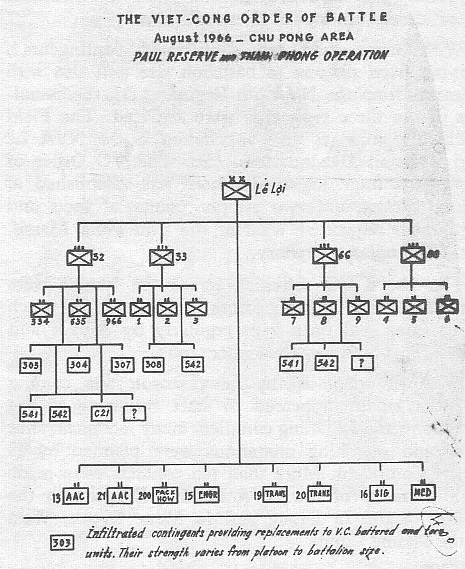 The above VC activities across the border were not unknown to friendly forces. In fact, a close watch of the area had been kept regularly by ARVN and Allied Forces since December 1965.
In April 1966, as the rainy season was coming and the enemy appeared to start returning to the Chu Pong and Ia Drang complex, many reconnaissance raids and searching operations were planned by II Corps Command. More than ten contacts were made with elements of the NVA Lê Lợi Division in the valleys of the Ia Drang and Ia Meur Rivers, West of the Pleime Camp.
II Corps Command then launched the Than Phong 17 and Than Phong 18 Operations with all its Ranger and Armor Battalions reinforced with the ARVN Airborne Battalions of the General Reserve in cooperation with the Paul Revere II Operations by US and Allied Forces. (See Friendly Order of Battle).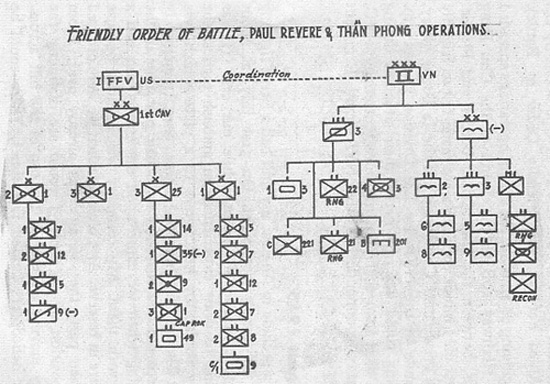 Beginning on 10 May, the area of operations spread from Highway 19B to the South of the Chu Pong Massif, between the Cambodian border and Pleime. At first only minor contacts were made but as friendly forces drew near Chu Pong and the Ia Drang valley, the units of the NVA Lê Lợi Division showed up. Nothing could describe better their situation during these days than the following lines written by a VC, company commander of the NVA 32nd Regiment in his diary.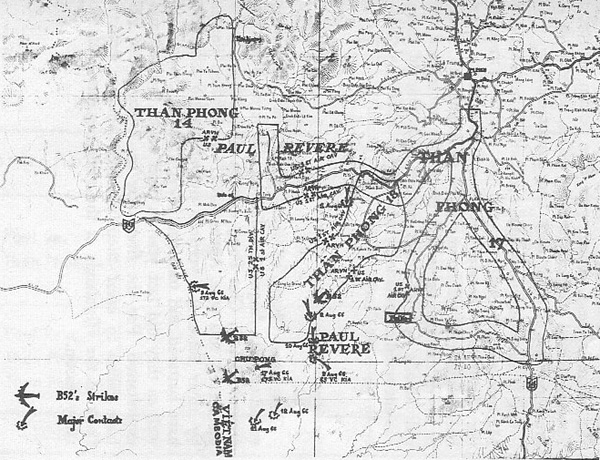 1 August 1966
As a prelude to August, my unit had a fierce fighting with the enemy last night. On 31st July, at about 5 o'clock in the afternoon, while our cell(4) was meeting to draw experiences in ambush tactics, the enemy landed by helicopters to a place which was about 1 hour of foot movement from ours. Immediately we departed and marched until half past four in the morning when we came upon the enemy and had a fight with them. My company was unlucky because we were in reserve. At 5 o'clock, when we were ordered to take part, the firing was already over. From the position of my unit, I could see distinctly the enemy moving around on the top of the hill across. Their helicopters landed five times. There could be others but I did not know because afterwards my company was ordered to withdraw. Huge helicopters were landing and enemy troops going to and from, appearing very self-confident. I would have been able to kill at least some of them if I had been told to open fire! I wished to have some mortars and there would be no difficulty to destroy some of their aircraft. I really did not understand why our commanders did not allow us to attack and instead, summoned us to withdraw at 8 o'clock. Right now, enemy aircraft keep hovering around and there can be tonight an attack...
3 August 1966
The enemy had probably detected our positions. Yesterday afternoon, their strength was largely increased and their landings took place everywhere. My unit had to withdraw back and we marched for four hours... Last night, the enemy artillery barrage incessantly pounded on our route of withdrawal and their aircraft were flying all the time. It seems that we are going to be again forced into a long march. But this time there will be more difficulties: lack of food and of men. From tomorrow, each of us will have only a milk-can of rice per day. The weak men will have to help those who are weaker to find an escape, to surmount difficulties in search of a safe place.
5 August 1966
We are on the 4th day of our withdrawal. We still have to escape from the enemy push and encirclement. The enemy situation could not be kept abreast. Now they are here but later they could be elsewhere. All the trails are under continued enemy barrage, especially early in the mornings... Our rice bag is becoming lighter and lighter. Our efforts are gradually nearing their ultimate limits. We keep on eating only a can of rice per day...
7 August 1966
Six days have passed since we began to withdraw. The last two days were the hardest. We had to march overnight. Most of our energy has been consumed but the results obtained were too small. To make everything worse, two of us were killed by enemy artillery the other night. During daylight it was the enemy aircraft, at night it was the turn of the artillery... The longer this life continues, the greater will be our difficulties and risks. From to day, it will be only 8/10 of a can of rice per day: a bowl of rice for the size of a duck-egg per day! No words could describe our present hunger which we are now trying to appease with chestnuts found in the jungle...
oOo
On 9 August, at 2330 hours, a VC battalion size unit broke into the position of the 9th Company of the 3/1 ROK Cavalry battalion. Four hours later, they had to withdraw, littering the battlefield with 181 of their dead, along with five 60 mm mortars, 23 crew-served weapons and 53 rifles, as well as a great amount of equipment and ammunitions.
On 11 August, the whole crew of an anti-aircraft machine-gun surrendered and for the first time in the battlefield, nearly one hundred "ralliers" have been registered within one week in August 66. What is worth mentioning is that they have come back not individually but by small groups and none of them has answered affirmatively when offered the opportunity to go back North of the 17th Parallel.
oOo
The Than Phong 18 and Paul Revere operations ended on 28 August 66. The second series of battles around Pleime, Chu Pong and Ia Drang have taken place early this year. Again ARVN and Alled Forces by their unusual "vertical movement to contact" have battered and torn the NVA Lê Lợi Division as well as they did last year in their relief, pursuit and exploitation. For the first time in history, the VC have failed to exert their pressure on the western flank of the Highlands at the very beginning of the rainy season.
---
(1) The book was finished in April 1966 and on printing since then, while the Paul Revere and Thần Phong operations were taking place.
(2) In the diary of a VC company political officer of the NVA 32nd Regiment, the following lines are read on 29th November 1965:
"To day, my unit has moved to its new position. It is not a too far away place, because we still have the same environment: the dense jungle, the dry small streams, on friendly territory. It is disheartening and shameful. We do not lack of territory nor of people and yet, we are compelled to live on friendly territory! Over here, we still live the life of the soldiers of the liberation. But one thing makes those who survive feel very sad: the platoon has lost half of its men, killed and wounded and its merry atmosphere of yore…"

(3) Securing the Ho Chi Minh Trail in Lower Laos.
(4) The man was a member of the Communist Party.

Major General Vinh Loc
Colonel Hieu, ghoswriter
(Why Pleime - September 1966)