Photos of a 1/48 scale HU-1H model manufactured by ESCI of General Hieu's helicopter are posted at VNAF forum of www.canhthep.com by flyingdragons.
It seems to be modeled after the helicopter shown in the following photo: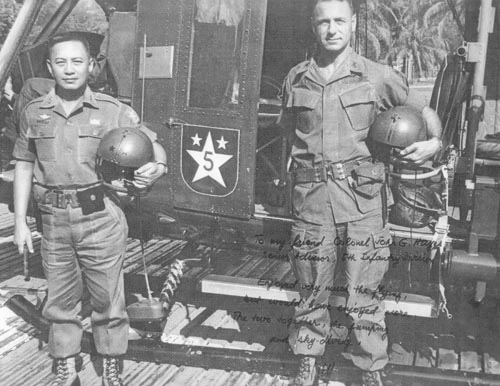 This photo was taken after General Hieu showed off his flying skills to Colonel John Hayes, Senior Advisor of ARVN 5th Division.
A Few Anecdotes Pertaining To The Helicopter
** Major Edgar C. Doleman, an advisor with the 5th ARVN Division, remembered General Hieu as a very competent divisional commander. He was extremely fluent in English and used to tell jokes when his C&C helicopter was under enemy fire, in order to alleviate the tension and fear among the other passengers. Major Doleman recalled that, being a junior advisor, he was frequently assigned by the senior advisor the dangerous task of accompanying General Hieu on his field inspection flights, and unfortunately for him General Hieu liked to fly constantly.
** Mrs. Couch, ARVN 5th Infantry Division Deputy Advisor Colonel Roy Couch' widow, informed me that her husband died in a helicopter accident in a trip he took in company of General Hieu to visit the troops garrisoned in a remote outpost in February 1970. Upon arriving at the outpost, the helicopter did not land down completely on the ground, but instead hovered at 3 feet above ground, ready for an emergency take off in the eventuality the VC would fire rockets onto the outpost or open fire directly at the helicopter. General Hieu disembarked first, followed by Colonel Couch. As soon as Colonel Couch's feet touched ground, the pilot pulled the navigation stick to take off. This maneuver caused the helicopter's blades to switch the rotorary direction from downward to upward. One blade clipped Colonel Couch's head. Blood splattered all over and on General Hieu's back. General Hieu was only a few feet ahead of him. In his eulogy for Colonel Couch, General Hieu confided: "When the news of the fatal accident reached the division headquarters on that afternoon of 7 February, it must have been a shock to all the members of the advisory team. I was myself in a state of shock, for I was a few steps in front of him when it happened."
** Captain Thuong recounted that one night, soldiers at the outposts reported that Viet Cong sappers was breaking through barbed wire fences. He immediately reported back to the divisional headquarters as instructed by General Hieu, and at the same time he dragged along Captain Ranger, his American counterpart. They both jumped up on to a 4x4 truck and headed to the outpost. Right at the moment they arrived at the outpost and jumped out of the vehicle, a helicopter scooped down above their heads. The fight flared up during 5 minutes with the catch of three VC sappers. Captain Thuong attributed his survival of a certain death to the sudden and unexpected appearance of General Hieu on the helicopter, because these three VC sappers were discovered at a hiding spot located right behind his and Captain Rangerís backs, and when he questioned them why they did not open fire on them, they said that when they sighted the helicopter, they were afraid that by opening fire they would reveal their position and would jeopardize the entire raid operation. General Hieu had his helicopter land down to bring the three prisoners back to the headquarters for interrogation.
** Captain Nguyen Tuong Tuan recounted: I was 7/5 Recon Company Leader, 7th Regiment, 5th Infantry Division. I had the privilege and honor serving under General Hieu while he was 5th Infantry Division Commander. Although a recon company of a regiment, it was only a few times that my unit got the chance to station in Lai Khe base camp (in order for the troops to rest while the other Recon Company, 5th, 8th and 9th took turn to conduct operation). I cherish a memory about General when our unit was operating in Bui Gia Map area (Phuong Long) and he came all the way down to the battlefield to visit the unit and to operate together with us. His signal code name was 45, and mine was 55.
** Capatin Tran Luong Tri, former 2/8th Battalion recounted: Although I was a Battalion Commander, I nevertheless did not yet have the opportunity to meet with General Hieu, since he recently came to the 5th Division. One day, while the Battalion was sweeping the two sides of National Route 14 near the junction leading to Quang Duc and Phuoc Long, my signal man let me know that 45, signal coded name of the Commander, intended to land down to visit the Battalion. That was the first time I encountered General Hieu. I was surprised because National Route 14, after so many years of neglect was covered with bamboos and trees on it entire stretch; and my Battalion was the Battalion which had just performed a recon in force operation in order to allow American bulldozers to clear the road. Therefore, although I had secured the landing zone, I was nevertheless apprehensive. However, everything happened without a glitch in this first encounter with my new Commander. The operation ended when I reached Phuoc Long, without a lost, except that my unit was weakened by malaria, including me; nowadays I had 3X in my blood.
** Brigadier General Tran Dinh Tho recounted: One time, I accompanied Hieu on a field inspection of a unit stationed in Cambodge. When the helicopter landed, we jumped out and looked around without seeing any soldiers showing up to greet us. Hieu was quite surprised: "How strange: no doubt we are at the coordinates of the location of the unit. Damn it, the unit commander had moved his troops without notification.
** In the Snoul Battle, after General Minh relinquished his responsibility regarding the battle, on 30 May 1971, General Hieu hurried to retrieve withdrawal planning maps among the pile of Snoul luring enemy Operation maps, hopped onto his helicopter and headed straight out to Snoul. Usually on board of C&C helicopter, the Field Commander was accompanied by his general staff comprising heads of G2, G3 and G4. However, because enemy firepower at Snoul battlefield was too fierce, - each time a helicopter appeared above the sky, enemy anti-aircraft firepower poured out like rain, often times General Hieu's helicopter attempted from 8:00 am to 3:00 pm to land down without success - this time General Hieu left behind his general staff and ventured to fly in alone. The Vietnamese pilots courageously flew the helicopters on top tree level.
** Major Thuong recounted̀: Contrary to General Minh, General Hieu was frequently present above 8th Task Force units fighting with the enemy from 5/24/71 to 5/31/71. In particular from 5/24/71 to 5/30/71, he witnessed enemy atrocious anti-aircraft and artillery firepower which prevented medevac and re-supply helicopters from landing. However, not fearing for his life, he continued to fly over the units fighting with the enemy on the ground in order to command and reassure the soldiers. By witnessing the real situation on the battlefield with his own eyes, he believed what Colonel Dzan had reported on the ground.
** In particular from 5/29/71 to 5/31/75, General Hieu demonstrated traits of a battlefield Commander, by braving intense enemy anti-aircraft firepower to fly close to the withdrawing troops on the ground in order to maneuver and reassure the soldiers, despite Colonel Dzanís advice not to allow the helicopter to land down, still gave order to the pilot to scoop down to witness the Recon company capturing8 an enemy anti-aircraft weapon placed close to the outskirt of the base camp. Furthermore, he assumed the role of an Air Control Officer in order to request US Air Cavalry to hit targets through Colonel Kampe. This action caused the enemy to delay troopís movements to encircle and destroy our combatants on the ground. In particular US Air Cavalry never mistakenly shot at our troops on the ground during those days. Therefore general Hieu also assumed the role of an outstanding Air Control Officer!
** As a matter of fact, he used to order his pilot to land the helicopter down into the battlefield, causing his aide-de-camp to dread each time he had to accompany my brother on a battlefield inspection mission. He once confided in me:"Please don't repeat this to his wife, one time General Hieu and his whole commanding staff, after being unloaded by helicopter onto an open space, had to walk quite a few miles through the jungle to avoid the approaching enemy before the helicopter could safely pick them up!" When the Center of Vietnam was collapsing, my brother received the order to help General Nguyen Vinh Nghi to establish a Forward Command Post to contain the sweeping advance of enemy units. He flew by helicopter to the Center of Vietnam to select a location. Upon returning from that trip, his aide-de-camp complained to me:"It was so scary, while circling the area, I could see the faces of enemy staring up at us, and still, General Hieu gave the order to the pilot to land down not far away from there!"
** I was Tiet's friend since the days in Shanghai. The day of the retreat out of Phan Rang, I reached Phan Thiet and encountered a group of air force liaison. They took me up to Ong Hoang hill. One NCO told me: "Lieutenant, go to the TOC building, you might find there something to eat." Upon entering the TOC I encountered a sergeant on duty and asked him for some rice or c-ration because I had not eaten for two days on the way from Nha Trang to here, even the can of water I carried with me was empty. Right at that moment, General Hieu exited from the conference room and entered, the sergeant reported my request, I saw the name tag and the stars and knew it was General Hieu, but under such situation it would take too long to make my identity known, I just saluted militarily and General Hieu shook my hand and instructed the sergeant to do as I requested. That was the first time I met General Hieu and also the last. He hastily exited to board his helicopter to return to his tactical area. He spoke with a gentle voice, unlike the other officers I encountered on my paths.
** Captain Ai recounted further that when III Forward Command Post of General Nguyen Vinh Nghi was overrun by the North Communists in Phan Rang, he was working at III Corps Operational Center in Bien Hoa. Major Hung, a friend of his, radioed back requesting to be rescued by a helicopter, which was at the critical situation the only way to escape. Captain Ai was unable to dig out a helicopter. At the last resort, he tried his luck by entering General Hieuís office and explained to the General his friendís predicament. He was quite surprised when General Hieu simply told him to take his personal helicopter out to fetch his friend!
Nguyen Van Tin
09 May 2008.
Updated on 07.09.2008