General Tran Quang Khoi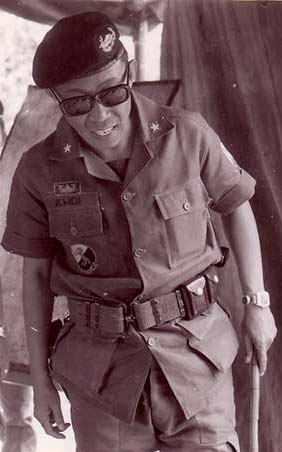 Brigadier General Tran Quang Khoi graduated from the Vietnamese National Military Academy at Dalat in 1952, the French Cavalry School at Saumur in 1955, and the U.S. Army Armor School at Fort Knox in 1959.
As senior advisor to the Vietnamese Chief of Armor, I first met him in 1966 when he deployed the ARVN 5th Cavalry to Xuan Loc. I accompanied him on several operations to reconnoiter for the impending arrival of the U.S. 11th ACR.
In May of 1966, he provided his 1/5 tank troop (M41A3) for airlift to Da Nang ("when Tanks Took Wings," ARMOR, May-June 1994).
In early 1970, his combined-arms Task Force 318 spearheaded the U.S./VN incursion into Cambodia, earning his Corps Commanding General the sobriquet "The Patton of the Parrot's Beak."
In November 1970, he organized and trained III Armor Brigade and commanded it in Cambodia, both before and after attending the U.S. Army Command & General Staff College at Fort Leavenworth in 1972-73.
In 1971-72, I frequently met him in places like An Loc and Loc Ninh as his brigade raced between flash points in Cambodia.
Released from "Re-education Camp" after 17 years, he now resides in Springfield.VA.
He is one of the finest Armor leaders I ever met: bold and daring, but not foolhardy, he knew full well how to use mobility and firepower to produce shock even in terrain like Viet Nam's. He also had the imagination and flexibility to task-organize in such a way as to get the most from his available assets. Had Khoi been a tank battalion commander in Third Army during World War II, General Patton would have acknowledged two peers: Creighton Abrams and Tran Quang Khoi.
Raymond R. Battreall
Col., Armor (Ret)
(Armor, March-April 1996)
Nota Bene: "I have just read some of your information on my grandfather, Tran Quang Khoi. He now resides in South Riding, and has not been in Springfield for years. Just a minor detail in case you want to update your info on your website... Thank you for your time". (Tran Quang Phu, 08/31/2008)