General Hieu, A Competent General
A Note Of Warning.
General Hieu's name is associated more frequently to the image of an honest General, and rarely to one of a competent warrior. As a matter of fact, the mass media of his period as well as nowadays only mentioned the names of other ARVN Generals: Don, Dinh, Tri, Thanh, Vien, Cao, Thi (Nguyen Chanh), Lu Lan, Vinh Loc, Thi (Lam Quang), Tho, Thinh, Dong, Thuan, Giai, Truong, Phu, Toan, Nghi, Nam, Hung, Hai, Vy, Dao, Ba, etc... Hieu's name was missing.
Although I am General Hieu's younger brother, I also mistakenly espoused the majority's opinion and viewed him as an average and ordinary General since I had not seen the mass media praise him as a good warrior. It was not until two decades later - since 1975, and now it is 1999 - that I came to realize my brother was indeed an exceptional warrior. This discovery has been the result of a slow and progressive process. Since the days I committed myself to research my brother's past in August 1998, with documents that the American Advisors had brought back and stored at the National Archives, I progressively discovered the military leadership side of General Hieu, starting with Valiant General Nguyen Van Hieu. That was September 1998. It is now April 1999. Not only did I realize that he was a valiant General, but also an exceptional strategist and tactician. I wanted to share my discovery with everybody, but was afraid I would be ridiculed for applauding the performance of my brother - people would say, "mother always praises her child's performance", in this case, "he is praising his brother's performance"! I still recall a Brigadier General who after he had read my first article entitled My Brother, General Hieu, slapped me with the following comments: firstly, one should not praise his own brother, secondly, if one asserts him to be a competent General, one better back it up with substantial proofs. He sounded so authoritative, and I felt momentarily intimidated because, at that time, I did not yet possess documents related to my brother's military career. And now that I have the proof in hand, I hesitated to write about my brother's military competence. I even propositioned a couple of friends who write well to write about this topic. They all turned me down. Finally, one friend encouraged me to do the job myself: What are you afraid of; you have the proof!
And so, today, I am mustering all my courage to commence the journey of writing this article, telling myself to be careful not to fall into the traps of subjectivity and always to be on the alert to only present objective facts. And as a reader, you are cautioned to maintain a critical mind and at the same token to lend a sympathetic ear to someone who is about "to applaud his own brother's performance."
Born General.
When God creates an individual with a special mission, He stamps a distinctive mark on that individual right at the moment of conception. Therefore, one doesn't have to be a physiognomist to be able to recognize the aura of a General in General Hieu's physiognomy. Just by looking at General Hieu's pictures, one would not hesitate to state that he possessed the features of a General more than any other ARVN General or any other Armies' General, of ancient as well as modern times.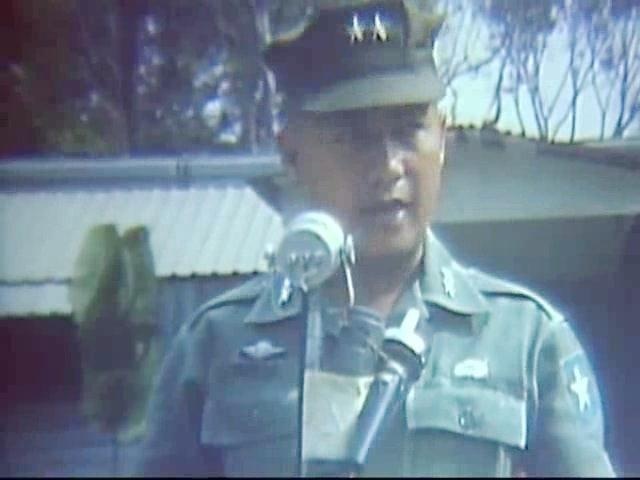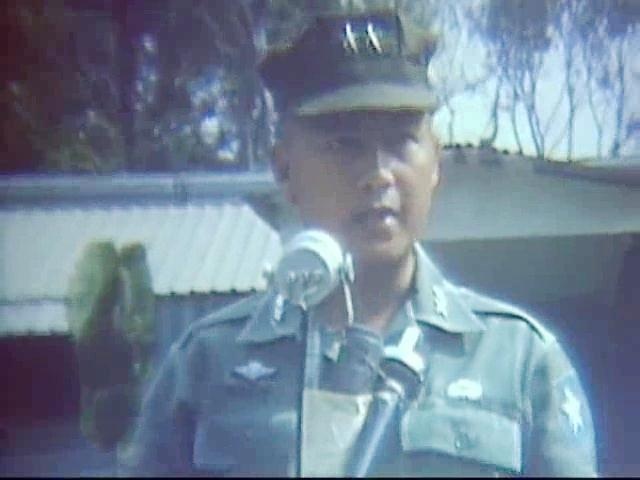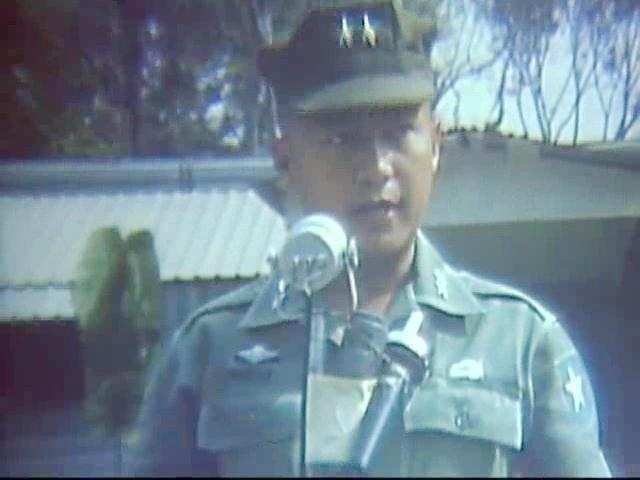 Besides the look, God also bestowed General Hieu with other traits of a General. First of all, he was blessed with an exceptional memory. General Hieu needed only to see something once for it to be permanently etched into his memory. While he was attending a primary level class, a teacher wondered how come her pupil named Hieu was always able to recite her lesson to perfection, since she did not notice him ever studying his lessons. One day, it happened that she called up Hieu to be the first to recite the lesson in front of the class. This time, Hieu stood mute without being able to utter a single word. She sent him to a corner with the order to study the lesson and called up another pupil. As soon as this second pupil finished reciting, Hieu raised his hand to request a second chance. This time, as usual, he rendered the lesson without a flinch. And so the teacher was able to solve the mystery accidentally: her pupil relied on his formidable memory to tap on others' labor!
The second trait was exceptionally keen intelligence. In General Hieu's case, learning was a natural and smooth process, as easy as breathing: he needed to be taught one and would understand tenfold. His father compared Trung, the firstborn, to Hieu, the second born: Trung always seemed busy with homework assignments, while Hieu ever spent his time in extra-curricula activities, but then Hieu still ranked higher than his older brother. And the instructors at the US Army Command and General Staff College made the following assessment: "Intelligent, inquisitive, with a quick analytical mind, Major Hieu established an excellent academic record, demonstrating complete knowledge of the principles taught at this College." In addition to being pragmatic, his intelligence was also universal, which allowed him to grasp the essence of various fields, instead of being confined within an area of one or two specialties. An M.D. recalled: "When I was still a doctor in the military with the rank of lieutenant colonel, General Hieu was a Major General. In the course of a conversation, I was at awe listening to him talking about a matter in medicine as if I was a student in medicine listening to a learned professor delivering his course at a university of medicine."
Next was his methodical trait. General Hieu always proceeded in an extremely orderly fashion. He never acted on impulses. In all of his actions, no matter how small or how big, he planned meticulously and anticipated and covered all eventualities. Colonel John Hayes, ARVN 5th Division Senior Advisor, made the following remark in his February 7, 1970 assessment report: "He is methodical but decisive."
The three above-mentioned traits - among other inherited traits - were parts of General Hieu's baggage, which would allow him to become an efficient Chief of Staff and a competent Commanding General at the Division and Corps levels.
Formative Period
Parallel to the God-given features of a General, General Hieu was also blessed with circumstances that would prepare him to fulfill his predestined mission of a General. Compared to other ARVN Generals, he possessed a relatively higher level of academic background. This fact was easy to comprehend because, at that period in time, the French colonialists tried systematically to maintain the education level of Vietnamese youth at the lowest possible point to facilitate their domination. In the meantime, General Hieu was born and raised in China, and thus was fortunately able to pass the French Baccalaureat Part 2, majoring in Math, then to finish his first year in college, studying Technology Sciences at Aurore University, in Shanghai conducted by French Jesuits, before his repatriation to Vietnam in 1949. Therefore, upon entering the Dalat Military Academy, cadet Hieu possessed a relatively stronger academic background than the other Class 3 cadets, especially those of military origin who, as non commissioned officers with a low academic level, were allowed by General De Lattre de Tassigny, the Commanding General of French Army in Vietnam, to be admitted into the Military Academy without having to undergo an entrance examination like the other civilian candidates. Among these cadets of "civilian origin", only two possessed French Baccalaureat Part 1. Cadet Nguyen Van Toan observed:"All of us, Class 3 of VNMA, loved Hieu, because of his affable and humble personality, although he was a young man who possessed a high level of academic background." At the final examination, the cadets were given 80 hard mathematical questions. While the majority of the cadets were biting their pencil, cadet Hieu sailed through these mathematical hurdles with ease.
Besides a higher general education background, General Hieu was also well prepared in terms of a foreign language. Because he had as instructors native- speaking French and English people from school reserved for foreign diplomats' children, General Hieu was more fluent in French and English than in his maternal tongue. When he just returned to Vietnam, he spoke Vietnamese with a noticeable heavy foreign accent. His mastery of English had enabled him to deal with ease with American Generals in joint operations planning sessions. As 2nd Corps Chief of Staff, he had to coordinate joint operations with General Kinnard of the 1st US Cavalry Division in the battles of Pleime and Ia Drang Valley in 1965. As Commanding General of the 22nd Division, he again had to coordinate joint operations with General Kinnard, then General Norton, General Tolson III and General Forsythe of the 1st US Cavalry Division in 1966-1969, as a typical example, in the battle of Eagles Claw 800 as narrated by Colonel Trinh Tieu. As Commanding General of the 5th Division, General Hieu had to coordinate joint crossover border operations into Cambodia with General Roberts, Casey, Burton, and Putnam of the 1st US Cavalry Division, and with General Milloy and General Henrion of the 1st US Infantry Division in 1969-1971.
The Dalat Military Academy had succeeded in molding our young man Hieu into an elite officer both physically and mentally. Third Class cadet Dinh Van Chung observed: "The Military School has transformed Hieu into a real officer both physically and mentally [...] He was very studious, whenever I peeked through his window I always saw him writing and reading at his desk." Cadet Lu Lan still recalled that cadet Hieu excelled in track and field, in particular, sprint meets. On Saturday that preceded the graduation day, General Lu Lan recalled, cadets were drenched by a sudden rain while strolling the streets of Dalat city, cadet Hieu caught a cold and coughed incessantly (that was how he was struck by tuberculosis). Despite that, the following Monday, cadet Hieu still participated in the 100m dash meet (in less than 12 seconds), then collapsed at the finishing line and had to be carried out on stretch into the hospital. However, even tuberculosis was not able to cut down General Hieu; 1st Lieutenant Hieu used his inner strength to conquer this calamity, which endangered the military aspiration of this new military graduate. As a matter of fact, after a two-year convalescent period, 1st Lieutenant Hieu did not ask to be discharged from the military, but instead he returned to active duty with the rank of Lieutenant, while a lot of his classmates had been already promoted to the rank of Captain due to their active participation in combats that were enraging during the period preceding the big battle of Dien Bien Phu...
The two above-mentioned elements - academic background and foreign language mastery - had allowed General Hieu to fully grasp the high level of military concepts when Major Hieu later attended the US Army Command and General Staff College, Fort Leavenworth, Kansas in 1963.
His math and technology backgrounds had also helped General Hieu to understand thoroughly and to fully make use of modern weaponry that the US Army poured into arm ARVN units, especially armor, artillery, signal, air force, reconnaissance, and engineer. That was why, in a conversation, when a topic touched upon any type of rifles, be it small or big, any kind of airplanes or helicopters, any type of communication devices, any type of tanks, or even a newly invented phonograph or Polaroid camera, General Hieu would dissect all the technical intricacies of each one of them to his listeners.
General Hieu was so scholarly and fluent in English in his conversations, that, according to the Deputy Consul General in Bien Hoa Charles Lahiguera, there was a rumor circulating among Americans that he had graduated from Harvard University.
Commanding Big Units
Upon returning to Vietnam after his graduation from the College of Command and General Staff in the United States in June 1963, Major Hieu was promoted by General Do Cao Tri, who was at that time holding both the command of the 1st Division and the 1st Corps (in replacement of General Le Van Nghiem), to the rank of Lieutenant Colonel and was assigned to the position of 1st Division Chief of Staff. After the coup d'etat that toppled President Ngo Dinh Diem, General Tri was officially nominated the 1st Corps Commander and assigned Colonel Hieu to the position of 1st Corps Chief of Staff, then 2nd Corps Chief of Staff in January 1964. In this capacity, General Hieu had the opportunity of commanding a Big Unit at Corps level because he enjoyed total trust from General Tri, who used to let him act as his Deputy Commander with full authority rather than just performing the simple role of a Chief of Staff. During this period, General Tri - with Colonel Hieu standing behind him - was renowned for conducting a first major direct attack into the Viet Cong's Do Xa sanctuaries, situated at the junction of Kontum, Quang Ngai, and Quang Tin Provinces.
Then in 1965, when the 1st US Cavalry Division applied its new air mobile tactic in the Highlands, Colonel Hieu had the opportunity to hold joint operations planning sessions with the General Staff of the 1st US Cavalry Division in pursuit of the 32nd, 33rd, and 66th NVA Regiments. In October 1965, Captain Nguyen of a Special Forces unit walked into the bunker of an American Special Force base command post to find Colonel Hieu manning alone, in the middle of the night, the communication station, coordinating troops resisting enemy attack at the nearby Pleime base camp. And a 1st US Cavalry soldier by the name of Ron remembered seeing Colonel Hieu come to see General Kinnard on November 11, 1965. The bloody battle of Ia Drang Valley occurred on 14, 15, 16, and 17 of that month...(see Readers' Comments, #27).
When he was at the helm of the 22nd Division in the years 1966-1969, General Hieu frequently conducted joint operations not only with the 1st US Cavalry Division but also with the Korean Tiger Division. This period was narrated by Colonel Trinh Tieu in his article Portrait of a General perfect in both competence and virtue. He pointed to the fact that the Generals of the Allied Armed Forces respected and admired the military leadership skills of General Hieu. General John Tolson wrote in his book entitled Airmobility 1965-1971 that within the one-year time frame of operations Pershing, Colonel Hieu had launched over 29 joint operations between his 22nd Infantry Division and the US 1st Cavalry Division.
It seemed that General Hieu had a special-predestined bond with the 1st US Cavalry Division for, when he was assigned by General Tri to come into the 3rd Corps to revamp the combat capability of the 5th Division, General Hieu again had the opportunity to coordinate joint crossover border operations into Cambodia with that Division in 1970. In particular, General Hieu had planned and commanded together with General Casey of the 1st US Cavalry Division Operation Total Victory 46 (May to July 1970). In this operation, the 9th Regiment of ARVN 5th Division joined forces with the 11th Armored Regiment of the 1st US Cavalry Division to attack the headquarters of the NVA 5th Division which was composed of the 174th and 275th Regiments.
Commanding 3 Task Forces
However, General Hieu got the opportunity to exercise his ability to command a Big Unit, when General Tri entrusted him and the 5th Division the task of solely designing and conducting Operation Total Victory 8/B/5 (October 23 to November 10, 1970) with the strength of 3 Task Forces:
Task Force 1: TF1/CP/ - 1/1st ACR - 2/1st ACR - 3/1st ACR - 1/7th Battalion - 4/7th Battalion - Demolition SQD/5th Engineer Battalion - POLWAR Platoon.
Task Force 9: TF9/CP - Recon Company/9th Regiment - 1/9th Battalion - 2/9th Battalion - 4/9th Battalion - 74th Ranger Battalion - Company(-)/5th Engineer Battalion - Company/30th Engineer Battalion - 3A, 3C/50th Arty (Four 155mm tubes) - A/53rd Arty (Six 105mm tubes).
Task Force 333: TF333/CP - 3rd Ranger Recon Company - 18th ACR - 31th Ranger Battalion - 34th Ranger Battalion - 36th Ranger Battalion - 52nd Ranger Battalion - Platoon, 30th Combat Engineer GP - C/61st Arty (Six 105mm tubes) - A/46th Arty (Six 155mm tubes).

The strength of armored vehicles of the 1st and 18th Armored Regiments was awe-inspiring. Each Armored Regiment was composed of: 30 M41A3 tanks - 62 M113 armored tracked vehicles - 9 M577A command post carriers - 7 M548 6-ton cargo carriers - 8 M125A mortar equipped tracked vehicles - 2 M132 self-propelled flamethrowers - 2 M578 light armored recovery vehicles - and 1 XM706 convoy security light tank.

Here, we need only to follow the coordination of the movements of these three Task Forces in the starting phase and the retreat phase of the operations, to realize the level of complexity in commanding simultaneously three Task Forces.

On October 23, two days before the crossover border operation was to take place, on D-2 Day, units of the three Task Forces commenced amassing in the area between An Loc and Loc Ninh along Highway QL13. On October 24 (D-1 Day), all three Task Forces approached the border: TF1 took up position along QL13 at location 5km northwest Loc Ninh; TF9 and TF333 took up positions at locations 7km and 10 northwest Loc Ninh respectively. In the meantime, the Operational Forward Command Post moved into the Ranger base camp in Loc Ninh. At 6:30 a.m. sharp on October 25, the three Task Forces simultaneously attacked across the border into Cambodia...

In the retreat phase, on November 9 at 7:50 a.m., TF333 departed from Snoul and moved out of Snoul to take up a position at a predetermined location. At 2:00 p.m., TF9 exited out of Cambodia and protected the area around 901 vicinities. TF1 covered for TF333 and TF9 during their retreat. TF333 went straight back to its base. TF9 stopped to give cover for TF1, which commenced to retreat at 2:30 p.m. TF9 let TF1 passed by its position on its way back to Lai Khe. Next, the Forward Command Post returned to Lai Khe at 5:30 pm on November 10. Finally, TF9 returned to its base camp.

Commanding 3 Divisions.

In operation Total Victory 02/71/5/B/NB (March - June 1971), General Tri allowed General Hieu to make plan to use the 8th Regiment as a bait to lure the enemy into a trap established at Snoul and to make provision to use from one division (5th Division) to three divisions of 3rd Corps (5th, 18th and 25th Divisions) in case the NVA 5th Division dared to commit one or both of its two regiments, the 174th and 275th. But then, the opportunity did not come up when General Minh, who replaced General Tri (who had died in a helicopter accident in February 1971), decided to change the course of the operation suddenly.

It was not until 1974, in the capacity of 3rd Corps Deputy Commander in charge of Operations, as an assistant to General Thuan, that General Hieu really had the chance to fully exercise his Big Unit commanding skills in the simultaneous use of three Divisions belonging to the 3rd Corps in the battle of Svay Rieng (April 27 to May 2, 1974). General Hieu, hiding behind General Thuan, launched the entire forces of 20 infantry and ranger battalions and three armored cavalry units to encircle the NVA 5th Division in the Parrot's Beak areas and to attack directly into the headquarters of the NVA 5th Division located at Svay Rieng, deep into Cambodian territory and achieved a considerable victory with more than 1,000 enemy KIA while suffering only less than 100 casualties.

In terms of commanding a Big Unit, General Hieu was more fortunate than the other ARVN Generals because he had the opportunity to deploy his troops in the wide-open spaces of Cambodia, instead of being confined by the narrow spaces of Vietnam. General Vinh Loc has made the following remark in his book entitled "Thu Gui Cho Nguoi Ban My" (Letters to an American Friend), page 71:
The terrain and the location of our country, in terms of search and destroy the enemy operation, do not provide the opportunity to deploy simultaneously three Regiments together with support units. Looking back from the day the Division was created to the Highlands' debacle, no Military Tactical Region had launched an operation that used a whole Division, that is all 3 Infantry Regiments, with Artillery, Engineer and Armored Cavalry Battalions, etc. Even if one would like to, one did not have enough space, which would allow the deployment of a whole Division, not to mention that very few commanders underwent proper training in Large Unit command.
Tandem Infantry-Armor Formula.
During the periods he collaborated with the 1st US Cavalry Division in Pleiku (1965), Quinhon (1966), and Binh Duong (1970), General Hieu observed and studied the new air mobile tactic, using helicopters to increase infantry's mobility. He recognized the advantages of this modern time tactic and fully incorporated it in his joint operation planning with this American Division. But he knew that with the limited budget of the ARVN, he would not have the luxury to afford these new toys. Furthermore, he considered this Eagle-Darting-Down-From-The-Sky tactic to catch the prey was only effective if the prey was a slow-moving lamb, but became ineffective if the prey were quick-to-run-into-the-bushes Vietcong foxes. He learned through experiences that the tandem Infantry-Armor formula was more suitable to the Vietnam battlegrounds, and proved to be more effective in rounding up the ever evasive Vietcong foxes. That was why as soon as he took command of the 5th Division, according to the ARVN 5th Division's Senior Advisor, John Hayes, General Hieu immediately converted the Armor Cavalry Regiment from the role of "Palace Guards" into a fierce instrument of attack. Prior to bringing in General Hieu to the 5th Division, General Tri, a former paratrooper, used exclusively the "Plunging Eagles" tactic in rapidly discharging and picking up small teams of paratroopers, and was able to establish an impressive record of numerous but then small victories. Initially, this tactic seemed successful but was soon neutralized by those seasoned Vietcong foxes that would disperse and vanish into the bushes as soon as the helicopters appeared on the horizon. And so, General Tri tilted toward General Hieu's idea and switched tactics into using more often the "round up" tactic, using the tandem Infantry-Armor formula, especially in crossover border operations. Therefore, General Tri let General Hieu use simultaneously two Armored Cavalry Regiments, the 1st, and the 18th, in the above-mentioned Total Victory 8/B/5 Operation. Afterward, General Tri listened to General Hieu's advice in expanding the function of the 3rd Corps Armored Cavalry Brigade into the function of the 3rd Corps Assault Task Force under the command of Brigadier General Tran Quang Khoi in November 1970.
Without fanfare, General Hieu had applied the tandem Infantry-Armor formula to perfection. General Hieu was the only General in the ARVN who has had the opportunity to apply the "Blitzkrieg" (Lightning War) tactic using tanks - which was usually associated with the name of General Erwin Rommel of the German Army - in the battle of Svay Rieng in April 1974.
The concept of "Blitzkrieg", as described by the textbook, is composed of the following five elements:
1. Air force attacks enemy frontline and rear positions, main roads, airfields. and communication centers. At the same time. infantry places smoke curtains on the entire front line (at least at several places) and engages in small numbers, to restrain the enemy from knowing where the main force will attack.

2. Concentrated mechanized forces breakthrough main lines of defense pursuing and engaging defenders. Infantry continues to place the smoke curtains and engages in small numbers to misinform the enemy.

3. Infantry and other support units attack enemy flanks to link up with other groups.

4. Mechanized groups spearhead deeper into the enemy territory outflanking the enemy positions and paralyzing the rear.

5. Main force links up with other units encircling and cutting off the enemy

Let's analyze how General Hieu had applied these principles in the battle of Svay Rieng (see map):

1. By the end of April 1974, General Hieu, hiding behind 3rd Corps Commanding General Thuan, collected twenty maneuver battalions around the Parrot's Beak areas, determined to neutralize the NVA 5th Division.

2. On April 27, the 49th Infantry Regiment and the 7th Ranger Group went through the swamplands around Duc Hue toward the Cambodian border as VNAF warplanes attacked known and suspected base areas of the NVA 5th Division.

3. Simultaneously, two RF battalions pushed north from Moc Hoa, establishing blocking positions on the southwestern edge of the NVA 5th Division's logistical base and assembly area.

4. On April 29, three armored columns plunged across the Cambodian frontier west of Go Dau Ha, aiming straight at the NVA 5th Division headquarters.

5. Simultaneously, ARVN infantry and armored cavalry units based at Moc Hoa crossed into the Elephant's Foot, threatening to isolate the retreating NVA 275th Regiment.

6. As the armored columns continued to drive forward, penetrating as much as sixteen kilometers into Cambodian territory before wheeling south toward Hau Nghia Province. And VNAF helicopters ferried troops into surprise attacks on enemy positions.

7. Other ARVN units conducted sweep operations between Duc Hue and Go Dau Ha.

By May 10, when the last ARVN units turned for home, enemy communications and logistics in the area had been severely disrupted. The NVA had suffered more than 1,200 men killed, 65 captured, and hundreds of weapons lost. On the other hand, the speed, secrecy, and coordination of the multifaceted operation had limited ARVN KIA to fewer than 100.

With this formidable military tour de force alone, General Hieu deserved to be placed among the ranks of Famous Generals of international caliber, together with Rommel of Germany, Patton of the United States, Montgomery of England, and Leclerc of France, of World War 2 era who had excelled in the "Blitzkrieg" tactic.

Lure And Destroy The Enemy Tactic.

In 1965, General Westmoreland, the Commanding General of the U.S. Army serving in Vietnam together with General Cao Van Vien, Chairman of Joint General Staff, issued a joint order addressed to all combat units to apply "Search and Destroy the enemy " tactic in all of their operations. After implementing this tactic for a while, General Hieu realized that it should be used with flexibility. The "Search" phase should not be the role of the entire force of the operational units, but it should rather be left to reconnaissance teams. It was because the American troops searched the enemy with great fanfare that they always wondered how come the enemy just vanished like ghosts whenever they went.

General Hieu even went a step further and frequently converted the "Search and Destroy the enemy" tactic into a "Lure and Destroy the enemy" tactic. In a discussion session with General McAuliffe, 3rd Corps Senior Advisor, General Hieu "drew an analogy of thrusting one's fist into fishbowl: the fish move away and stay away as long as the arm is in the fishbowl; however, as soon as the fist is withdrawn, the fish return to that spot." Instead of using a fist, General Hieu preferred to lower down into the bowl a bait attached to a fish hook, waited for the fish to gather around the bait, and used a net to cup up the fish. Colonel Trinh Tieu recounted how General Hieu had applied this "Lure the Tiger down the Mountain" tactic when he was still 22nd Division Commanding General in the battle of Eagles Claw 800. In this combined American-Korean-Vietnamese operation, the 1st US Cavalry Division units were to act first. For three days, they searched the NVA 3rd Division without results; the enemy was nowhere to be seen. Next came ARVN 22nd Division's turn to act. General Hieu sent in a Regiment minus, after telling the Regimental Commander to have his units go, without deviation, straight to the predetermined camping site. Once there, he should have his soldiers dig individual defensive foxholes, have them prepare and eat an early supper, then lay down low and wait for the tiger to bite the bait. Meanwhile, General Hieu hid an Armored Cavalry Regiment and an Infantry Battalion at 10 kilometers away from there, out of the sight of enemy recon and guerilla teams. Thinking it was an easy victim, one Regiment of the NVA 3rd Division jumped in intending to tear the bait into pieces. At the first sign of alert, General Hieu ordered the reserved forces to sprint into action and cut off the enemy's retreat route back to the mountains. As a result, by sunrise, the enemy left with more than 300 casualties.

When he took command of the 5th Division, General Hieu intended to use the "Lure The Tiger Down From The Mountain" tactic to vanquish the 174th and 275th Regiments of the NVA 5th Division hiding deep in the Cambodian territory. General Hieu, with the approval of General Tri, 3rd Corps Commanding General, designed the preparation of Operation Snoul as early as November 1970. In January 1971, the trap was set up at Snoul, with the 8th Regiment as bait. The lookout lasted until May 1971 before the tiger decided to show up. General Hieu requested General Minh, the newly appointed 3rd Corps Commanding General to send in the 18th and 25th Divisions which constituted the operational reserved forces as planned. General Minh suddenly decided to change his mind. And thus, General Hieu had to devise a hasty plan to save the 8th Regiment with the Snoul Retreat Operation.

In the military milieu, everyone knows that the withdrawal of troops is the most difficult act in a military operation, especially if the retreat is to be done in a weakened and under pressure posture when the enemy has already encircled the units. In an attack posture, one is in full control - one acts: everything has been anticipated and determined, all combined movements between combat units have been well-coordinated in advance, firepower supports are in the ready to assist, targets to attack are well focused, enemy's positions are well known, the front-line is "uni-dimensional", the element of time is at one's disposal, soldiers' morale is high ... In a retreating posture, one is controlled - one reacts: everything is uncertain, combined movements between combat units depend largely on unpredictable enemy's intention, firepower supports cannot be used, targets to destroy are scattered, enemy's positions are unknown, the front-line is "quadri-dimensional", the element of time is not at one's disposal, soldier's morale is low ... One must be an exceptional General to be able to overcome all these negative variables to maintain confidence among the combat troops and the soldiers' fighting determination.

In the Snoul retreat, General Hieu had shown how accomplished a General he was: he excelled in both attack and defensive postures. Despite General Minh's contretemps intervention in the Snoul operation, General Hieu was able to plan for an emergency retreat, to maintain the confidence of the 8th Regimental soldiers who remained calm under enemy's tight siege, then withdrew in well- coordinated movements, with units taking turn in plunging forward and in covering each other, in switching alternatively between the role of a spear and the one of a shield. And thus, despite the fact the enemy had already positioned numerous ambushes all along the unique retreat path, highway QL13, from Snoul to Loc Ninh, two-third of 8th Regimental units were able to reach Loc Ninh camp base. General Hieu's competence can be weighted in comparing this successful retreat with the other disastrous retreats, such as the retreat of Quang Tri Province in May 1972, of Pleiku and Hue in March 1975.

Testimonies

At the end of General Hieu's performance, the auditorium remained silent. Realizing that nobody was applauding, I sheepishly clapped... surprisingly, others slowly joined in with me and started to applaud. And thus, in no time, more than 10,000 persons have visited General Hieu's Page, coming in from all over the world within the past six months. Following are excerpts of readers' feedbacks, posted in the Readers' Comments, regarding General Hieu as a good warrior.

Tran Hoai Thu (#12):


Just yesterday, I and my former company commander (405 Recon company, 22nd division) had a telephone conversation in which I asked him which General he respected the most. He answered without hesitation: General Hieu.

Bob Gibreault (#25):


He was a great general and a great patriot.

Ulf Ron Heller (#26):


Your web site is a moving tribute to a brave warrior. If there had been more like him, maybe things would have turned out different.

Howard Daniel III (#30):


There were many other Vietnamese like the General who served their country with distinction but they never came to the attention of most Americans. I am very happy to see this web site spread the word about one of the best.

Sherman Breeden (#31):


He was a Great Man and you do well by being so proud of Him.

Thanh Van (#35):


General Hieu is a shining star in the ARVN due to his competence and virtue. He already went into history and everybody appreciates his deeds.

Mike Wunder (#37):


I feel that if there were more like your brother, things in your country would not have turned out the way they did. I have great respect for him.

Arthur Eppley (#38):


He was no doubt a great warrior and patriot of Vietnam.

Alexander Kandic (#40):


My only regret is that there seems to have not been enough Vietnamese soldiers/leaders of the caliber represented by General Hieu to possibly change the outcome of the Vietnam War.

Nguyen Van Tri (#41):


Those battles [Svay Rieng, An Dien] are the missing pieces of the puzzles: these are evidence of his ability to lead at the Corps level that one of the American generals have alluded to, not just at the Division level.

Tony Shaw (#42):


I think that a movie should be made about General Hieu... He is really something...WOW...I went through your site and was very impressed.

Stela (#47):


Woawww! veryyy HEROIC!!! General Hieu is really COOL!

George Nunnemacher (#52):


Your brother was a great general and a genuine hero to his country. [...] The dedication and work of men like General Hieu have been overshadowed by stories of less honorable, less courageous officers who unfortunately often became the stereotype of ARVN leadership.

Khiet Pham (#54):


The ARVN had many competent officers at the regimental level and down, but at the divisional level and up, many generals were not competent. The command of a division and a corps requires competency in strategy and general staff. Many generals only knew how to attack as a buffalo, and lacked strategy (i.e., Operation Lam Son 719, Highlands withdrawal of II Corps). I greatly admire the competence and virtue of general Hieu, who could command with strategy at the divisional level and up.

Huynh Van Chau (#66):


You can count the number of competent ARVN Generals on your fingers. General Hieu is one of them.

H.T.Dang (#69):


I know now that there are honorable warriors in the rank of ARVN. Too bad the rest couldn't be like these heroes. I am honored to walk in the shadows of the General. Of Tran Hung Dao. Of Ngo Quyen. Of Le Loi, Le Lai.

John Spizzirri (#70):


Your brother appears to have been a great soldier and a great man.

Nguyen Manh Cuong (#72):


He was the pride of the Army of the Republic of Vietnam.

Le Thien Si (#76):


General Nguyen Van Hieu was already gone but his feats and words should be told, praised in ARVN's military history.

Julian Duy Tran (#79):


I proudly have someone to show to my children as a hero and role model.

Travis Cofe (#85):


I am glad to know that men like your brother made the sacrifice of so many of America's sons worthwhile.

Nick Quigley (#86):


Your brother certainly had a great career in the ARVN.

W. Dale DeBord (#98):


At least one General in the Army of the Republic of Vietnam possessed the courage, competence and commitment to keep his country free, and to perform his command responsibilities to the best of his abilities, which evidently, were excellent and extensive.

Dan Bayes (#100):


Perhaps if there were more Generals on both sides like General Hieu, the outcome would have been different.

Glen Scarborough (#103):


It sounds as if he was one of the best.

Claude Stevens (#109):


When I saw his picture on the home page, I remembered him one time in Cambodia. I really didn't talk to him but the high-ranking guy I was with said that if Vietnam had this man in control, we would be pushing the NVA back from where they came. I wished I could have met General Van Hieu just once just to have known one of the real fighting men. His story will now be told by me.

Raymond E. D 'Addario (#121):


I had the honor to know your Brother. He was a wonderful man, courageous as can attest to how his enemies could only resort to vile trickery to kill him. I served as the Personal Security officer for General Creighton Abrams. I can tell you he had great respect for your Brother and always spoke highly of his integrity, honor and valor.

Pham Phong Dinh (#124):


I admire your tribute to Major General Nguyen Van Hieu who was perfect both in virtue and competency. The more I read his life, his military exploits and his personal feeling, the more I admired his hard-working ethic, his integrity and his strategy skills. It's unfortunate that such a genius in strategy of the ARVN had not been put into full use. If all competent Generals of the ARVN were put into positions according to their competency and stature, who knows the history of Vietnam would have been written differently. With lines which would shine brighter.

A Native American (#125):


It is time someone recognized the General for being an honorable and courageous man.

Paul Marquis (#134):


Nice site, I am sorry I did not have the good luck of knowing your brother. As time goes on, your brother will be a part of history, much like Gen. Robert E. Lee, Gen. Grant, from the U.S. civil war. So it is very important, the work you are doing, for your family and even more important, Viet Nam history. You may not live to see the rewards of your work, but a hundred years from now there will be Viet Nam civil war buff, in Viet Nam that will get a lot out of what you now write, may well be required reading in high schools, military college, also you will go down in history for writing what you have written about.

Conclusion

After I have heard the above-mentioned applause praising General Hieu's competence, I came to really savor the two comments that I thought to be only perfunctory at the time they were made; one coming from an American General (General Charles J. Timmes, I believe) during a reception before the fall of Saigon in 1975: "Only General Hieu had the ability and charisma to command units at a Corps level, the other Generals could only at the Division level, " and one coming from a Vietnamese General (Tran Van Don) in New York City, in 1978: "If the ARVN had more officers of General Hieu's caliber, Vietnam wouldn't have been lost."

And recently, Colonel Le Khac Ly, General Hieu's 22nd Division Chief of Staff in 1966-1969, an elite ARVN Chief of Staff, who had graduated top of his High Command class, Vietnam Defense Department, who had served as a Chief of Staff under several Generals - Ton That Xung of 1st Division, Lam Quang Thi of Forward 1st Corps, Ngo Quang Truong of 1st Corps, Pham Van Phu of 2nd Corps, besides the positions of Province Chief and Rangers' Commander in Military Tactical Zone 2, has confided to me: "I admire two Generals the most: "One is General Do Cao Tri, because he was fearless on battlegrounds and had stated that if bullets struck him, he became a hero, and if bullets ducked him, he would still be considered a hero; two is General Hieu, because he was a Commanding General who fought by the book and with the highest level of knowledge."

Nguyen Van Tin
16 April 1999
Updated on 08.10.2004