Story about my Brother, General Hieu
Chapter XIII
Exceptional Characteristics in General Hieu's Personality
Marksmanship
Throughout his life, my brother maintains his marksmanship.
During the period of Chief of G3, I Corps
- Lâm Quang Thi:
I had the opportunities to meet frequently with Hieu when we were both Major serving at Corps I: he as Chief of G3 General Staff, and I as Chief of Artillery Unit. Every weekend, we practiced pistol shooting. He was muany better than me because he put much efforts into grooving his pistol to gain quickness.
- Nguyễn Ngọc Quỳnh:
Major Hieu was extremely helpful in assisting the needs of our Division. Furthermore, he was reputed as an excellent pistols shooter. Nine out of every ten shots hit the mark. Besides that, during his shooting practices, Major Hieu did not use ordinary bullets but rather self-made ones. He used chewed then packed rice-paper instead of metal bullets. What's amazing was that these paper bullets were as hard as the metal ones, and the aiming accuracy was the same.
During the period of 22nd Division Commander.
- Trịnh Tiếu:
I had the privilege to serve under his command at the 22nd Infantry Division from 1966 to 1968. His only enjoyment in his free-time was to practice pistol shooting. On weekends, he used to invite officers of the general staff to join with him in colt shooting competition. No one was as good as he was.
Nghiêm Kế:
Colonel Hieu coached me in pistol marksmanship: how to hold the pistol, how to breathe, how to pull the trigger. In competition with shooters of the American Army, I won the first award.
During the period of 5th Division Commander
- Paul Văn Nguyễn:
In 1969, as an aide de camp accompanying Lieutenant General Nguyen Van Minh, Governor of Saigon-Giadinh and Capital Special Military Zone Commander, I witnessed General Hieu's marksmanship in the use of various weapons, from Colt 45, M16 to machine gun M60, and hitting bull-eyes at fixed and mobile targets at the firing range. That time, Lieutenant General Do Cao Tri, III Corps Commander, invited Commanders of Capital Special Military Zone, 5th, 18th, and 25th Infantry Division and some high ranking officers of other units to participate in trying out various weapons using infra-red vision devices introduced by the Americans to equip ARVN snipers.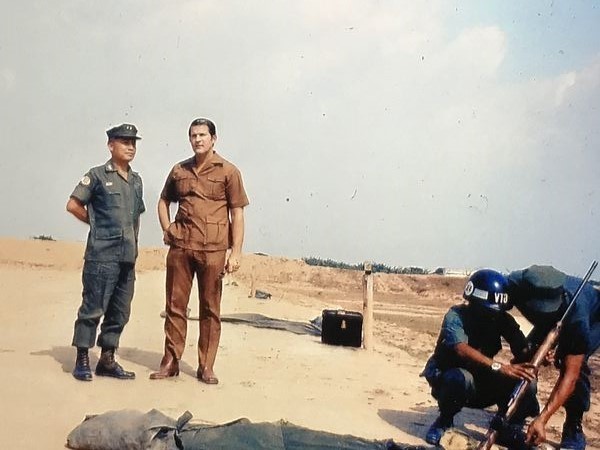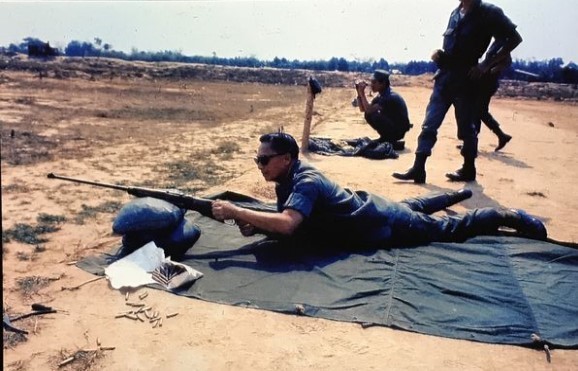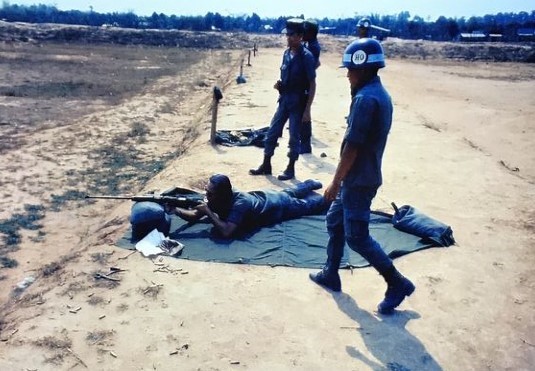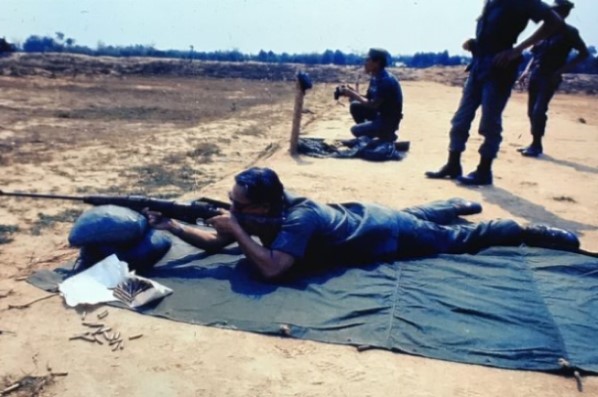 Showing off his brilliant sniper's marksmanship, hitting with accuracy targets at two-and-a-half kilometer distance
During the period of III Corps Deputy Commander
- Richard Peters:
General Hieu also took me once to the firing range to shoot rifle and pistol. He always hit the mark.
My brother applied his marksmanship to the highest level in the Pleime campaign when he used the huge and cumbersome B-52 bombers in aiming with accuracy at the three NVA regiments in Chu Pong.
Like Hunting a Pack of Wolves
- enticed them to regroup by faking east aiming west with 3rd Air Cav;
- distracted them into staying immobile in the staging area with the insertion of 1/7 Air Cav;
- took a deep breath and hit his target bull eye with an arc-lite bullet;

- and "finished 'em" with the Airborne Brigade's surgical "coup de grâce."
More reading, A Doctrinal Lesson on the Use of Arc Lite in Pleime Counteroffensive
Multiple talents
Besides his marksmanship, my brother also excelled in gymnastics, flying helicopter, flying jet, parachuting, mahjong, chess and even dancing.
- Lữ Lan:
Hieu also excelled in track and field, especially in sprint meets. He ran 100 meters in less than 12 seconds.
- Lê Khắc Lý:
General Hieu excelled in many different areas, even in mahjong. One night, personnel of the General Staff relaxed in a tent, after a hard-working day during an out-of-field operation. A Lieutenant Colonel friend of mine taught me how to play mahjong. General Hieu was passing by and saw us played. However, he did not say a word and proceeded to the open sky shower quarters to take his bath. On his way out, he approached our table, made himself comfortable, and proceeded to show us several astute moves of this complex game. He then stood up and said: "It is good to know how to play mahjong, but be aware of becoming addicted to it: it could ruin one's life."
- Richard Peters:
We played western chess. He taught me Chinese chess. Sometimes we played the two types of chess one after the other. He always won!
- The American Embassy's officials echoed:
He is a master of Chinese Chess, and plays "Western" chess well.
- Tạ Thanh Long:
In 1974, I was Chairman of the 4-Party-2-Side Committee in 1974 and used to organize night dancing parties to entertain the different foreign military delegations. I always invited General Hieu, and he gladly accepted the invitation each time. He was an accomplished dancer.
- John Hayes. After a joyful helicopter's ride with Colonel Hayes, he challenged him: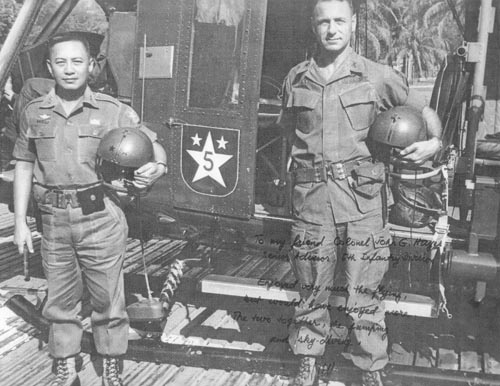 Enjoyed very much the flying,
But would have enjoyed more,
The two together, the jumping
and sky-diving.
Besides military skills, my brother was also an expert in administration, accounting, finance, economy, law, business, and polyglot.
The American advisors detected these traits early on when my brother was still a Major G3 Chief, I Corps:
It is apparent from the report that Hieu had, during the six months he had been in I Corps, left a very favorable impression on the American Advisory Group in Danang. Hieu was highly recommended for attendance at the US Army Command and General Staff College at Fort Leavenworth, Kansas; lauded for his administrative abilities; for his skillful and proper utilization of personnel.
While he was Special Assistant in Charge of Anti-corruption and investigating the abuse of the Military Retirement Fund, my brother dealt with ease with experts in the various fields of administration, accounting, finance, economy, law, business and drew up a comprehensive and extremely complex report in so simple a manner for everybody to understand. He produced the report all alone because as he told an American Embassy official, "his staff consisted of himself and one aide, which was totally inadequate."
See, Report On The Results of the Investigation Into the SMASF
Among the ARVN generals, my brother was the most fluent in English.
The Academic Report of the Command and General Staff College notes:
Major Hieu demonstrated an excellent command of written English and had an excellent command of the spoken language.
LTC Roy Couch's wife, 5th Division Deputy Senior Advisor, wrote:
Colonel John Hayes and Roy met on August 3, 1969. Colonel Hayes asked for Roy to go with him to the 5th ARVN Division headquarters as Colonel Hayes' assistant. On August 5th, Roy went to Division headquarters for a meeting and had a conversation with a Vietnamese General who spoke English fluently. He does not say, but I wonder if it was General Hieu.
General Abrams admired my brother's briefing skill:
The other day I was out, and I got a good briefing by General Hieu, 5th ARVN. That's the first time I've been to the 5th since he's been the division commander. And I must say it was—this doesn't have too much to do with how the division performs, but the quality of the briefing was very high, including a very frank and, I would guess, honest discussion of personnel strengths, desertions, desertions by regiment, and all this kind of stuff, including the fact that desertions are up, which—that's not a good sing, of course, but I must say it's a change of pace out there in the 5th Division to be leveling on things like that.
Besides English, my brother was also fluent in French, German, and three types of Chinese – Mandarin, Cantonese, Shanghainese.
- The Biographic Data on MG Nguyen Van Hieu notes:
Hieu was not assigned to a combat unit upon commissioning but instead became a member of the staff of the Ministry of National Defense where his excellent command of the French, English and Chinese languages was utilized.
Dương Diên Nghị narrates:
He conducted his press conference with impeccable English. I knew he was also fluent in French, Mandarin, and even German.
Simple
My brother lived the simple life afforded to a soldier.
- Quan Minh Giàu:
If small actions reveal to a certain degree an individual character, then I still remember a couple among the myriad of Hieu's behaviors during his training period. Frequently, on weekends, there were inspections of quarters, uniforms, equipment, weapons of each cadet. The inspector officer was Captain De Taine, commander of the cadets' Division. In an inspection, Hieu's pair of boots were used by Captain De Taine as a model of boots polishing. In reality, any cadet's pair of boots were polished thoroughly atop, but if the sole was caarefully examined, the majority had traces of dirt around nails' ends. But Hieu's pair of boots was spotless and sparkling upside down!

During the inspection, the commanders of the Academy also paid much attention to cleanliness around living quarters and especially around public bathrooms. When it was time for Hieu's team to be responsible, I noticed that Hieu volunteered to assume the most tedious job, that of cleaning the cement floor using a massive piece of cloth attached to a T-form stick. First pour water, second sweep and brush, finally dry clean. Before the time of inspection, if somebody came in to wash his hands and spilled water onto the floor, Hieu would wipe clean without a word.
- Trịnh Tiếu:
I remember one day, after work, the driver drove him back to his residence located in Qui Nhon city (the 22nd Division headquarters was located at Ba Gi, 10 km away from the city). When the jeep reached half-way, General Hieu looked back and saw a box of condensed milk cans of the Military Supply Unit. He asked the driver: "whose box of milk cans is this?" The driver replied: "Sir, madam general asked me to buy them for the children." General Hieu remained pensive for a while then asked: "Each month, how many cans does the Military Supply Unit sell to your family?" "Sir, a soldier is allowed to buy six cans a month." General Hieu said: "Turn the jeep around and drive back to the division headquarters and give the box back to the Military Supply Unit and take only six cans, because I am also a soldier just like you."
- Nguyễn Nho:
In 1966 Colonel Nguyen Van Hieu, 22nd Infantry Commander appointed me his press media officer. About his simplicity, I recall one time I accompanied General Hieu on one of his missions by helicopter. When we came back to the headquarters, it was passed at one o'clock. We went to the dining hall to be told there were no more foods. General Hieu took the news gleefully and went back to the headquarters to take his siesta. Half an hour later, the telephone rang to invite General Hieu to return to get his dinner. He tagged me along. At the dining hall, we were served with a dish of omelets and some boiled vegetables. Since we were very hungry, we ate with great appetite.
- Tạ Thanh Long:
After the transfer of the 5th Division command to Colonel Le Van Hung ceremony, on June 1971, I approached General Hieu and invited him to go partying with a group of Colonels and Generals, which included General Lam Quang Tho, the Commanding General of the 18th Division, General Hieu excused himself with the pretext he had to attend to some personal affairs. After the party, I went home. When I reached Ben Cat, I saw General Hieu's car parked on the side of the road. I approached the vehicle and saw General Hieu and his driver, each one eating a loaf of bread with a ripe banana in one hand!
- Lê Đình Lâm:
General Hieu's reputation preceded him at the Vice-President Office, in particular I had heard someone witnessed the following incredible scene: in a cross-border operation into Kampuchea, General Hieu, 5th Infantry Division, stripped out of his uniform, wearing only a T-shirt and a pair of knickers, jumped down onto the muddy road to lend a hand to the soldiers in pulling out a bogged down military vehicle.
Madam the General Nguyễn Xuân Thịnh:
My family and your brother's often met on Sundays while attending mass at the Redemptorist Church. At that time, my husband was Artillery Commander. At each of those occasions, we invited your brother's family to have breakfast at their house because we knew my brother did not have the luxury to take his wife and children to a Pho restaurant, despite his salary of a special assistant in charge of anti-corruption!
- Lê Minh Đảo:
Hieu was very friendly and shared the same spartan food with us. One morning I saw him stopped one sergeant of the 18th Division who volunteered to polish his boots to take them away and seized the brush to do it himself.
Unafraid toward authorities
Although he had been trained as a soldier into obeying without questioning, my brother had kept his unyielding and unafraid attitude toward authorities. He always maintained a strong personal outlook and was never afraid to voice his criticism and to oppose the authorities when they erred.
- Toward President Diem:
Hieu recently told a senior US official in MR-3 that he was denied promotion for an extended period because he believed it inappropriate as a military officer to join Diem's Can Lao Party even though he was importuned to do so. This probably explains being passed over many times for Leavenworth.
Toward General Peers, I First Field Force Vietnam Commander:
In order to defend the sovereignty of the ARVN, General Hieu had to stand up against the American Commanding Lieutenant General of the 1st Field Task Force stationed in Nhatrang, who ordered the 22nd Division to put an infantry regiment commanded by a colonel under the disposition (OPCON) of a captain commander of a district in the Pacification and Development Program. This issue led to a complicated and heated argument, and General Lu Lan, the Commanding General of the 2nd Corps, had to step in to mediate both sides.
- Toward General Abrams:
It's [the 22nd ARVN Division] like the 173rd Airborne Brigade. They've [the 173rd] got rigging equipment, and they've got TO&E for air dropping wherever in the world the United States wants to put them, and they're all airborne trained and they're all 'All the way, sir!' and all that kind of stuff. We don't need it! We don't need it! Instead what they've got to do is get out there and cream the VCI, get out there in little units muckering around at night, helping the goddamn villagers, seeing that the goddamn rice stays in the warehouse and so on, and—Christ, there isn't room for a parachute! The only thing you can do is use it for a picnic with the villagers or something.

And, unfortunately, the 22nd ARVN Division can't see that. It isn't being a great division, going out battling with regiments and battalions and so on! Goddamn it, the name of the game that's got to be done is this other thing! And that's what needs to be done in Binh Dinh! And that's what the 22nd Division can't see! And that's what the division commander is psychologically indisposed to do! And what everybody's got to do, instead of talking about going off to war and battling with the—Christ, they've been down there licking their chops waiting for the 3rd NVA to come back! Well, of course if the 3rd NVA came back they'd clean their clock. But that's the day they're waiting for—when the 3rd NVA comes back! Well, bullshit! The thing—you can't do what you're organized for, you can't do what you're trained for. You've got to go out to do what has to be done right now in this country! Everybody's got to do it!
My brother ignored General Abrams' opinion and operated his 22nd Division his way.
- Toward General Đỗ Cao Trí:
General Tri, while acknowledging that Hieu did not entirely approve of the cross-border operations and especially those who called for the 5th Division to operate in the Snoul, Cambodia area, did not immediately move to relieve Hieu.
- Toward III Corps American Advisors:
The Deputy Senior Advisor, III Corps, a BG, stated: "General Hieu's pessimistic and contrary views, voiced freely and publicly, have colored the attitudes of many of his subordinate commanders and made them less responsive to efforts to get on with the Đồng Tiến program. It is hoped that time, which fortunately the Cambodian campaign has provided, and a growing realization that the 5th ARVN Division can perform its new and expanded mission, will modify General Hieu's outlook. If not, he should be relieved of command."
- Toward General Nguyễn Văn Vỹ, Defense Minister:
Hieu did have one highly successful investigation, that being the case of the Soldier's Mutual Assistance and Savings Fund (SMASF). On July 14, 1972, Hieu appeared on television and reported the results of the investigation into the financial activities of SMASF. He named the Minister of Defense, LTG Nguyen Van Vy and retired LTG Le Van Kim as participants in the irregular financial activities. Vy was dismissed by President Thieu.
- Toward General Trần Thiện Khiêm, Prime Minister:
In May 1972, Hieu told Embassy officers that the anti-corruption campaign was getting nowhere and that the cabinet Ministers and the Prime Minister were not cooperating with him.
- Toward General Nguyễn Văn Minh:
Hieu commented to the Embassy officer that Truong was an old associate of LTG Nguyen Van Minh, CG MR 3, and that Hieu was convinced that Minh had appointed Truong as province chief partly in order to ensure his hold over the lucrative lumber trade in Long Khanh. Hieu was recommending that this case be investigated but noted that this depended on President Thieu and on the outcome of contacts between Thieu and LTG Minh.
- Toward President Nguyễn Văn Thiệu and General Đặng Văn Quang:
Concerning the substance of the new law, Hieu commented that it does not deal with one of the fundamental obstacles to effective action against corruption: protection is given to malefactors by those in authority. He cited as an example a member of the lower house who had clearly been involved in corrupt activities. Hieu said he took the dossier to Vice President Huong, who noted that the legislator was a member of the pro-administration bloc and the day before had had dinner with the President. Huong advised not pursuing the matter. Another example, Hieu said, was police Colonel Pham Kim Quy, chief of the judicial bloc, national police. According to Hieu, gross corruption in the National Police Immigration Service, a branch of the judicial bloc, has been traced directly to Col Quy, who is known to be close to Presidential Assistant Dang Van Quang. Vice President Huong is also reluctant to pursue this case.
In announcing my brother's death, Washington Post notes:
Hieu had been critical of Thieu in the past over corruption. Accident theory not widely believed.
- Toward General Nguyễn Văn Toàn:
Dep commander of Saigon area, Gen Hieu, dies of self-inflicted gunshot (New York Times) death following an argument with superior over tactics (UPI, New York Daily News).
Discreet and low-keyed
My brother was extremely discreet and low-keyed to the point that not many knew he was an exceptional warrior.
Firstly, he studied and performed more big battles than any other generals, be it Vietnamese, Viet Cong or American, on the Vietnam battlefields: Than Phong 1, Pleime, Duc Hue/Svay Rieng (at corps level); Do Xa, An Dien (at divisional level); Dai Bang 800, Snoul (at regimental level). The reason for this ignorance is that because my brother hides behind the other commanders (Do Cao Tri, Vinh Loc, Pham Quoc Thuan) in his role as Corps Chief of Staff or Corps Deputy Commander.
Secondly, my brother always launched an attack into the heart of the enemy hideouts: Do Xa in the Quyet Thang 202 operation; Chu Pong, in the Pleime campaign; Phu My in the Dai Bang 800 operation; Snoul, in the Toan Thang 02/71/B5/KB operation; Svay Rieng, in the Duc Hue battlefront.
Furthermore, my brother's control and command style were so smooth and so gentle that the units and the commanders that he make use thought that they held the initiative while they obeyed to his operational order and guidance. Whenever he needed to use a specific unit in a battle or operation, he never put them in a position that required them to perform beyond their ability, and he always provided them with sufficient support. In the Than Phong 1 operation, my brother notes:
The task forces were closely controlled in their progress. They retained complete freedom of action, but 2d Corps planning had compelled them to occupy high grounds along the highway and to move by successive bounds.
Usually, my brother did not issue a direct order. He would call in the commander and asked: this is the situation, what do you think we should do? My brother knew beforehand what the answer would look like (once he put down a pawn – be it a horse or a tower – on the chessboard, he already knew how that particular pawn would react). After he got the response from the commander, he would say: great, do like that. He acted that way, for instance, in the Duc Hue battlefront; to these days, Brigadier General Tran Quang Khoi was still convinced he was the one who won that battle. As for the case of An Dien battle, after the III Corps Assault Task Force of General Khoi failed to dismantle the enemy defensive lines, my brother switched to the 18th Division of General Le Minh Dao who narrated:
We got along well with each other. He made it clear that he approved of the troop disposition and plans within the 18th Division. He rarely asked questions, he simply gave everything a quick but thorough look, and only offered an opinion when asked. I still recall the circumstances of the battle of An Dien — after the 3rd Corps Assault Task Force of Brigadier General Tran Quang Khoi failed to break the enemy defense line by attacking Rach Bap and Hill 82 from the south — General Thuan gave me the responsibility of using elements of the 18th Division to assault An Dien from two sides. One group crossed the Thi Tinh river to the south of Ben Cat and moved as quickly as possible up north toward An Dien, and another group attacked An Dien over the bridge, and established General Hieu long- term at the 18th Division's Command Post. The two of us, General Hieu and I, slept in the same room, side by side on two beds.
General Dao mistook my brother's discreet and low-keyed attitude as lack of strength when he comments:
He was superb in strategy and staff work. However, his mild appearance might have caused soldiers not to see him as a fighting leader, and that would make him less effective, in the end, as a tactician.
The reality was that my brother excelled in both strategy and tactic; he was both a thinker and a doer. He planned a battle perfectly, so the combatants did not have to exert too many efforts.
In the Pleime campaign, the various unit commanders of 1st Air Cavalry could boast that they defeated the forces of B3 Field Front, while ignoring the fact that they only applied the operational concept that my brother, in his capacity of II Corps Chief of Staff, had designed.
General Nguyen Huu Co brought my brother back to II Corps on October 24, 1964; my brother was able to prevent the Viet Cong from conquering the Central Highlands. General Pham Quoc Thuan brought my brother to III Corps on December 3, 1973; my brother was able to prevent the Viet Cong to conquer more lands and to set up a capital for the National Liberation Front in Tay Ninh or Binh Duong following the Paris Agreement. On November 7, 1974, the American Embassy noted:
Hieu has a reputation for being an excellent staff officer. Hieu has performed well in Bien Hoa, where he is well liked and widely respected. Barring a severe military setback, it is likely, therefore, that Hieu will remain in highly responsible positions for the foreseeable future.
General Tran Van Don considered my brother as the best general:
In February 1972, Don, who was a LTG and is currently a Deputy Prime Minister, stated to the Consul in Danang that Hieu was one of the most capable generals in ARVN and "the most honest general in the Army today." The latter assessment is broadly held and frequently voiced by ARVN officers. Don further stated that he would take Hieu over virtually any ARVN general he knew.
His love of soldiers
American Embassy states:
Hieu's well-known reputation for personal integrity and for his strong personal interest in the welfare of his troops.
My brother paid attention to each individual soldier and their family. Nguyen Anh Ton narrates:
Another day, I accompanied the General in a visit to the same unit at its rear camp. At that unit, there was a Sergeant going by the name of Thien, a native of Quang Nam with a giant stature, whose foot's size was unusually big and the military supply did not carry a boot's size that fit his feet. Consequently, he had to content to wear a pair of rubber sandals that did not go with his military outfit. I did not know how the General learned about his predicament, because as soon as he arrived at the camp, the first thing he asked was to see the Sergeant. Then he gave the order to take the money from a special fund to buy a pair of boots built to fit American soldiers' size at the flea market. From there on, our Sergeant proudly paraded around, feeling he was an adequate soldier from head to toe!

The General used to dine with his staff in the officers' mess. One day, he said that in order to improve the combat resolve of a soldier, two needs had to be met: one is to arm him with adequate weapons and ammunition; two is to provide a secure life condition to his spouses and children.
My brother valued much the life of soldiers. Khuc Huu Chap narrates:
General Hieu was my idol, and I knew him since when he came to the 5th Division. At that time, I was with an attached unit that jumped into a cross-border area which was under his loving tender care. When we were about to enter Krek, he gave the order to retreat when B-52 air support pre-approval was suddenly reversed by higher authority. He said, "Without support, I refuse to commit my troops into combat." He was an honest general, a general who took great care of his men and virtuous. He deserves my highest admiration.
When the combatants died on the battlefields, it caused profound grief to my brother. Tran Hoai Thu narrates:
On May 9,1968, our unit was ambushed on Ky Son's hilltop, we suffered very heavy casualties, with four officers KIA, including an American advisor, right that afternoon, General Hieu's helicopter landed down and he bent his head on a stone for half an hour. And for the entire following week, he ordered the flag to be hung half pole.
When announcing my brother's death, the press wrote:
Dep Commander of Saigon area, Gen Hieu, dies of self-inflicted gunshot death followed argument with superior over tactics.

General Toan had the reputation of being "aggressive," my brother had the reputation of being "extremely conservative in his tactical planning and execution."
According to Charles Lahiguera, Deputy Consul General of Bien Hoa,
in the telegram the American General Consulate in Bien Hoa sent to the Secretary of State to report about General Hieu's death, one of the theories advanced was that General Hieu was killed because he advised surrendering to prevent needless bloodshed among the troops.
Religious and virtuous
Among all his personality characteristics, my brother was above all religious and virtuous. Colonel Robert Lott, Deputy Senior Advisor of 5th Division, wrote:
General Hieu was a brave and able soldier; however, in these conversations, he defined himself to me to be much more - a christian gentleman.
He always included his baptismal name Paul in his signature, P.Hieu:

Nguyen Anh Tôn narrates:
In life, each one of us determines his or her own way of life. In the General's case, he always placed the following two maxims in French on his desk as a compass for this life:

Un travail bien fait est la joie du coeur.
Une prière bien accomplie est la paix de l'âme.

which means:

A task well done brings joy to one's heart.
A prayer well said brings peace to one's soul.

By way of these two maxims, the General had led a life of simplicity, honesty, and charity.
Nguyen Nhon narrates:
One must say that MG Hieu was very virtuous, kind, and taciturn. He never skipped Sunday's mass and communion.
Quan Minh Giau narrates:
During the period we worked together at G3, I noticed that Hieu was brilliang and diligent, sharp and quick in making decisions in strategy matters. Every staff member held him in high-esteem. Sometimes at lunch break, he stopped by my desk, or I stepped into his office to chat about family, society, military operations. One of such times he told me: "Je fais tout mon possible pour me rapprocher d'un saint, mais je n'y parviens pas" (I make my utmost effort to come close to a saint, but have not been successful at it). Since the days at Dalat Military Academy, I had noticed that Hieu was a man of ideal, that day I understood his ideal lay in the spiritual stratosphere, aiming at a spiritual perfection in life in order to come nearer to God. Such ideal was the motivation in all of his actions.
Nguyen Van Tin
04 March 2015
---
=>content