Story about my Brother, General Hieu
Chapter XII
A Mysterious Death
Early morning on April 8, 1975, my brother flew to Go Dau Ha to meet with Brigadier General Tran Quang Khoi to discuss the coming VC attack at the Xuan Loc front.
Around 8:30 am the Presidential Palace was bombed. A military curfew was enacted.
Around 9:30 am, my brother, flew back to Bien Hoa.
Around 10:00 am, my brother had a meeting with Colonel Nguyen Khuyen, III Corps Chief Bureau of Military Security. The meeting ended sometime before 11:00. After sending off everybody, he returned to his office.
At 10:45 a.m., when my brother entered his III Corps Deputy Commander's office, the assassin jumped over from behind, delivered a chopping blow at the back of neck causing a temporary immobilization, then used a small Browning P6.35 mm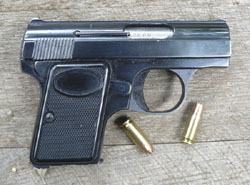 caliber pistol to shoot at the chin. The bullet pierced the chin, traveled up to the brain, and lodged inside the skull without exiting the head.
The assassin was General Toan's bodyguard, Captain ĐŰ̃ Đức, a third-degree black-belt Taekwondo.
After the killing, General Toan called President Thieu and reported back to him: "Mission accomplie". (see Shroud over General Hieu's Mysterious Death Unveiled)
Colonel Khuyen narrated:
The meeting lasted until around noon, then ended. I went back to my office, which was not too far away from the Command headquarters, about only 10 minutes drive. I was preparing to have lunch with some friends who had come down from Saigon to visit me when the Security Office called to let me know that General Hieu killed himself with a pistol in his office. I was dazed and surprised because it was just unbelievable. I just departed with him 15 minutes ago, after the meeting. I found him to be jovial as usual, and there was no sign whatsoever of a despressed man. I apologized to my friends from Saigon and hurried to drive back to the Command headquarters. When I arrived, the Red-Cross ambulance had taken General Hieu's body to the hospital.
General Toan kept secret the fact that my brother was killed around noon and covered up the assassination with the story of suicide/an accidental death caused by self-inflicted wound occurring at 7:00 pm.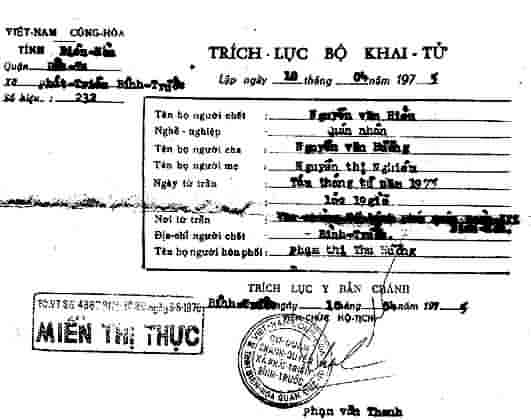 Death Certificate
The family in Saigon only then received the sad news and around 10:00 pm, my sister-in-law and my brotherís eldest son, Dung, were taken to the III Corps headquarters by car. Upon returning to Saigon, my sister-in-law told my father: "there was no blood anywhere-just a speck of it under his chin."
The next day, the news of my brotherís mysterious death was announced on various newspapers.
- UPI:
The deputy commander of South Vietnamese troops defending the Saigon area was found shot to death Tuesday night following an argument with his superior over tactics. Military sources said he apparently committed suicide. It was not known whether Hieu's death was connected with the Tuesday morning bombing of the Presidential palace of Nguyen Van Thieu?
- New York Times:

- Vietnam Press:

- The US Secretary of Stateís April 9 Press Summary noted:
Dep Commander of Saigon area, Gen Hieu, dies of self-inflicted gunshot (NYT) death followed argument with superior over tactics (UPI, New York Daily News). Hieu had been critical of Thieu in past over corruption. Accident theory not widely believed (Greenway, Washington Post).
In 2011, when I asked Richard Peters what he knew about my brotherís death, he answered:
The first report I got about his death said it was a suicide. Other theories came out later. Because of the need to take urgent care of multiple problems raised by the rapid advance of the NVA, I did not have time to investigate General Hieu's death in person.
However, Charles Lahiguera, Deputy General Consul of Bien Hoa let me know that
in the telegram the American General Consulate in Bien Hoa sent to the Secretary of State to report about General Hieu's death, one of the theories advanced was that General Hieu was killed because he advised to surrender to prevent needless bloodshed among the troops.
I have been making efforts to get this cablegram, but I have not succeeded yet.
Nguyen Van Tin
14 February 2015
Updated on 05/07/2015
---
=>content