Story about my Brother, General Hieu
Chapter XI
III Corps
On October 9, 1973, General Pham Quoc Thuan was assigned III Corps Commander. He replaced General Nguyen Van Minh.
On December 3, 1973, my brother was assigned III Corps Deputy Commander/Operations. This position was vacant for six months since General Le Van Hung left III Corps and became the 21st Infantry Division Commander. General Dao Duy An maintained his position as III Corps Deputy Commander/Territories.
The Biographic Data on MG Nguyen Van Hieu of the American Embassy notes:
His transfer came as a surprise to many, including General Hieu. Hieu has performed well in Bien Hoa, where he is well-liked and widely respected.
It was a surprise because it was well known that President Thieu did not like my brother. He discarded my brother from the command of the 5th Division and even from the Army by assigning him Special Investigator of anti-corruption. He did announce in a public meeting at Orange County, California on June 16, 1990, that he "likes and appreciates General Hieu because he was competent, straightforward and honest". Such an irony: everybody knows that these are the very reasons for him not to use my brother. He was compelled to make use of my brother's military skills in strategy and tactics to protect the areas surrounding Saigon, but was cautious in only putting my brother at deputy commander level, so that my brother would not have troops on hands to threaten his presidential seat. As a consequence, my brother would remain as a deputy commander successively under three commanders: General Pham Quoc Thuan, General Du Quoc Dong, and General Nguyen Van Toan.
General Pham Quoc Thuan
Upon assuming the new job, my brother immediately had control of the military situation in the 3rd Military Region and assessed accurately the Viet Cong's intentions in the coming months. On December 7, 1973, the American officials of the General Consulate in Bien Hoa report:
MR 3 DEPUTY CG FOR CORPS, MG NGUYEN VAN HIEU, WHO ARRIVED 5 DAYS AGO, IMPRESSED CONGEN OFFICERS BY HIS FRIENDLY MANNER AND ARTICULATE ANALYSIS OF PROBABLE ENEMY STRATEGY. HE FEELS ENEMY WILL LAUNCH AN ATTACK OF SOME INTENSITY WITHIN NEXT 2 MONTHS (PERHAPS MID-JANUARY) WITH MAINLY POLITICAL OBJECTIVE. HE THOUGHT COMMUNISTS WOULD PAUSE AFTER EACH IMPORTANT NEXT MOVE RATHER THAN FLAUNT INTERNATIONAL OPINION TOO SOON AND TOO BROADLY. ACCORDING TO HIEU, NVA WILL ATTEMPT CONSOLIDATE THEIR TERRITORY IN NORTHERN PARTS OF TAY NINH, BINH LONG AND PHUOC LONG AND POSSIBLY CAPTURE A MAJOR POPULATION CENTER IN WHICH TO ESTABLISH A PRG CAPITAL. HE THOUGHT TAY NINH A MORE LIKELY TARGET THAN BINH DUONG. GENERAL HIEU SAID PARIS ACCORDS WERE GREATLY TO ADVANTAGE OF HANOI BECAUSE CEASE-FIRE IN PLACE PREVENTED GVNS FROM ATTACKING PRG-HELD TERRITORY. HE MENTIONED THAT COMPARATIVE MAPS OF SVN BEFORE AND AFTER CEASE-FIRE SHOW NVA SUCCESSFULLY CONNECTING ITS "LEOPARD SPOTS" IN SOUTH. HIEU IS OF OPINION HANOI WILL MOUNT AN OFFENSIVE LARGE ENOUGH TO ATTRACT WORLD ATTENTION, BUT NOT SO LARGE AS TO DESTROY ACCORDS. THEY WOULD THEN TURN TO RENEWED NEGOTIATIONS IN PARIS FOR POLITICAL OBJECTIVES WITH INCREASED BARGAINING POWER AND MILITARY LEVERAGE.
Nguyen Nhon narrates:
It was at the eve of 1974 Tet that I met Major General Nguyen Van Hieu, III Corps Deputy Commander for the first time when I accompanied the Bien Hoa Province Chief to present Tet wishes to him. His first words put me off guards somehow: I am in no way involved in the administrative domain for you as a Deputy Province Chief to pay me a visit for the occasion of Tet? He said it with a smile, I knew he was kidding and I responded mildly: It is because I admire your honesty reputation that I come to present my Tet wishes. That was the unique time I paid a visit to him.
About the battlefront of Duc Hue (March 27-May 10, 1974), I found a collection of cablegrams circulating among the American officials, namely the American General Consul in Bien Hoa, the American Embassy in Saigon and the Secretary of State in Washington D.C., as it unfolded
- 01 April 1974
1. A RANGER COMPANY AT DUC HUE WELL SUPPORTED BY AIR STOOD OFF A DETERMINED BATTALION-SIZE ATTACK BY THE 5TH NVA DIV MAR 27 AND 28, AFTERWARD COUNTING AT LEAST 96 COMMUNIST KIA AGAINST ONLY 29 FRIENDLY KIA, 27 WOUNDED AND 6 MIA. FRIENDLY LOSSES WERE AUGMENTED BY AN ADDITIONAL 16 DEPENDENTS KIA AND TWO WOUNDED IN THE DEPENDENTS LIVING AREA NEAR THE RANGER BASE. THERE ARE INDICATIONS THAT WITH THIS ACTION THE COMMUNISTS HAVE OPENED UP A NEW AREA OF LONG TERM OPERATIONS BASED IN THE PARROTS BEAK AREA OF CAMBODIA.

2. DEPUTY III CORPS COMMANDER MGEN HIEU DISCUSSED THE DUC HUE ENGAGEMENT AND THE HIGH LEVEL OF MILITARY ACTION ELSEWHERE IN MR 3 WHEN WE MET AT NOON TODAY. THIS REPORT IS ALSO BASED ON INFORMATION OBTAINED BY OUR RLO/DAO FROM THE 25TH DIV G-2 MAR 29.

3. THE ACTION AT DUC HUE BEGAN AT 0330 MAR 27 WHEN THE NVA ATTACKED THE RANGER BASE CAMP ABOUT FIVE MILES FROM THE CAMBODIAN BORDER AFTER A STRONG ARTILLERY AND MORTAR BARRAGE. SAPPERS PENETRATED THE BASE PERIMETER WHEN THE GROUND ACTION BEGAN AND HELD ON FOR SEVERAL HOURS BEFORE THE RANGERS REESTABLISHED CONTROL. ONLY ONE OF THREE RANGER COMPANIES WAS IN THE CAMP AT THE TIME. THE OTHER TWO RETURNED FROM LONG RANGE PATROLS AFTER THE COMMUNISTS BROKE OFF MAR 28. CAPTURED DOCUMENTS IDENTIFY THE ATTACKING FORCE AS A BATTALION OF THE E-6 REGIMENT, 5TH NVA DIV. ACCORDING TO MGEN HIEU, ANOTHER BATTALION FROM THE 5TH DIV (NOT YET IDENTIFIED) DEPLOYED INITIALLY ALONG THE SINGLE ACCESS ROAD FROM THE NORTH, PRESUMABLY TO AMBUSH ARVN RELIEF UNITS. THIS BATTALION AS WELL AS SOME AMPHIBIOUS TANKS SPOTTED NEABY ON THE CAMBODIAN BORDER WITHDREW WHEN NVA FORCES FAILED TO TAKE THE RANGER BASE.

4. THE COMMANDER OF THE ARVN 46TH REGIMENT (25THDIV) WAS UNFORTUNATELY LOST WHEN A 107MM ROCKET SCORED A DIRECT HIT ON HIS BUNKER IN BIVOUAC NORTH OF THE RANGER BASE CAMP ALONG THE ACCESS ROAD AT 0400 HOURS MAR 29. ELEMENTS OF THE 25TH UNDER HIS COMMAND HAD GONE TO THE DUC HUE AREA TO REINFORCE BUT HAD NOT BEEN INVOLVED IN THE ACTION THROUGH MAR 28.

5. AIR ACTION INCLUDING PARTICULARLY A-1'S AND AC-119'S APPARENTLY PLAYED AN IMPORTANT ROLE NOT ONLY AGAINST ENEMY PERSONNEL BUT ALSO IN ELIMINATING SEVERAL 75MM RECOILLESS RIFLE POSITIONS. AN INTERESTING FEATURE OF THE AIR ACTION WAS THE EVASION OF FOUR SA-7 ROUNDS BY AN AC-119. SEEING THE ROUNDS FIRED WHILE HE WAS AT 9,500 FEET, THE PILOT TURNED SHARPLY AND SIMULTANEOUSLY DROPPED HIGH INTENSITY FLARES WHICH DREW TWO OF THE SA-7 ROUNDS. THE OTHER TWO BY-PASSED THE AC-119 AND EXPLODED AT 10,000 FEET.

6. OTHER REPORTING HAS RECORDED THE LOSS OF A POL STORAGE TANK FROM AN NVA ATTACK ON CU CHI BASE CAMP MAR 27 AND HEAVY ABF (200 ROUNDS) ON TRUNG LAP OUTPOST NORTHEAST OF TRANG BANG THE NIGHT OF MAR 28. MGEN HIEU THOUGHT THIS SHARPLY INCREASED NVA ACTIVITY IN NORTHERN HAU NGHIA WAS DIRECTLY RELATED TO THE DUC HUE ATTACK, INTENDED TO DIVERT GVN FORCES FROM RELIEF OF THE DUC HUE GARRISON. HE DID NOT, HOWEVER, SEE ANY RELATIONSHIP BETWEEN THIS ACTIVITY IN HAU NGHIA AND THE SHARP INCREASE OF INCIDENTS IN PHUOC TUY PROVINCE (13 ON MAR 28 ALONE). HE ALSO BELIEVES THAT THE DUC HUE ATTACK NOW EXPLAINS THE ESTABLISHMENT OF AN NVA 5TH DIV FORWARD CP AT CU PHI IN THE PARROTS BEAK OF CAMBODIA AND HE EXPECTS FURTHER ACTION FROM THE 5TH EITHER IN THE DUC HUE AREA OR IN TAY NINH. (RECENT OB DATA SHOWS THE 174 AND 275 REGIMENTS OF THE 5TH NVA DIV STILL TO BE IN TAY NINH.) THE EVIDENT PRESENCE OF NVA ANTI-AIRCRAFT CAPABILITY IN THE ACTION AT DUC HUE INDICATES THE CAREFUL PREPARATION OF AN ATTACK WHICH WAS EXPECTED TO DRAW VNAF REACTION. MGEN HIEU SAID MR 3 IS NOW ALSO ALERT TO THE POSSIBILITY THAT THE NVA 9TH DIV MAY PUSH OUTWARD FROM ITS POSITIONS IN NORTHWEST BINH DUONG PROVINCE SOUTHWARD ALONG THE SAIGON RIVER CORRIDOR TO PUT PRESSURE IN THIS AREA ON GVN FORCES. ACCORDING TO G-2 OF THE 25TH DIV, DOCUMENTS CAPTURED IN THE DUC HUE ACTION SHOW THE E-6 REGIMENT NOW TO HAVE A MISSION (A) TO SECURE THE AREA WEST OF THE VAM CO DONG RIVER IN DUC HUE DISTRICT OF HAU NGHIA AND ADJACENT HIEU THIEN DISTRICT OF TAY NINH, AND (B) TO ESCORT RESUPPLY UNITS FROM THE CAMBODIAN BORDER (PRESUMABLY PARROTS BEAK AREA) TO NVA/VC BASE AREAS TO HO BO AND BOI LOI WOODS.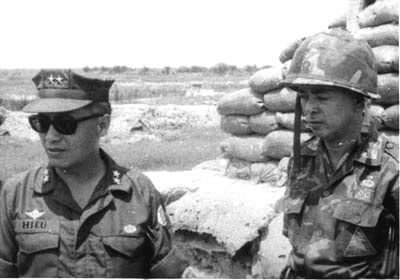 Duc Hue Battlefront – LTC Le Tat Bien, 33rd Ranger Group Commander
- 02 April 1974
1. NVA/VC CONTINUE ARTILLERY AND MORTAR SHELLING AT DUC HUE RANGER BASE CAMP BUT HAVE NOT RENEWED GROUND ATTACK FOLLOWING UNSUCCESSFUL ASSAULT MAR 27 - 28. SITUATION APPEARS STABILIZED FOR THE MOMENT. CAMP TOOK 119 ABF ROUNDS ON MAR 30, THREE ON MAR 31, AND 41 ON APRIL 1. HELICOPTER LANDING ZONE AT BASE CAMP WAS MOVED MAR 31 BECAUSE NVA/VC HAD ZEROED IN ON REGULAR PAD AND WERE DIRECTING FIRE AT CHOPPERS UPON EACH LANDING. ABF'S ON BASE CAMP HAVE BEEN FROM 105 ARTILLERY, 107 ROCKETS, AND 82MM MORTARS. EARLIER REPORTS OF 130MM ARTILLERY FIRED ON DUC HUE PROVED TO BE INCORRECT AND MR 3 HQ IS NOW CARRYING THESE AS 105'S.

2. MR 3 HQ PLACES BADLY MAULED 7TH BATTALION OF E-6 REGIMENT (WHICH UNSUCCESSFULLY ATTACKED DUC HUE) ON EITHER SIDE OF CAMBODIAN/VIETNAM BORDER ABOUT 10 KM NORTH OF THE BASE CAMP. OTHER ENEMY UNITS IN AREA INCLUDE SMALL K-9 AND K-4 INDEPENDENT BNS FEW KMS SOUTH OF DUC HUE, THE C-1 LOCAL FORCE CO LOCATED WITH 7TH BN E-6, AND THE E-6 REGT HQ AS WELL AS 5TH NVA DIV HQ NEARBY IN CAMBODIA. CONTINUING ABF'S AND ANTI-AIRCRAFT FIRE PLUS PRESENCE OF E-6 REGT HQ AND A DIV FORWARD CP INDICATE PROBABLE PRESENCE IN AREA OF OTHER NVA/VC UNITS

3. FRIENDLY FORCES INCLUDE 83RD RANGER BATTALION IN THE BASE CAMP, A BATTALION OF THE 46TH REGIMENT AND THE 49TH RECON COMPANY (BOTH FROM 25TH DIV), THREE BATTERIES OF ARTILLERY FROM THE 25TH DIV (TWO OF 105 AND ONE OF 155), AND TWO RF BATTALIONS IN THE GENERAL AREA. FRIENDLY AIR MISSIONS HAVE INCLUDED EIGHT SORTIES OF A-1'S AND 10 SORTIES OF F-5'S ON MAR 30 (NONE REPORTED SINCE) AND SCORES OF CONTINUING COMBAT AND ESCORT MISSIONS BY UH-1H HELO GUNSHIPS. (AC-119 GUNSHIP MISSIONS ARE BEING FLOWN REGULARLY BUT THE AIRCRAFT ARE BASED AT TAN SON NHUT UNDER THE 5TH AIR DIVISION AND MR 3 HAS NO RECORD OF ITS MISSIONS.) SINCE ACTION BEGAN AT DUC HUE VNAF HAS LOST TWO A-1'S AND ONE L-19 AND HAS REPORTED DAMAGE TO FIVE HELOS. ANTI-AIRCRAFT FIRE, INCLUDING SA-7'S, HAVE BEEN HEAVIEST ENCOUNTERED SINCE CEASE-FIRE OUTSIDE OF COMMUNIST CONTROLLED AREAS. 3RD AIR DIVISION COMMANDER, GEN TINH, REPORTS THAT NVA/VC ARE USING MODIFIED SA-7 WHICH NO LONGER EMITS TELLTALE WHITE SMOKE PUFF UPON BEING FIRED MAKING WEAPON MUCH MORE MENACING THAN BEFORE.

4. MR 3 HAS NO CLEAR IMPRESSION AS TO WHAT NEXT MOVES OF COMMUNISTS MAY BE AT DUC HUE. IN BROADER FRAME OF REFERENCE, CONGEN FORESEES THAT WITH DUC HUE ACTION NVA/VC HAVE OPENED UP A NEW BASE AREA NEAR THE PARROTS BEAK FROM WHICH TO BRING LONG TERM PRESSURE ON THE GVN. OPTIONS OPEN TO COMMUNISTS ARE (A) TO TRY TO CREATE A NEW LEOPARD SPOT ON THE WESTERN BORDER WHICH OVER A LONG PERIOD THEY WOULD TRY TO LINK TO NORTHERN TAY NINH BY ERODING GVN CONTROL IN INTERVENING WESTERN TAY NINH BORDER AREA, OR (B) TRY TO OCCUPY DUC HUE DISTRICT WEST OF VAM CO DONG RIVER WHICH AS WE HAVE PREVIOUSLY NOTED IS GOOD AGRICULTURAL LAND SPARSELY POPULATED AND LIGHTLY DEFENDED BY GVN, OR (C) TRY TO CUT OFF TAY NINH PROVINCE WITH DRIVES BY NVA 5TH DIV FROM PARROTS BEAK AND NVA 5TH AND/OR 9TH DIV FROM HO BO/XAI LOI WOODS AREA ACROSS NARROW NECK SEPARATING THOSE TWO NVA BASE AREAS. IN ANY CIRCUMSTANCE, PRESSURE FROM THE NVA 5TH IN THE PARROTS BEAK AREA FORCES THE ARVN 25TH DIV TO FACE SOUTWARD AS WELL AS NORTH WARD IN ITS A/O (HAU NGHIA/TAY NINH) AND STRETCHES GVN FORCES IN MR 3 THINNER THAN BEFORE.

5. AT A MINIMUM, COMMUNIST PRESSURE IN WESTERN HAU NGHIA WILL BE ACCOMPANIED BY PRESSURE IN NORTHERN HAU NGHIA ABOVE TRANG BANG AND CU CHI WHICH WE ARE ALREADY SEEING. PRESSURE IN WESTERN MR 3 WILL IN TURN PROBABLY BE ACCOMPANIED BY AN INCREASED SCALE OF ATTACKS IN EASTERN AREAS (PHUOC TUY, LONG KHANH, AND BINH TUY), WHICH ALSO WE ARE ALREADY SEEING, AIMED AT TRYING TO TIE DOWN THE ARVN 18TH DIV AND OTHER GVN FORCES OTHERWISE AVAILABLE FOR REINFORCEMENT IN THE WESTERN AREAS.

6. WHILE A CONSIDERABLY HIGHER LEVEL OF COMMUNIST MILITARY ACTIVITY CAN THUS BE EXPECTED IN THE NEAR FUTURE, PRESUMABLY AN NVA/VC PARTING SHOT IN THE REMAINING WEEKS OF THE DRY SEASON, WE DO NOT YET SEE DEFINITE SIGNS OF A REGION-WIDE MAJOR OFFENSIVE. IN THE FACE OF STEPPED-UP NVA/VC ACTION, THE MR 3 COMMANDER, LTGEN THUAN REMAINS CONFIDENT. HE IS CONCENTRATING DEFENSIVE FORCES IN WESTERN AND NORTHERN HAU NGHIA TO COPE WITH ANY DETERMINED NVA PUSH IN THAT AREA AND IS CONSIDERING OTHER MEASURES WHOSE OBJECTIVE WOULD BE TO FORCE THE NVA 9TH DIV TO PULL BACK FROM HO BO WOODS AND OTHER SAIGON RIVER CORRIDOR FORWARD POSITIONS INTO WHICH IT HAS RECENTLY MOVED. THUAN RECENTLY COMENTED PRIVATELY THAT HE RELISHES THIS "CHESS GAME" HE IS NOW PLAYING WITH HIS FORMER ADVERSARY, CHIEF OF THE PRG DEL TO THE TPJMC WHEN THUAN HEADED THE GVN DEL, WHO HE SAYS IS NOW COMMANDING NVA FORCES IN SOUTH VIETNAM.
- 03 April 1974
THE MAIN COMMUNIST ATTACKS DURING THE WEEK WERE IN HAU NGHIA AND INCLUDED AN UNSUCCESSFUL COMMUNIST ATTEMPT TO OVERRUN A GVN RANGER CAMP IN DUC HUE DISTRICT BORDERING THE PARROT'S BEAK. THE ATTACK INCLUDED HEAVY SA-7 MISSILE SUPPORT FIRE. TWO VNAF A-1 SKYRAIDERS WERE DOWNED BY THE SA-7S AND ONE L-19 OBSERVATION PLANE FORCED DOWN BY ANTI-AIRCRAFT FIRE.

TO DEAL WITH THE CURRENT SITUATION, MR 3 HQS HAS DRAWN FROM THE 3RD ARMORED BRIGADE TO CREATE TWO MOBILE STRIKE FORCES, THE 315TH AND 318TH TO MEET THE NEW THREAT IN WESTERN MR 3. THE STRIKE FORCES ARE COMPOSED OF THE 15TH AND 18TH CAVALRY, RESPECTIVELY, AND ELEMENTS OF THE 36TH RANGER GROUP. THE 315TH IS BASED IN THE PHU HOA AREA (NORTHEAST OF CU CHI) AND THE 318TH IS BASED ALONG LTL 19 FROM TRANG BANG TOWARDS KHIEM HANH.

MR 3 HQS NOW HAS REASON TO SUSPECT THAT THE 15TH AND 24TH INDEPENDENT NVA REGIMENTS OF VC MR-2 ARE INVOLVED IN THE DUC HUE ACTION AS WELL AS THE E-6 REGT, 5TH NVA. THERE IS, HOWEVER, NO CONFIRMATION AS YET. THE 9TH BN, E-6 REGT, NOW LOCATED IN THE VICINITY OF THE CAMBODIAN BORDER AT ABOUT XT 3212, WAS INITIALLY DEPLOYED TO AMBUSH ARVN 46TH REGT ENROUTE TO REINFORCE DUC HUE BASE. IT WAS DETECTED AND DRIVEN OUT OF ITS AMBUSH POSITION BACK TOWARD CAMBODIA.

ARTILLERY AT DUC HUE IS BELIEVED TO BE MAINLY FROM D-22 BN/ 5TH NVA (ONLY KNOWN 5TH DIV UNIT WITH 120MM MORTARS) AND ELEMENTS OF THE 42ND HOWITZER REGT/69TH NVA ARTY GROUP. SINCE ANTIAIRCRAFT MISSILES (SA-7) ARE NOT PART OF NVA INF DIVISION EQUIPMENT, ELEMENTS OF THE 75TH ARTY GROUP (AKA 69TH) ARE BELIEVED TO BE ATTACHED TO NVA 5TH FOR AA SUPPORT FOR THE DUC HUE ACTION.

AN AGENT REPORTS HAVING SEEN LIGHTS ON 20 VEHICLES MOVING FROM CHI PHU (XT 1120) TOWARDS PARROT'S BEAK ON NIGHT OF MARCH 30 BELIEVED TO BE ARTY, ROCKET, AND AMMO RESUPPLY TRUCKS. POSSIBILITY EXISTS THAT THESE WERE TANKS.

AN AGENT REPORTS HAVING SEEN LIGHTS ON 20 VEHICLES MOVING FROM CHI PHU (XT 1120) TOWARDS PARROT'S BEAK ON NIGHT OF MARCH 30 BELIEVED TO BE ARTY, ROCKET, AND AMMO RESUPPLY TRUCKS. POSSIBILITY EXISTS THAT THESE WERE TANKS.

MR 3 HQS NOW BELIEVES THAT THE NVA 5TH DIV IS ENGAGED IN A MAJOR EFFORT TO TAKE DUC HUE AND TRANG BANG DISTRICTS OF HAU NGHIA LINKING WITH THE NVA 9TH DIV AND OTHER NVA UNITS IN THE HAU NGHIA/TAY NINH/BINH DUONG TRI-BORDER AREA TO ISOLATE TAY NINH PROVINCE. THIS MOVE WOULD CUT ROUTE 1 LEADING TO TAY NINH, RE-ESTABLISH THE SHORT SUPPLY ROUTE FROM CAMBODIA TO HO BO/BOI LOI WOODS AREA INTERDICTED BY THE GVN SINCE 1970, AND OPEN THE POSSIBILITY OF TAKING TAY NINH CITY, THUS REALIZING A PRG GOAL OF CONTROLLING A MAJOR POPULATION CENTER IN THE SOUTH.
- 06 April 1974
2 . MR 3 HQ IS NOW PREOCCUPIED WITH SIGNS THAT THE NVA/VC MAY HAVE GREATER STRENGTH THAN PREVIOUSLY DETECTED CONCENTRATED AT HO BO WOODS AND IN THE PARROTS BEAK AREA OF CAMBODIA:

A. G-2 NOW BELIEVES THAT THE 272ND (MINUS) AND 95-C REGIMENTS OF THE 9TH NVA DIV MAY BE IN HO BO TOGETHER WITH THE 271ST AND THE 9TH DIV FORWARD CP. THIS WOULD SUPPORT THE VIEW THAT THE COMMUNIST INTENTION IS TO MAKE A DETERMINED EFFORT TO CUT ROUTE 1 IN THE TRANG BANG AREA.

B. IN A MEETING IN THE CAMBODIAN BORDER AREA APRIL 5, A CAMBODIAN OFFICER TOLD A SENIOR OFFICER OF MR 3 HQ THAT ON APRIL 4 (A) 22 T-54 TANKS AND M-113 APC'S HAD BEEN OBSERVED HEADING EASTWARD ON ROUTE 1 EAST OF CHI PHU IN THE PARROTS BEAK OF CAMBODIA AND (B) 4 UNITS OF 600 MEN EACH HAD BEEN SEEN ON CAMBODIAN ROUTE 92 (THE NORTH-SOUTH ROAD JUST INSIDE CAMBODIA OPPOSITE DUC HUE RANGER BASE CAMP).

C. G-2 OF MR 3 IS NOW CARRYING ALL OF THE 5TH DIV IN THE PARROTS BEAK AREA (MINUS ONLY THE 275TH REGIMENT WHICH IS NE OF SUOI DA TOWN EAST OF BLACK VIRGIN MOUNTAIN IN TAY NINH). G-2 BELIEVES THAT THE NEXT MOVE OF THE 5TH WILL BE AGAINST DUC HUE RANGER BASE WITH THE OBJECTIVE ALSO OF OCCUPYING DUC HUE DISTRICT WEST OF THE VAM CO DONG RIVER.

D. MR 3 HQ HAS DECIDED THAT AFTER "RESCUING" THE RF BATTALION SURROUNDED BY THE 33RD NVA REGIMENT IN DUC THANH DISTRICT OF PHUOC TUY PROVINCE, THAT AREA (WHICH IS ASTRIDE AN NVA/VC COMMUNICATIONS TRAIL BETWEEN VC MAY TAO BASE AREA TO THE EAST AND THE HAT DICH BASE AREA IN SE BIEN HOA PROVINCE) WILL BE TEMPORARILY EVACUATED THUS CONCEDING TEMPORARY USE OF THE TRAIL TO THE VC. THIS IS CONSIDERED NECESSARY SO THAT THE 18TH REINFORCING DIV UNIT CAN BE EMPLOYED FOR HIGHER PRIORITY PURPOSES ELSEWHERE SPECIFICALLY, TO OPERATE IN THE PHU GIAO AREA OF BINH DUONG PROVINCE AND TO CONSTITUTE A RESERVE FORCE IN LONG KHANH.

[…]

6. THE DUC HUE RANGER CAMP WAS HIT BY 3 ABF'S AND SUFFERED MINOR CASUALTIES (2 WIA). ENEMY PRESSURE CONTINUED NORTHEAST OF TRANG BANG WITH DIFFERENT ELEMENTS OF THE 319TH RF BATTALION ALSO WITHSTANDING ABF'S. A SERIOUS TERRORIST INCIDENT OCCURRED AT 2300 HOURS APRIL 5 AT GIA BINH VILLAGE, 5 KMS NORTHWEST OF TRANG BANG (XT 450223). VC TOSSED A GRENADE INTO A CONGREGATION ATTENDING A BUDDHIST CEREMONY RESULTING IN 8 KIA AND 19 WIA INCLUDING 6 AND 18 CIVILIANS, RESPECTIVELY.
- 10 April 1974
1. […] ENEMY PRESSURE CONTINUED IN DUC HUE AND TRANG BANG DISTRICTS OF HAU NGHIA AND AT TONLE CHAM RANGER BASE IN BINH LONG.

[…]

3. IN THE DAY'S LARGEST CONTACT 4 KMS NW OF DUC HUE, IN WHICH BOTH THE 36TH AND 64TH RANGER BNS WERE ENGAGED BY AN UNKNOWN SIZE ENEMY FORCE, THE FRIENDLY UNITS LOST 1 KIA, 32 WIA AND 24 MIA AGAINST UNKNOWN COMMUNIST LOSSES. ANOTHER CONTACT 5 KMS NE OF TRANG BANG RESULTED IN CASUALTIES TO THE 327TH RF BN OF 3 KIA AND 4 WIA. COMMUNIST GUNNERS FIRED THREE MAJOR ABF'S (203 ROUNDS) AGAINST TONLE CHAM RANGER BASE WITH ONLY 2 FRIENDLY WIA. TWO SAPPERS WERE KILLED AS THEY ATTEMPTED TO CUT THROUGH PERIMETER DEFENSES AT TONLE CHAM.

[…]

5. ACCORDING TO A RALLIER, THE ENTIRE 5TH NVA DIV IS LOCATED IN THE PARROT'S BEAK/DUC HUE AREA WITH THE 174TH REGIMENT NEAR BA THU (XT 270035). RALLIER ALSO STATES THE 275TH REGT FORWARD CP AND THE D-1, D-2 AND D-3 BNS ARE LOCATED IN DUC HUE BETWEEN THE RANGER BASE AND THE VAM CO DONG RIVER AT XT 370085. MR 3 G-2 NOW BELIEVES ARTILLERY USED AGAINST DUC HUE IS THE 75TH BN, 42ND REGT, 75TH ARTY GROUP (AKA 69TH ARTY DIV) AND IS LOCATED AT XT 220110 AT THE JUNCTION OF THE ANGEL'S WING AND PARROT'S BEAK IN CAMBODIA. THE REMAINDER OF THE 42ND REGT IS BELIEVED TO BE AT XT 5563 IN BINH DUONG WEST OF MINH THANH. G-2 ALSO HAS REASON TO BELIEVE THE NVA 24TH ARTY REGT HAS MOVED FROM KATUM TO AN AREA MIDWAY BETWEEN FRENCH FORT AND BLACK VIRGIN MOUNTAIN ON TL 4 IN TAY NINH. THE 165TH REGT, 7TH NVA DIV REPORTEDLY MOVED INTO THE 141ST REGT'S AO NEAR THE BINH DUONG/PHUOC LONG BORDER AND CONSTITUTES A MENACE TO THE PHU GIAO AREA.
- 10 April 1974
1. MILITARY ACTIVITY IN MR 3 CONTINUED AT A HIGH LEVEL THROUGHOUT THE WEEK WITH INDICATIONS THAT THE HIGH POINT OF COMMUNIST PRESSURE IS YET TO COME. THE NVA 9TH DIVISION MOVED MORE OF ITS COMBAT ELEMENTS TOWARD THE BINH DUONG/TAY NINH/HAU NGHIA TRI-BORDER AREA MAINTAINING A MAJOR THREAT IN NORTHERN HAU NGHIA. THE NVA OBJECTIVE IN THIS AREA APPEARS TO BE AT THE MINIMUM ELIMINATION OF GVN OUTPOSTS NORTH OF THE CU CHI/TRANG BANG AREA, AND POSSIBLY TO DRIVE ON TRYING TO CUT HIGHWAY 1 AND ISOLATE TAY NINH PROVINCE. THE 5TH NVA DIV MAINTAINS ITS THREAT TO DUC HUE FROM THE PARROT'S BEAK OF CAMBODIA, LATE INFORMATION INDICATING THE POSSIBLE PRESENCE THERE OF ARMOR AND OF THE 275TH REGIMENT AS WELL AS THE 174TH AND E-6 REGIMENTS OF THE DIVISION. MR 3 HQS IS ALSO CLOSELY WATCHING HIGHWAY 22 NORTH OF TAY NINH CITY WHERE THERE HAVE BEEN REPORTS OF A POSSIBLE NEW CONCENTRATION OF ENEMY TANK AND INFANTRY FORCES, AS WELL AS DON XOAI IN SOUTHERN PHUOC LONG PROVINCE WHICH APPEARS TO BE MENACED FROM THE WEST BY THE 141 NVA REGIMENT AFTER COMMUNIST FORCES OVERRAN THE GVN OUTPOST AT CHI LINH BRIDGE ON THE PHUOC LONG/BINH LONG BORDER. THE SITUATION APPEARS STABILIZED FOR THE MOMENT IN NORTHERN PHUOC TUY PROVINCE AFTER THE ARVN SUFFERED A SETBACK ON ROUTE 2 NEAR THE LONG KHANH BORDER WHERE GVN DEFENDERS WERE PUSHED OUT OF TWO OUTPOSTS. THE CORPS COMMANDER HAS KEPT HIS HEAVIEST CONCENTRATION OF FORCES IN NORTHERN HAU NGHIA AND REMAINS CONFIDENT THAT HE CAN THWART ANY COMMUNIST ATTEMPT TO CUT ROUTE 1 AND ISOLATE TAY NINH.

2. IN THE 24 HOURS ENDING 0800 APRIL 9, THERE WERE 49 INCIDENTS COMPARED WITH 34 AND 66 IN THE PRECEDING TWO 24-HOUR PERIODS. COMMUNIST GUNNERS HAMMERED AWAY AT DUC HUE RANGER CAMP ON APRIL 8 WITH 50 ROUNDS OF 105MM HOWITZER.
- 22 April 1974
MIL SOURCES SAY COMMUNIST ARTILLERY AND GROUND ATTACKS STOP 1000-MAN ARVN COLUMN MAKING SECOND ATTEMPT IN WEEK TO RELIEVE ENCIRCLED DUC HUE RANGER CAMP 35 MILES NW OF SAIGON (REUTER, NYT). FIGHTING IS HEAVY BETWEEN SAIGON AND KHMER BORDER (AP, SUN). COMMUNISTS SHOOT DOWN THIRD GVN SPOTTER PLANE IN THREE DAYS NEAR DUC HUE.
- 24 April 1974
WHILE THERE WERE NO NVA/VC GROUND ASSAULTS AGAINST THE DUC HUE RANGER CAMP THIS PERIOD, COMMUNIST GUNNERS CONTINUED TO POUND THE CAMP THROUGHOUT THE WEEK FIRING WELL OVER 100 ROUNDS OF 122MM, 102MM AND 85MM ARTILLERY AS WELL AS 82MM MORTAR AND 122MM ROCKETS. WITH ALL SURFACE ROUTES TO THE CAMP CUT OFF, THE RANGERS ARE COMPLETELY DEPENDENT ON AIR SUPPORT FOR RESUPPLY. DURING THE WEEK, VNAF REPORTED ONE A-1 AND ONE L-19 LOST TO SA-7'S AND ONE F-5A AND AT LEAST THREE HELICOPTERS DAMAGED BY COMMUNIST AA IN ACTION OVER DUC HUE. ON APRIL 20 TWO BATTALIONS OF THE ARVN 25TH DIVISION, OPERATING BETWEEN THE RANGER BASE AND DUC HUE DISTRICT TOWN, WERE SUBJECTED TO A BARRAGE OF OVER 300 ROUNDS OF MIXED ARTILLERY RESULTING IN 39 ARVN WIA AND 19 MISSING WITH OVER TWENTY WEAPONS LOST. THE 5TH NVA DIVISION, LOCATED IN THE PARROT'S BEAK OF CAMBODIA, MAINTAINS ITS THREAT TO THE BESIEGED RANGER CAMP AND THE DUC HUE AREA WEST OF THE VAM CO DONG RIVER.
- 01 May 1974
MR 3 HQ REPORTED 206 MILITARY INCIDENTS THIS REPORTING PERIOD COMPARED WITH 263 IN THE PREVIOUS WEEK AND THE RECORD HIGH OF 377 FOUR WEEKS AGO. IN THE MAJOR CLASH OF THE PERIOD, AN ARVN ARMORED TASK FORCE DECIMATED A BATTALION OF THE NVA 101ST INDEPENDENT REGIMENT IN NORTHERN HAU NGHIA. AS THE REPORTING PERIOD ENDED ARVN WAS ENGAGED IN OPERATIONS AGAINST THE 5TH NVA DIVISION WHICH HAS BEEN THREATENING THE DUC HUE RANGER BASE IN WESTERN HAU NGHIA.
- 02 May 1974
1. SAIGON COMMAND DENIES INCURSIONS INTO CAMBODIA BUT MIL SOURCES AND FIELD REPORTS SAY SVN INFANTRY AND ARMOR CROSSED BORDER AT TWO POINTS (WP). TROOPS IN FIELD TELL NEWSMEN THAT STRIKES LAUNCHED TO CUT NVN SUPPLY LINES AND TO SILENCE BIG GUNS. IF TRUE, ACCORDING AP, INCURSIONS WOULD BE C-F VIOLATIONS. TROOPS SAY ONE RAID TOOK PLACE CLOSE TO HIGHWAY 1 ABOUT 35 MILES NW OF SAIGON, AND ABOUT 400 RANGERS BACKED BY TANKS FOUGHT FIERCE BATTLE AGAINST NVA 5TH DIV. FOR TWO DAYS, KNOCKING OUT TWO TANKS. DEPTH OF PENETRATION NOT KNOWN BUT BELIEVED TO BE ONLY FEW MILES. MIL SOURCES SAY SVN INFANTRY AND ARMOR ALSO CROSSED FRONTIER ABOUT 50 MILES WEST OF SAIGON AND WENT 2-1/2 MILES INTO CAMBODIA TO RAID NVN GUN POSITIONS THAT BOMBARDED GVN OUTPOSTS, THEN WITHDREW (AP NYT, SUN, PHINQ). MIL SOURCES SAY RAIDS MADE IN "HOT PURSUIT" OF NORTH VIETS (AP, NYT).

2. MIL SOURCES SAY ARVN STARTS DIVISION-SIZE OPERATION ON VN SIDE OF BORDER TO RELIEVE DUC HUE CAMP, UNDER SIEGE FOR MONTH (AP NYT, SUN, PHINQ). SAIGON COMMAND SAYS MORE THAN 300 NVA AND 35 ARVN KIA IN THREE DAYS OF FIGHTING ALONG BORDER. 4000 CIVILIANS REPORTEDLY FLEE VILLAGE NEAR FRONTIER 50 MILES WEST OF SAIGON WHEN BOMBARDED BY HUNDREDS OF NVN SHELLS; SVN OFFICIALS ESTIMATE OVER 300 HOMES DESTROYED OR DAMAGED (AP, NYT).
- 08 May 1974
THE AREA AROUND THE PARROT'S BEAK IN MR'S 3 AND 4 CONTINUED AS THE CENTER OF LARGE-SCALE MILITARY ACTIVITY. REGIMENTAL-SIZED BATTLES INVOLVING THE NVA 5TH DIVISION, WHICH HAD BEEN PREPARING NEW ATTACKS ON THE GVN RANGER BASE AT DUC HUE, AND ARVN UNITS FROM MR'S 3 AND 4 RESULTED IN SERIOUS LOSSES TO THE NVA DIVISION AND THE LIFTING OF THE NORTH VIETNAMESE SEIGE OF THE GVN BASE. ELSEWHERE IN MR-3 THE NUMBER OF INCIDENTS DROPPED AND THE INTENSITY OF MILITARY ACTIVITY DECLINED.

1. ARVN'S SUCCESSFUL OPERATIONS AGAINST THE 5TH NVA DIVISION AT DUC HUE IN WESTERN HAU NGHIA DOMINATED MILITARY ACTIVITY IN MR 3 DURING THE REPORTING PERIOD. MR 3 FORCES ACCOUNTED FOR 486 KIA AND 12 CIA AGAINST THE NVA 5TH; MR 4 FORCES ARE SAID TO HAVE INFLICTED ANOTHER 300 TO 350 KIA. MR 3 REPORTED GVN CASUALTIES IN THIS ACTION OF 32 KIA AND 88 WIA. THE MR 3 COMMANDER ESTIMATES THAT AT LEAST A THIRD OF THE ENEMY DIVISION WAS DESTROYED AND THAT IT HAS BEEN ELIMINATED FROM EFFECTIVE ACTION FOR AT LEAST THREE MONTHS. EXCEPT FOR THE MAJOR ACTION AT DUC HUE AND A SUCCESSFUL RF OPERATION NEAR HOAI DUC IN NORTHERN BINH TUY PROVINCE, THE REGION WAS RELATIVELY QUIET AND THERE WAS A NOTABLE DECREASE IN MILITARY ACTIONS. MR 3 HQ IS, HOWEVER, FOCUSSING ITS ATTENTION ON THE THREAT GVN ARTILLERY FIRINGS WERE DOWN TO 19,099 ROUNDS COMPARED WITH 23,690 ROUNDS THE WEEK BEFORE. VNAF AIR STRIKES WERE UP SLIGHTLY TO 369 WITH MUCH OF THIS ACTIVITY DIRECTED AGAINST THE NVA 5TH DIVISION. AN F5A AND PILOT WERE LOST OVER DUC HUE FROM WHAT WAS BELIEVED TO BE A GROUND TO AIR SA-7 MISSILE.

3. IN THE SUCCESSES AGAINST THE 5TH NVA DIVISION IN THE DUC HUE AREA, ARVN ARMORED AND INFANTRY FORCES, WELL SUPPORTED BY AIR, ENGAGED THE 5TH'S THREE INFANTRY REGIMENTS AND THE ARTILLERY REGIMENT. THE CORPS COMMANDER ESTIMATES THAT MR 3 FORCES DESTROYED AT LEAST 30 PERCENT OF THE NVA 174TH AND 275TH REGIMENTS AND THAT MR 4 FORCES ACCOUNTED FOR ANOTHER 10 TO 20 PERCENT OF THESE TWO REGIMENTS. MR3 FORCES, HE BELIEVES, ALSO DESTROYED 30 TO 40 PERCENT OF THE E-6 REGIMENT AND BADLY HURT ARTILLERY ELEMENTS (FROM THE F-66 REGIMENT WHICH WAS SUPPORTING THE 5TH). THE CORPS COMMANDER BELIEVES THAT THE 5TH HAS BEEN RENDERED INCAPABLE OF EFFECTIVE ACTION FOR AT LEAST THREE MONTHS. DURING THE ACTION, THE ACCESS ROAD TO DUC HUE RANGER BASE FROM THE NORTH WAS REOPENED AND ENGINEERS WILL WORK AT THE BASE FOR A WEEK OR TWO REPAIRING BATTLE DAMAGE. ROCKETS WHICH STRUCK THE RANGER BASE ON MAY 5 WERE THOUGHT TO HAVE COME FROM REMNANTS OF A SAPPER FORCE TO THE SOUTHWEST.

4. MR 3 HQ BELIEVES THAT THE 7TH NVA DIV, WITH ITS WELL REGARDED 141ST AND 165TH REGTS NORTH AND SOUTH OF THE PHU GIAO AREA OF BINH DUONG PROVINCE, NOW POSES THE GREATEST THREAT IN MR 3. THE 141ST, NORTH OF PHU GIAO, HAS SEEN NO ACTION FOR MANY MONTHS AND RECENTLY UNDERTOOK A PERIOD OF SPECIAL TRAINING IN ASSAULT TACTICS. THE 165TH IS IN A MORE FORWARD POSITION SOUTH OF PHU GIAO ALONG THE BINH DUONG/BIEN HOA BORDER. MR 3 HQ BELIEVES THAT THIS REGT MAY BE PLANNING OPERATIONS AROUND LTL 16 AND IN THE TAN UYEN DISTRICT OF NORTHERN BIEN HOA PROVINCE. THE MR 3 STAFF IS ACCORDINGLY PLANNING APPROPRIATE DEFENSE COUNTER MEASURES.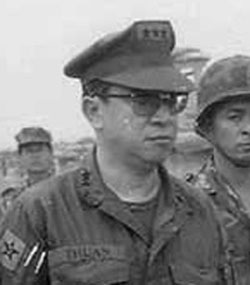 General Thuan-LTC Le Tat Bien (Duc Hue)
Colonel William Legro, Senior Intelligence Officer, DOA, gives a concise and complete narrative of the Duc Hue battlefront in Cease-Fire To Capitulation as following
As April wore on, the threat of renewed assaults on Duc Hue by the NVA 5th Division remained. The situation was particularly dangerous because the 7th and 9th NVA Divisions were probing aggressively in the eastern part of Military Region 3. Lt. Gen. Pham Quoc Thuan, III Corps Commander, determined that he must reduce the threat to his western flank and the Tay Ninh corridor while he had the opportunity to do so. And if anything was to be done, it would have to be done soon to beat the onset of the southwest monsoon. After the rains started, most of the land around Duc Hue and the Angel's Wing would be under water.

The plan was complicated but workable. General Thuan used 18 of his own maneuver battalions and flew to Can Tho where he coordinated with General Nghi for a supporting attack by 2 IV Corps battalions from the Moc Hoa sector.

The details and timing of the operation were carefully safeguarded, and few, if any, Americans in the U.S. Mission knew anything about it until 27 April when 45 sorties struck targets in Cambodia and known and suspected bases of the 5th NVA Division. These strikes began Phase I, which lasted through the 28th and included infantry sweeps by two RF battalions between the Song Vam Co Dong and the northern shoulder of the Angel's Wing. Meanwhile, the 49th Infantry Regiment, less one battalion, and the 7th Ranger Group, also short one battalion, left assembly areas near Hiep Hoa on the Song Vam Co Dong and advanced westward through the swamplands, past Duc Hue to the Cambodian frontier. To the south, three RF battalions provided security by conducting reconnaissance in northern Long An Province, generally between the Bo Bo Canal and the Song Vam Co Dong.

Another supporting maneuver, which quickly developed into a major operation, was the attack into Svay Rieng Province south of the Elephant's Foot by two battalions from MR 4. The northernmost of the two advanced from the border area north of Moc Hoa and established a blocking position near the local route 1012 that led eastward from an assembly area occupied by the 5th NVA Division. The other battalion crossed midway between the Elephant's Foot and the tip of the Parrot's Beak and established a lodgment on the southeastern edge of the enemy's logistical base and assembly area in Svay Rieng.

While Phase I of the ARVN sweep into Svay Rieng was getting started, the NVA on 28 April struck heavily at Long Khot, an ARVN post and district town at the inside curve of the Elephant's Foot. Whether the attack was preplanned or reactive was unknown. Regardless, enemy tanks were reported at first by the defenders. Later, aerial observers correctly determined that the vehicles were captured M-113 armored personnel carriers. The defenders held strongly against the NVA's 275th Regiment and 25th Sapper Battalion of the 5th NVA Division. More than 100 sorties were flown on the 28th against NVA positions, weapons, and vehicles in the Svay Rieng area, many of them in support of Long Khot. On this same day, the ARVN at Long Khot captured nine prisoners from the NVA 275th Regiment and four from its supporting artillery, which had been employing 122-mm. guns and U.S. 105-mm. howitzers, as well as AT-3 antitank missiles and SA-7 antiaircraft missiles. Many enemy weapons were salvaged, and 75 enemy soldiers were counted dead on the battlefield.

Not only were the Long Khot defenders tenacious and prepared for the onslaught, but the VNAF proved its worth in close support as over the two days, the 27th and 28th, it flew 188 tactical and logistical sorties in the Svay Rieng Campaign. In a departure from normal practice, the 3d Air Division supporting III Corps in the Svay Rieng campaign, located a forward command post at Cu Chi alongside the III Corps forward command post in order to improve coordination and responsiveness. Combat pilots returned to their bases with encouraging, morale-building reports about enemy troops throwing down their weapons and running when faced with low-level strafing.

By the night of 28 April, 11 ARVN battalions of infantry, RF, and Rangers were conducting screening, blocking, and reconnaissance-in-force operations as a prelude to Phase II of the Svay Rieng sweep. Meanwhile, the VNAF was assaulting enemy troop locations and bases, and Long Khot was fighting off a violent NVA armor, artillery, and sapper-infantry attack.

In Phase II, originally planned by General Thuan to encompass only three days of armored sweeps into the Cambodian bases of the NVA 5th Division, three columns drove west, generally parallel to each other, crossing the frontier west of Go Dau Ha and penetrating as deeply as 15 kilometers into Svay Rieng before wheeling south and southwest into Hau Nghia Province. Making the main effort and the deepest penetration was Task Force 315 with the 15th Armored Cavalry Squadron, the 64th Ranger Battalion, and a company of medium tanks as its striking force. Supported by a composite battery of 105-mm. and 155-mm. artillery this northernmost column crossed the border through the paddies south of Highway 1 and attacked west, turning south short of the swampy ground east of Chiphu, following local route 1012 toward the blocking position held by a IV Corps battalion near Ph Chek. It was screened on its right flank by a mobile RF battalion that advanced along Highway 1 about 12 kilometers inside the international frontier. Along the center axis, which started about 2,000 meters south of Task Force 315, was Task Force 318, built around the 18th Armored Cavalry Squadron, a Ranger battalion, a tank company, and a howitzer battery. This column drove west for about 10 kilometers before turning inside the sweep south by Task Force 315.

Task Force 310, the only one of the attacking columns without tanks, had a battalion each from the 18th and 25th Infantry Divisions and the 3d Troop, 10th Armored Cavalry. Along with a supporting howitzer battalion it crossed into Svay Rieng just north of the southern tip of the Angel's Wing, along Cambodian Route 1013, and wheeled south inside Task Force 318, generally along the international boundary.

In reserve at Go Dau Ha General Thuan had two companies of medium tanks of the 22d Tank Battalion, a cavalry troop from the 1st Armored Cavalry Squadron, a battalion of infantry from the 18th Division, and a battery of 105-mm. howitzers. Designated Task Force 322, this powerful force was ready to exploit opportunities uncovered by the attacking echelons.

The 3d Armored Brigade controlled operations from Go Dau Ha. Fifty-four UH-1 helicopters mustered for the campaign were effectively used in surprise air assaults into enemy defenses. Secrecy was more rigidly enforced in this campaign than perhaps any operation since the cease-fire, partly because it was important to surprise the 5th NVA Division in garrison, and partly to conceal, for political reasons, an ARVN offensive into Cambodia.

By 29 April, Task Force 315 had penetrated about seven kilometers into Cambodia and, at the cost of only one wounded, had killed nearly 50 enemy and captured one prisoner. To the south, Task Force 318 had experienced similar success, killing nearly 60 and capturing 5 while suffering only 6 wounded. The following morning, the 315th continued the attack, killing 40 more and sustaining light casualties. Meanwhile, the VNAF was pounding the enemy with nearly 200 sorties, accounting for nearly 100 killed, destroying many storage and defensive positions, and knocking out mortar and antiaircraft positions.

As the threat to the 5th NVA Division base in southern Svay Rieng became critical, the NVA was compelled to reduce the pressure at Long Khot and concentrate on attempting to relieve the E-6 and 174th Regiments and logistical installations lying in the path of the ARVN armored thrusts. By the end of April, nearly 300 NVA soldiers had fallen in ground combat, over 100 more had been killed by VNAF air-strikes, and 17 prisoners of war were in ARVN hands. On the other hand, the speed, audacity and superior air-ground coordination that characterized the RVNAF attack had kept friendly casualties extremely low: only 21 killed and 64 wounded. In fact, success was so striking that General Thuan elected to extend the operation a few days.

Westward, over in the Elephant's Foot, matters were becoming desperate for the 275th NVA Regiment and its supporting troops. The 7th ARVN Division had moved a forward command post into Moc Hoa and was controlling the operation of two task forces then committed in the Elephant's Foot. One was composed of the 15th Infantry, 9th ARVN Division, and part of the 16th Armored Cavalry Squadron; the other included the 10th Infantry and elements of the 6th Armored Cavalry Squadron. In 12 days of fighting in the border area, these two mobile task forces killed 850 NVA soldiers, captured 31, collected over 100 weapons, and suffered fewer than 300 casualties, including 39 killed.

Making the adjustments required by the situation, particularly the fact that the most lucrative enemy contacts were being made in the southern sweeps of the 318th and 310th Task Forces, General Thuan ordered Task Force 315 withdrawn from its northern axis on 2 May and returned to Go Dau Ha where it reverted to reserve. Meanwhile, Task Force 322 was committed and advanced about four kilometers into the center of the Angel's Wing, and the infantry battalions of the 25th ARVN Division continued their sweep between Duc Hue and Go Dau Ha. By 6 May the land route to Duc Hue Camp was secured and was being improved by ARVN combat engineers, the threat to the vital road junction at Go Dau Ha was substantially reduced, and the ARVN was in complete control of the battlefield. The tank-heavy 322d Task Force turned south and headed for Ba Thu, the long-held NVA base on the border southwest of Duc Hue. On 10 May, the offensive ended, the last ARVN forces began their march homeward. Their sortie had killed nearly 300 NVA soldiers, captured 17, collected 100 weapons, and seriously disrupted the communications and logistics of the 5th NVA Division.

But this was the last major South Vietnamese offensive. The severe constraints on ammunition expenditures, fuel usage, and flying hours permitted no new initiatives. Although the RVNAF could react strongly to local threats within supporting distances of major bases, outlying threats were beyond their capability to cope with. For South Vietnam, a decline had begun to develop early in 1974 and would prove irreversible.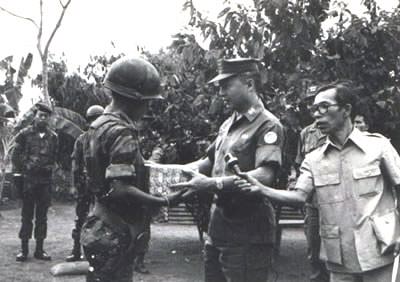 Rewarding Combatants
Furthermore, the two historians, Samuel Lipsman and Stephen Weiss attributed the success of this Duc Hue battlefront that they name Svay Rieng operation to "speed, secrecy, and coordination of the multifaceted operation." (The Vietnam Experience, The False Peace, page 123-124)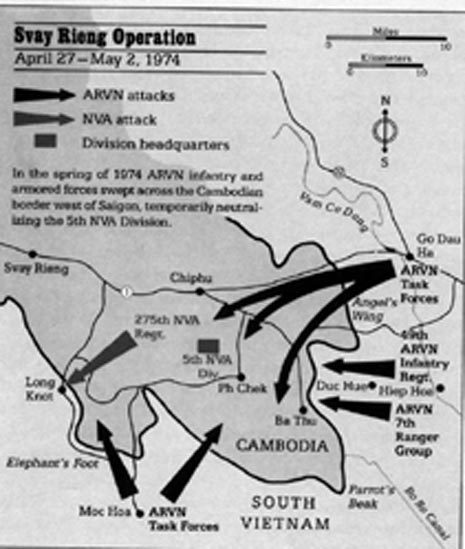 About the An Dien battle in Binh Duong, Richard Peters, the American Consul General of Bien Hoa wrote on June 4, 1974:
DEPUTY MR 3 COMMANDER MG HIEU TELEPHONED AT 1530 HOURS TO SAY THAT GVN FORCES HAD TAKEN AN DIEN HAMLET IN HEAVY FIGHTING DURING WHICH ARVN'S 52ND AND 48TH REGIMENTS HAD DESTROYED FOUR TANKS WITH INFANTRY WEAPONS. HIEU HAD JUST RETURNED FROM BEN CAT.

2. IN CONVERSATION WHICH FOLLOWED, HIEU SAID THAT IN EARLY MORNING HOURS OF JUNE 4, NVA/VC FORCES INCLUDING TANKS, HAD LAUNCHED A COUNTER-ATTACK AGAINST GVN FORCES AROUND AN DIEN. THE GVN COMMANDER OF THE OPERATION, BG DAO OF ARVN 18TH DIVISION, HAD THEN ALSO LAUNCHED A COUNTERATTACK AND AFTER HEAVY FIGHTING HIS TROOPS HAD SECURED AN DIEN BY MID-DAY. WHEN COMMUNIST TANKS JOINED THE ATTACK, ONE WAS KNOCKED OUT BY THE 48TH REGIMENT, TWO BY THE 52ND, AND ONE, DAMAGED BY UNIDENTIFIED FIRE, WAS LAST SEEN MOVING AWAY FROM AN DIEN TOWARD COMMUNIST LINES BURNING BADLY. HIEU SAID HE THOUGHT TWO OF THE TANKS WERE T-54'S AND TWO WERE PT 76'S. ONE OF THE T-54'S APPARENTLY NOSED INTO A DITCH WITH ONLY LIGHT DAMAGE AND IS IN NEAR PERFECT CONDITION. (NOTE: HIEU SAID GVN FORCES WILL SEEK TO EXTRACT THIS TANK AS PROMPTLY AS POSSIBLE AND PLACE IT ON DISPLAY PROMINENTLY IN SAIGON.)

3. ENGINEERS ARE ALREADY AT WORK REPAIRING THE PERMANENT BRIDGE OVER THE THI TINH RIVER WEST OF BEN CAT. HIEU THOUGHT THE 318TH ARMORED TASK FORCE MIGHT BE ABLE TO MOVE WESTWARD FROM BEN CAT DURING THE AFTERNOON OF JUNE 4 TO JOIN THE 52ND AND 48TH REGIMENTS IN A PUSH WESTWARD DOWN ROUTE 7 TOWARD RACH BAP. THE 52ND REGIMENT WAS UNDER ORDERS TO EXPAND THE PERIMETER AROUND AN DIEN ON THE WEST SIDE ON THE AFTERNOON OF JUNE 4 TO PREPARE FOR THE ARRIVAL OF THE 318TH.

4. GENERAL DAO BELIEVES THAT THE AREA NORTHEAST OF BEN CAT THUS FAR HELD BY THE 7TH RANGERS IS SECURE AFTER GVN CAPTURE OF AN DIEN. HIEU THOUGHT THAT DAO WOULD, THEREFORE, MOVE THE 7TH RANGERS TO SOUTHERN BEN CAT DISTRICT WEST OF THE ONG CO BRIDGE ON ROUTE 14 TO RELIEVE THE 43RD REGIMENT WHICH COULD THEN JOIN ITS SISTERS THE 48TH AND 52ND REGIMENTS OF THE 18TH DIVISION IN THE FIGHTING WESTWARD ALONG ROUTE 7. HIEU WAS HOPEFUL THAT DESPITE INDICATIONS THAT THE 271ST NVA REGIMENT HAS NOW COME INTO THE AREA NORTH OF ROUTE 7 TO REINFORCE THE 272ND AND 95-C NVA REGIMENTS, GVN FORCES WOULD REACH RACH BAP AND BRING THIS OPERATION IN BEN CAT TO A CLOSE WITHIN A WEEK.

5. HIEU WAS VERY GENEROUS IN HIS PRAISE OF BG DAO AND THE 18TH DIVISION WHICH HAD MOVED OUT OF ITS ASSIGNED AREA OF OPERATIONS AND AGAIN PULLED OFF A SUCCESSFUL OPERATION AGAINST THE ENEMY.

6. GVN CASUALTIES IN JUNE 4 FIGHTING WERE RELATIVELY LIGHT ACCORDING TO HIEU. HE THOUGHT THAT NVA/VC CASUALTIES IN THE 95-C REGIMENT AT AN DIEN HAD BEEN VERY HEAVY.
About to An Dien battle (May 16-Oct 4/1974), General Le Minh Dao narrates on January 14, 2002:
I remember General Hieu quite well, from when he held the position of III Corps Deputy Commander in charge of Operations. Every time he came to Xuan Loc, I was the one who drove him around in a jeep to inspect our units. We got along well with each other. He made it clear that he approved of the troop disposition and plans within the 18th Division. He rarely asked questions, he simply gave everything a quick but thorough look, and only offered an opinion when asked. I still recall the circumstances of the battle of An Dien — after the 3rd Corps Assault Task Force of Brigadier General Tran Quang Khoi failed to break the enemy defense line by attacking Rach Bap and Hill 82 from the south — General Thuan gave me the responsibility of using elements of the 18th Division to assault An Dien from two sides. One group crossed the Thi Tinh river to the south of Ben Cat and moved as quickly as possible up north toward An Dien, and another group attacked An Dien over the bridge and established General Hieu long- term at the 18th Division's Command Post. The two of us, General Hieu and I, slept in the same room, side by side on two beds. I noticed Hieu was an avid reader, always carrying around two or three books in English. He was very understanding and shared our hard rations. One morning I saw him stopping a sergeant of the 18th Division (who volunteered to polish his boots) from taking them away. General Hieu took the brush to do it himself. This action showed how considerate he was, in not wanting to take advantage of others.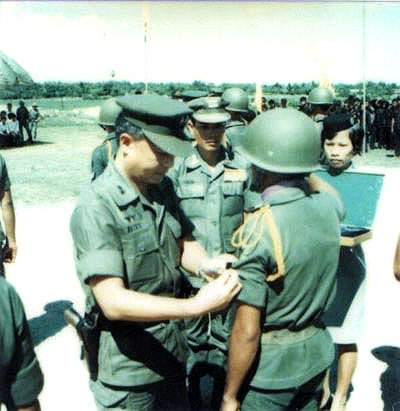 Rewarding combatants
During this period, my brother wanted to find out if President Nixon had promised to President Thieu to intervene forcefully in Viet Nam in case the Viet Cong violate the Paris Agreement.
Although he was very close to Vice President Tran Van Huong, he only heard of the rumor of such a letter. He set out to know for sure the existence of such assurance. For that purpose, he dispatched LTC Tran Van Thuong, who was about to leave Viet Nam to attend the US Army Command and Control College, to the singer Thanh Lan's residence, to find out the truth. Why Thanh Lan? Because she was Hoang Duc Nha's secret lover and Nha was Thieu's cousin and special secretary. One late night, on June 13, 1974, before entering Thanh Lan's house at 7:30 p.m., General Hieu's intelligence agents wired Thuong with recording devices. However, he came out of the fishing expedition empty-handed because he could not raise the question to Thanh Lan in the presence of her father who would not leave the two of them alone.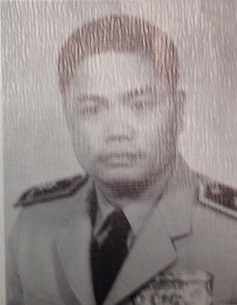 Trần Văn Thưởng
General Du Quoc Dong
On October 30, 1974, General Du Quoc Dong was assigned III Corps Commander, replacing General Pham Quoc Thuan. Also in this day, Colonel Le Nguyen Vy, 5th Division Commander, was promoted to Brigadier General.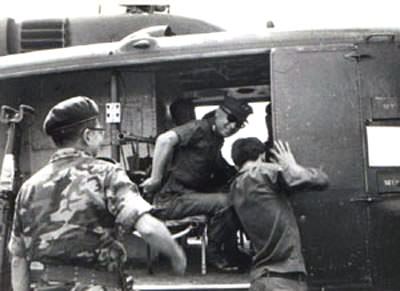 With Colonel Nguyễn Thành Chuẩn, III Corps Rangers Commander
Through the November 7, 1974 cablegram of the American Embassy, my brother gave hints what his counter-attack of the Viet Cong's invasion would look like when he talked about his study of the Russian Army's countering the German attack during WWII:
He has made a detailed study of Red Army defeat of German invasion forces in Russia in World War II and obviously admires the Russian performance.
The cablegram added:
Barring a severe military setback, it is likely, therefore, that Hieu will remain in highly responsible positions for the foreseeable future.
Phuoc Long fell on December 16, 1974, my brother shared his thoughts with Lahiguera, the Deputy General Consul of Bien Hoa:
SUBJECT: MILITARY SITUATION IN MR 3

1. MR-3 COMMANDER LTG DONG AND BOTH HIS DEPUTIES REGARD THE PRESENT MILITARY SITUATION IN MR-3 AS "EXTREMELY SERIOUS". MAJOR NVA ATTACKS ARE CONTINUING IN PHUOC LONG AND BINH TUY AND BOTH TANH LINH DISTRICT AND DONG XOAI HAVE FALLEN INTO COMMUNIST HANDS IN THE LAST 48 HOURS.

2. BINH TUY: THE LAST REMAINING GVN FORCE IN TANH LINH SECTOR HQS ABANDONED THEIR POSITION AT APPROXIMATELY 0100 HOURS ON CHRISTMAS DAY. THE DISTRICT CHIEF ACCOMPANIED BY 20 MEN HAVE REPORTED IN TO AN OUTPOST SEVERAL KMS TO THE SOUTH OF TANH LINH HQS AND ANOTHER 70 RF TROOPS HAVE APPEARED IN HAM TAN DISTRICT BY NOON ON DEC 26. THE MR-3 DEPUTY COMMANDER MG HIEU INFORMED ME THAT NO ARVN TROOPS WOULD BE INSERTED INTO HOAI DUC AND THAT HE PERSONALLY EXPECTED HOAI DUC TO FALL IN THE NEAR FUTURE. THE SIX ARVN BNS IN PLACE BETWEEN GIA RAY AND CHINH TAM ARE STILL BEING BLOCKED BY THE 33RD NVA DIV AND ALTHOUGH SOME 30 NVA WERE KILLED BY ARVN FORCES YESTERDAY IN THIS AREA, GENERAL HIEU DOES NOT EXPECT THEM TO BE ABLE TO BREAK THROUGH AND RELIEVE HOAI DUC SECTOR.

3. PHUOC LONG. DONG XOAI, THE CAPITAL OF DON LUAN DISTRICT IN PHUOC LONG, FELL INTO COMMUNIST HANDS DURING THE MORNING OF DEC 26. THE ATTACKING COMMUNIST FORCES ARE BELIEVED TO BE THE 165TH REGT AND THE 141ST REGT OF THE 7TH NVA DIV. THIS ESTIMATE IS MAINLY BASED UPON INFORMATION OBTAINED FROM A PRISONER CAPTURED NEAR PHU GIAO ON DEC 25. THIS PRISONER WAS A MEMBER OF THE 209TH NVA REGT (7TH NVA DIV) AND CLAIMED THAT IT WAS THE TASK OF THE OTHER TWO 7TH NVA DIV REGTS TO TAKE DONG XOAI. THE SONG BE/PHUOC BINH AREAS CONTINUED TO RECEIVE HARASSMENT SHELLING BUT HAVE NOT YET RECEIVED ANY GROUND ATTACKS. GENERAL HIEU BELIEVES THAT THE 1500 RVNAF TROOPS OCCUPYING THE PHUOC LONG CAPITAL, IF PROPERLY EMPLOYED, COULD HOLD OFF A TWO-REGIMENT ATTACK FOR SOME TIME BUT EXPECTS IN THE LONG RUN THAT THE CAPITAL WILL FALL SHOULD THE ENEMY MAKE A DETERMINED EFFORT. A C-130 AIRCRAFT DEPARTING PHUOC BINH AIRFIELD AT 1150 HOURS DEC 25 MADE AN INCORRECT TURN OVER THE AIRFIELD AND WAS HIT BY 37MM AA AND CRASHED AND BURNED NEARBY.

4. IN TAY NINH HELICOPTER RE-SUPPLY EFFORTS TO NUI BA DEN FAILED ON DEC 25 BECAUSE OF EXTREMELY HEAVY COMMUNIST AA AND SMALL ARMS FIRE. ONE HELICOPTER WAS ABOUT TO MAKE A DROP WHEN THE CREWMAN DIRECTING THE OPERATION WAS KILLED AND THE CHOPPER ITSELF SUSTAINED 11 ROUNDS. EFFORTS WILL BE MADE AGAIN TODAY, DEC 26, TO RE-SUPPLY BUT THE SITUATION AT THIS POINT IS NOW CRITICAL SINCE THE UNITS ATOP NUI BA DEN ARE DOWN TO THEIR LAST DAY OF SUPPLIES.

5. BASED UPON RALLIER INFORMATION, GENERAL DONG BELIEVES THAT DUC PHONG AND BUNARD IN PHUOC LONG WERE TAKEN BY A RECENTLY ARRIVED DIVISION FROM HANOI, THE "3RD DIV" (THIS SHOULD NOT BE CONFUSED WITH THE NEWLY CONSTRUCTED 3RD DIV THAT WAS BELIEVED TO BE EMPLOYED IN THE RECENT TAY NINH ATTACKS). IT IS NOW THE VIEW AT MR-3 HQS THAT IT IS THE COMMUNIST GOAL TO WIPE OUT ALL THE GVN ISOLATED POSITIONS ON THE FRINGES OF MR-3 AND TO CONSOLIDATE THEIR TERRITORY FROM BINH TUY THROUGH PHUOC LONG TO TAY NINH. UNDER THIS THESIS, GENERAL DONG IS EXTREMELY CONCERNED ABOUT THE FUTURE SECURITY OF QL 1 AND QL 20 AND BELIEVES THAT DINH QUAN DISTRICT IN LONG KHANH WILL CERTAINLY BECOME A FUTURE TARGET IN COMMUNIST EFFORTS TO LINK UP THEIR AREAS BETWEEN NORTHERN BINH TUY AND PHUOC LONG.
On January 5, 1975, General Charles Timmes, CIA Directorate of Operations, visited my brother and wired the following report:
Subject: GVN MR3 Deputy Commanding General Hieu's analysis of VC/NVA actions in MR3 and discussion of Communist intentions.

Source: An American observer from GVN Military Region 3 - Deputy Commanding General Major General Nguyen Van Hieu, who was aware that his remarks would reach U.S. officials.

Summary: MR3 Deputy Commander for operations Major General Nguyen Van Hieu said on 3 January 1975 that VC/NVA forces failed to achieve their objectives in recent attacks north of Tay Ninh City because ARVN forces were able to bring additional artillery to bear on attacking forces. ARVN forces failed to reach Hoai Duc District Town in Binh Tuy Province because the 33rd VC/NVA Regiment blocked Route 333 between Gia Ray and Hoai Duc; the 7th Ranger Group attached to the 18th ARVN Division, performed poorly. GVN strength in Hoai Duc will soon consist of two ARVN battalions and one RF battalion, with two additional battalions approaching along Route 333 from the north. General Hieu opined that after attacks on the Phuoc Long Province Capital of Song Be, the 7th NVA Division will advance along the Binh Duong-Bien Hoa Province border toward Lai Thieu and Gia Dinh. He also believes that previous attacks by the 9th NVA Division in Ben Cat District of Binh Duong were part of Communist intentions to upgrade combat capability to division-sized and corps-sized combined operations. In several months, General Hieu anticipates the 7th and 9th NVA Divisions to engage in a corps-sized operation along approaches to Saigon with the 5th NVA Division having the objective of cutting communications between Saigon and the Delta. Overall Communist objectives in the current campaign are to isolate Tay Ninh Province and then capture its capital, consolidate control of the Binh Long-Phuoc Long enclave and extend control into the Saigon corridors in Binh Duong, and to gain control of Binh Tuy Province, especially the rice bowl area. End summary.

1. On 3 January 1975, Major General Nguyen Van Hieu, deputy commander of Vietnam Military Region 3 (GVN MR3), commander for operations, analyzed Viet Cong/ North Vietnamese Army (VC/NVA) military activity since 6 December and discussed Communist intentions. In Tay Ninh Province, VC/NVA forces failed to accomplish their objectives of overrunning the outposts of Ba Den Mountain and Soui Da (XT335576) northeast of Tay Ninh City because after the artillery of Vietnamese Army (ARVN) forces was initially destroyed by the VC/NVA counterbattery fire, the ARVN forces were able to bring additional artillery to bear on the attacking forces. The 205th VC/NVA Independent Regiment lost about one-third of its troops, while the 101st VC/NVA Regiment suffered about 100 casualties. The VC/NVA tactics are to destroy the ARVN artillery by counterbattery fire based on intelligence of howitzer locations and then to employ massive artillery on the defending force. In the battle for Suoi Da, the GVN forces were able to have additional artillery pieces within range of the attacking forces which VC/NVA units were unable to find and destroy. According to General Hieu, intelligence indicates that the two VC/NVA Regiments will renew the attack in Tay Ninh Province and employ additional artillery pieces to neutralize ARVN artillery.

2. Concerning the failure of ARVN forces to reach Hoai Duc District Town, Binh Tuy Province, General Hieu said that the 33rd VC/NVA Regiment blocked Route 333 between Gia Ray and Hoai Duc by establishing company sized, well fortified strong points along the road and subjected ARVN units to constant indirect attacks by fire. The 7th ARVN Ranger Group was attached to the 48th Regiment, 18th ARVN Division. However, the Ranger Group was not effective because it is weak from previous casualties and according to General Hieu, the Rangers are not accustomed to operating as an integral part of a division and therefore performed poorly. One battalion of the 43rd Regiment, 18th ARVN Division, has been airlifted into Hoai Duc District Town while the balance of the regiment is advancing from Route 20 in Long Khanh Province south along Route 333 from the north. An additional ARVN battalion will soon be airlifted into Hoai Duc for a total defense force of two ARVN battalions plus one Regional Forces (RF) battalion which, according to General Hieu, should be sufficient to defend Hoai Duc successfully. He remarked that the 18th ARVN Division is the reserve division for MR3 but with the regiments committed in eastern MR3, the Joint General Staff decided to establish a reserve force and temporarily transferred the 4th Ranger Group to the Saigon area from MR2.

3. According to General Hieu, the 7th NVA Division was committed in Phuoc Long Province to raise the morale of division troops by assigning them an easy objective and a quick victory against the RF before committing the division against ARVN main forces in southeastern Binh Duong Province. If Phuoc Long Capital is quickly overrun, the next objective for the 7th Division will be to advance along the Binh Duong-Bien Hoa Province border toward Lai Thieu District in southern Binh Duong and Gia Dinh. If VC/NVA forces fail to overrun Phuoc Long, General Hieu expects that the VC/NVA will continue the siege of the city with lesser forces and free the 7th Division to conduct operations toward Lai Thieu.

4. General Hieu believes that the 9th NVA Division in the Spring and Summer of 1974 attacked the outposts of Rach Bap (XT763304), Base 82 (XT700313), and An Dien in Ben Cat District, Binh Duong Province, for the purpose of testing the division's capability to conduct division sized conventional operations. This is part of the Communist intent to upgrade its forces to be capable of coordinated division sized and even corps-sized combined operations. General Hieu believes that the 9th Division suffered considerable casualties and may not be combat ready. However, he anticipates that in several months both the 9th and 7th NVA Divisions may be engaged in a corps-sized operation advancing along the Saigon corridor and the Binh Duong-Bien Hoa boundary axis toward Saigon. However, General Hieu is not sure if the Communists have the logistic buildup to support a sustained corps operation. He anticipates that the 5th NVA Division will have the mission at the same time of advancing along the MR3 and MR4 boundary with the objective of cutting communication lines from the Delta to Saigon. When asked if VC/NVA forces have the capability to execute this grandiose plan, he responds that it depends on the Communist supply build-up and battlefield preparations. He claimed that the VC/NVA can bring supplies to MR3 from North Vietnam in 17 days and that they have a ratio of two to one in their favor of main line regular units excluding RF and Popular Forces. He maintained that NVA have superiority of artillery fire at the point of contact and employ massed fires. General Hieu said that according to captured documents, the NVA plan to commit tanks as well as additional artillery. He noted that a considerable number of T-54 tanks are committed in Phuoc Long Province.

5. When asked about ARVN's capability to contain the VC/NVA attacks in MR3 without receiving more U.S. military aid than is currently scheduled, he said it is difficult to determine ARVN's breaking point. The period ahead will be the most difficult. Some GVN units have demonstrated good morale, especially the RF in Tay Ninh; however, morale in general, has declined and there is a possibility that ARVN may not survive without considerably more U.S. military aid support. The superior firepower and mobility that the GVN forces have formerly enjoyed have shifted to the VC/NVA side.

6. The VC/NVA objectives, according to General Hieu, during the current campaign is to isolate Tay Ninh Province and then capture Tay Ninh City; second, to consolidate their control of the Binh Long-Phuoc Long enclave and extend control deep into the Saigon corridors in Binh Duong Province; and third, to gain control of Binh Tuy Province, especially the rice bowl which produces sufficient rice to sustain the populations of Binh Tuy, Phuoc Long, and Long Khanh Provinces. He noted that in Binh Tuy the Communists are not permitting the population to leave as they have formerly done. In the past, the Communists attacked an area and if the objective was captured they only remained for a few days. However, Communist strength now permits them to hold and develop an area after its capture. The objective of the Communists is to control a minimum of 10 percent of the population. The method to achieve their objective is to make strong attacks, seize, hold and consolidate and thereby obtain a coequal status with the GVN.

7. General Hieu commented that MR3 Commander Lieutenant General Du Quoc Dong has not had experience in commanding territorial forces but that he is learning fast.
General Nguyen Van Toan
On February 5, 1975, General Nguyen Van Toan was assigned III Corps Commander, replacing General Du Quoc Dong.
I did enquire about my brother about this assignment; he responded briefly in a dejected manner: "The President said General Toan being a tanker is very aggressive."
General Toan said about my brother:
(...) After our graduation, for a long period, we did not have the occasion to working together. Therefore we did not see each other. It was not until November 1974 [sic], when I was assigned to the III Corps that I met Hieu again, who was holding the position of Deputy Commander in charge of operations at the Corps. We cooperated very amicably and efficiently. Hieu was still able to maintain his friendliness and humility as before.

The battlefield situation was very critical at that time and we had to take turn to supervise and command operations. Major General Hieu always denoted a high degree of competency and always performed his duties admirably.
LTC Ly Ngoc Duong, General Toan's chief of staff narrates:
I greatly admire General Hieu. He was very competent, perhaps the most competent among ARVN generals, and yet very humble. The day I was appointed General Toan's Chief of Cabinet, he stopped by my office. I did not sit behind my desk to receive him. We sat on sofas at the guest area and he did not treat me as a subordinate of a lower rank, but as friends. He talked about his military career, his multi-language abilities, his official visits to several foreign countries… He exuded an air of graceful confidence that was firm but not at all cocky. Everybody took notice of his modesty. The female operator at the telephone switchboard of III Corps headquarters praised that General Hieu remained always sweet; he never raised his voice on the phone line like most of the other high ranking officers when the phone lines were not clear, which was the general norm on military phone lines.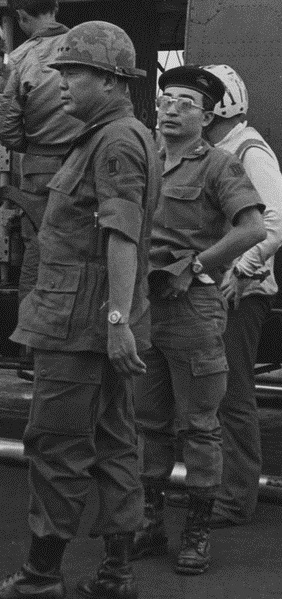 General Toan-LTC Lý Ngọc Dưỡng
Colonel Ta Thanh Long wrote:
In Bien Hoa, the two of us formed a close group.
By that, he meant to say my brother was isolated by General Toan's clique at III Corps headquarters.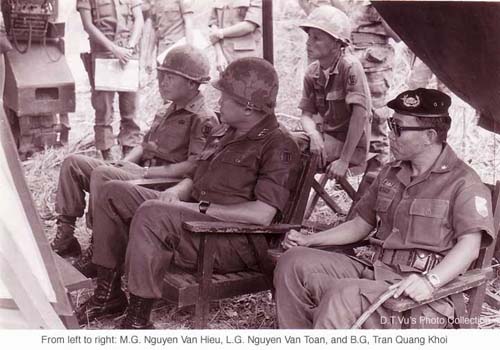 Colonel Long added:
In 1974, I was Chairman of the 4-Party-2-Side Committee in 1974 and used to organize night dancing parties to entertain the different foreign military delegations. I always invited General Hieu and he gladly accepted the invitation each time. He was an accomplished dancer.
There were signs of disagreement between General Toan and my brother in terms of tactics to be adopted in the MR III, as shown in the cablegram dated March 12, 1975 about the Tri Tam battle, Tay Ninh:
SUBJECT: TRI TAM BATTLE AND SITUATION IN TAY NINH CITY

1. THE MR3 COMMANDER AND HIS 2 DEPUTIES WERE TRAVELLING MOST OF THE DAY MAR 11 AND REFTEL WAS BASED ON INFORMATION FROM LOWER LEVEL SOURCES AT MR3 HQ. DEPT CMDR, MG HIEU, AFTER RETURNING FROM EASTERN TAY NINH AT THE END OF THE DAY, REVIEWED THE TRI TAM AND TAY NINH PROVINCE SITUATION WITH ME OVER COFFEE AT 2100 HOURS MAR 11. HE GAVE A CONSIDERABLY MORE FAVORABLE ACCOUNT OF THE SITUATION THAN THAT SET FORTH REFTEL.

2. ACCORDING TO HIEU, THE NVA/VC BROKE OFF THE ATTACK AT TRI TAM AT THE END OF THE DAY AFTER THE ATTACKING 272ND NVA REGT HAD FAILED TO BREACH THE DEFENSES AND SAPPERS WHO HAD PENETRATED TO THE MARKET (HE SAID TANKS NEVER REACHED THE MARKET AREA) WERE THROWN BACK. THE SITUATION WAS QUIET AT 2030 HOURS. MOST OF THE ARVN THIRD ARMORED BRIGADE WAS DEPLOYED FROM BINH DUONG PROVINCE DURING THE DAY AND BY LATE AFTERNOON WAS IN PLACE ON ROUTE 26 IN EASTERN TAY NINH PROVINCE AROUND AND NORTH OF KHIEM HANH. ITS MISSION IS BOTH TO PUSH TO THE RELIEF OF TRI TAM AND TO COUNTER ANY HEAVY NVA/VC THRUST IN WESTERN TAY NINH PROVINCE. THE 3RD ARMORED COMMANDER, BG KHOI, HAS NOW BEEN GIVEN OPCON OF FORCES IN EASTERN TAY NINH AND TRI TAM. MR3 HAS ESTABLISHED A FORWARD CP AT GO DAU HA.

3. ON ROUTE 22, MEANWHILE, THE NVA/VC HAD BEEN PUSHED OUT OF 2 OF THE 3 POINTS OF INTERDICTION WITH SOME PROSPECT FOR RE-OPENING THE ROAD WITHIN A DAY OR TWO. AT THE SAME TIME, ACCORDING TO HIEU, MR3 HQ SEES NO SIGN OF ANY NEW MOVEMENT OF MAJOR NVA/VC FORCES IN A MENACING WAY NORTH OR WEST OF TAY NINH CITY.

4. HIEU SAID THE 3RD ARMORED BRIGADE HAD BEEN MOVED TO EASTERN TAY NINH IN THE BELIEF THAT THE TRI TAM ATTACK SIGNALLED AN INTENT ON THE PART OF THE OTHER SIDE TO HIT THAT AREA THEN SQUEEZE TAY NINH CITY RATHER THAN ASSAULT THE CITY DIRECTLY. HE SAID GEN TOAN HOPES HE HAS NOT OVERREACTED BY BRINGING MORE FORCES TO BEAR IN THAT AREA THEN ARE REQUIRED. TOAN RECOGNIZES THE POSSIBILITY THAT CURRENT ATTACKS IN THE TAY NINH AREA MAY ONLY BE LIGHT AND DIVERSIONARY TO SUPPORT THE HEAVY ACTION IN MR II, WITH HEAVIER ATTACKS IN MR III TO COME LATER. HIEU THOUGHT THAT ROCKETING OF BIEN HOA WOULD BE ONE IMPORTANT CLUE. FURTHER HEAVY ROCKET ATTACKS NOW WOULD SHOW AN INTENT TO NEUTRALIZE VNAF FOR IMMEDIATE NVA/VC ATTACKS WHILE A BREAK, OR SPORADIC LIGHT ATTACKS, WOULD INDICATE POSTPONEMENT OF HEAVY ATTACKS IN MR III.

5. LATEST WORD REGARDING TRI TAM AT 0730 HOURS MAR 12 FROM G-3 SOURCES AT MR3 HQ IS THAT THE NVA/VC RENEWED THE ATTACK WITH INFANTRY AND ARMOR AT 0200 HOURS AND FIGHTING CONTINUES.

6. MG HIEU SHOULD NOT CITED AS SOURCE IN ANY DISCUSSION OF THIS MESSAGE'S CONTENTS WITH GVN OFFICIOFFICIALS.

Peters
At the beginning of April 1975, my brother had to face the threats of VC attacks in MR III, as indicated by the weekly briefing done on March 31, 1975:
A. THE 9TH NVA DIV COULD CONTINUE ITS ATTACKS AGAINST ROUTE 26 IN TAY NINH PROVINCE, OR IT MAY HAVE MOVED BACK ACROSS THE SAIGON RIVER INTO ITS USUAL AO IN WESTERN BINH DUONG PROVINCE TO ATTACK THE 5TH ARVN DIV IN MR3'S CENTER.

B. THE 101ST NVA DIV "WILL PROBABLY" ATTACK ROUTE 1/22 IN THE GO DAU HA AREA IN AN ATTEMPT TO CUT THE ROAD.

C. WITH THE 271ST INDEPENDENT NVA REGT SERVING AS A BLOCKING FORCE ON THE NORTHERN SIDE OF TAY NINH CITY, THE 205TH NVA REGT COULD ATTACK TOWARD TAY NINH CITY FROM THE WEST AND SOUTH.

D. THE 5TH NVA DIV (E-6 REGT) WILL CONTINUE TO DEVELOP POSITIONS WEST OF THE VAM CO DONG RIVER IN WESTERN HAU NGHIA PROVINCE AND IN THE NEXT PHASE WILL ATTEMPT TO CROSS THE RIVER TO THE EAST SIDE. THE BRIEFER WENT ON TO SAY THAT THE 174TH AND 275TH REGTS OF THE 5TH NVA DIV ARE NOW DEPLOYED IN MR4'S KIEN TUONG PROVINCE BUT THAT BOTH OF THESE REGTS COULD WELL BE TURNED EASTWARD TO STRIKE TOWARD SAIGON THROUGH THU THUA DISTRICT OF LONG AN PROVINCE PROBABLY TRYING TO CUT MR4 ON THE WAY.

E. THE 273RD REGT WOULD CONTINUE TO ATTACK CHON THANH IN SOUTHERN BINH LONG PROVINCE AND COULD BE REINFORCED.

F. IN LONG KHANH PROVINCE THE MAIN BODY OF THE 141ST AND 209TH NVA REGTS, WHICH ATTACKED THE DINH QUAN AREA 10 DAYS AGO HAVE MOVED NORTHEASTWARD INTO LAM DONG PROVINCE.

G. THE 274TH REGT APPEARED TO BE OPERATING ALONG ROUTE 1 EASTWARD INTO BINH TUY PROVINCE.

H. THE 33RD NVA REGT SHOWS SIGNS OF HAVING MOVED INTO NORTHERN PHUOC TUY PROVINCE FROM WHERE IT COULD BE EXPECTED TO ATTACK SOUTHWARD TOWARD THE PROVINCIAL CAPITAL WITH ONE ELEMENT AND ATTEMPT TO CUT ROUTE 15 WITH OTHER ELEMENTS.

I. SAPPERS IN FIVE AREAS HAD MOVED CLOSER TOWARD SAIGON AND MIGHT BECOME MORE ACTIVE DURING THE WEEK--THE 117TH REGT ON THE SOUTHWEST, THE 115TH IN PHU HOA AND HOC MON NORTHWEST OF SAIGON, THE 119TH ALONG THE BINH DUONG/BIEN HOA BORDER, THE 116TH NORTHEAST OF SAIGON AND THE D-10 EAST AND SOUTHEAST OF SAIGON.
On April 2, 1975, my brother flew to Lau Ong Hoang in Phan Thiet to take over the remnant units of II Corps relinquished by General Nguyen Van Phu to be integrated in III Corps.
Major Tran Trong Thuong wrote:
I was Tiet's friend since the days in Shanghai. The day of the retreat out of Phan Rang, I reached Phan Thiet and encountered a group of air force liaison. They took me up to Ong Hoang hill. One NCO told me: "Lieutenant, go to the TOC building, you might find there something to eat." Upon entering the TOC I encountered a sergeant on duty and asked him for some rice or c-ration because I had not eaten for two days on the way from Nha Trang to here, even the can of water I carried with me was empty. Right at that moment, General Hieu exited from the conference room and entered, the sergeant reported my request, I saw the name tag and the stars and knew it was General Hieu, but under such situation it would take too long to make my identity known, I just saluted militarily and General Hieu shook my hand and instructed the sergeant to do as I requested. That was the first time I met General Hieu and also the last. He hastily exited to board his helicopter to return to his tactical area. He spoke with a gentle voice, unlike the other officers I encountered on my paths.
On April 4, 1975, General Nguyen Vinh Nghi was assigned III Corps Forward Commander, with the headquarters located in the Phan Rang airport. In the same day, Brigadier General Le Trung Tuong was assigned III Corps Chief of Staff, replacing Colonel Ngo Van Minh who went to Capital Military Special Zone as Chief of Staff. Also in this day, General Weyand met with my brother the whole morning.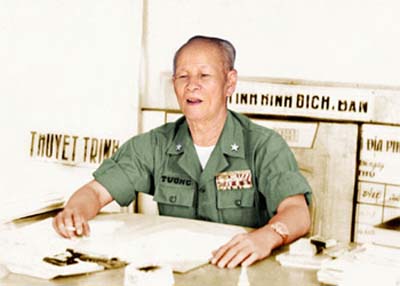 Lê Trung Tường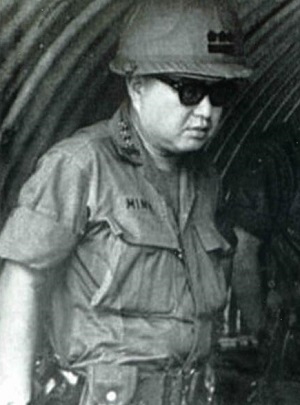 Ngô Văn Minh
On April 6, 1975, President Thieu had my brother come to the Presidential Palace for consultation. In this meeting my brother "advised him, if the Americans refuse to intervene again as promised by President Nixon, to surrender to prevent needless bloodshed among the troops."
I recall that I went to see my brother in Bien Hoa the day before and I asked him if we would be able to contain the enemy push. He answered: "Our troops are capable; we only lack ammunition; our troops can hold two months max then would run out of ammunition."
General Lu Lan wrote:
Afterward, we totally lost contact. It was not until a few days before his death that I had the opportunity to see him again, he was then the 3rd Corps Deputy Commander when I came to the 3rd Corps as a member of a high-ranking officers' delegation to attend a briefing of the military situation. Around that time, I was commandant of the National Defense College.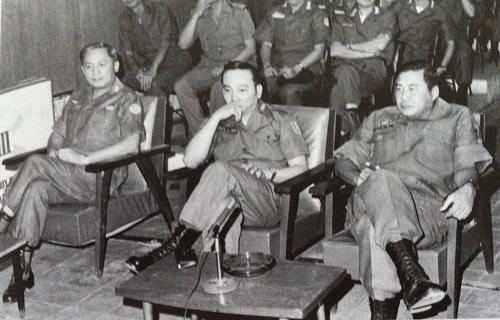 Hiếu, Lữ Lan, Toàn
On April 8, 1975, my brother flew to Go Dau Ha to meet with Brigadier General Tran Quang Khoi in preparation for the coming VC attack at Xuan Loc. At 8:30 am, the Presidential Palace was bombarded. By 9:00 am, my brother flew back the III Corps Headquarters. From his office, he telephoned home to advise my sister-in-law not to allow the children to go out and play on the street because there was a 100 percent curfew, then went on about his daily work.
Relationship with the Americans
My brother has a close and friendly relationship with the Americans, in particular, Richard Peters, the American General Consul of Bien Hoa. When I asked how often he met with my brother, he answered:
Quite often. At least once a week socially. General Hieu and I got quite along because we had common intellectual interests. Like reading books. I once lent him The Best and the Brightest by David Halberstam, published in 1972. After he read it, he was quite depressed because of the pessimistic views presented by its author regarding his predictions of the outcomes of the Vietnam war.

I had no family with me at that time, and General Hieu's family was in Saigon. I often invited him for dinner, because I had a very good Vietnamese cook who liked to prepare for us delicious dishes. We played western chess. He taught me Chinese chess. Sometimes we played the two types of chess one after the other. He always won! He also took me once to the firing range to shoot rifle and pistol. He always hit the mark.
The Biographic data on MG Nguyen Van Hieu of the American Embassy writes
Americans working with him in MR-3 find him friendly and cooperative. In Bien Hoa, he lives in a trailer at MR-3 Hq and spends most nights there only occasionally taking an overnight leave to be with his family in Saigon. He frequently visits in the home of Bien Hoa Consulate General senior officers for long evenings of discussion or chess games (he is a master of Chinese Chess, and plays "Western" chess well). […]While candid, courteous, and friendly with American officials in MR-3, a certain reserve and circumspection, perhaps a part of a Mandarin sense of dignity and position, is always discernible.
By the end of March 1975, two CIA officials came to our house and inquired my father if General Truong and my brother were close friends. My father deemed it had to do with the intention of a coup.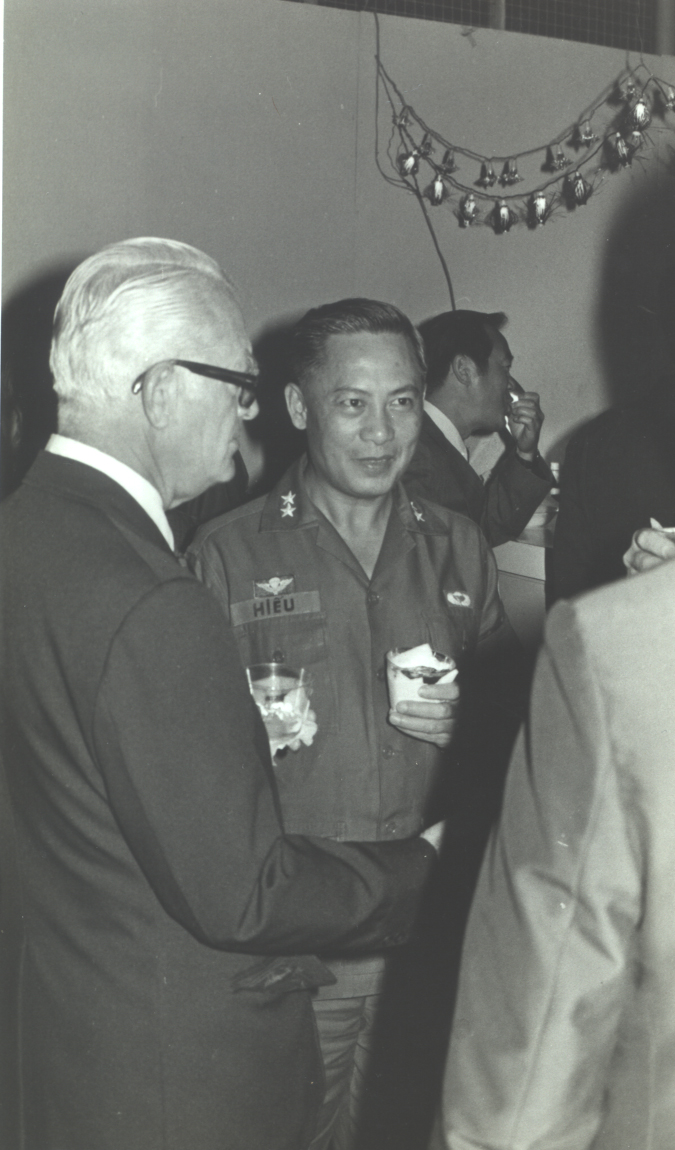 Deputy ambassador Wilkinshaw
Nguyen Van Tin
7 February 2015
---
=>content