Story about my Brother, General Hieu
Chapter X
Vice Presidency
President Thieu gave Vice President Tran Van Huong the mission of investigating and eradicating corruption in the Government after winning the election in October 1971. Vice President Huong encountered difficulties in finding someone courageous and capable to fill the position of Special Assistant in Charge of Anti-corruption. In a meeting with Ambassador Bunker, Vice President Huong "pointed out that it was hard to find incorruptible and bold officers to work in this field." It was not until February 1972 that he succeeded in recruiting my brother to lend him a hand to this highly demanding job.
As for my brother, given a choice, he did not chose the easy job of superintendent of Dalat Military Academy, but wanted the hard position of special assistant in charge of anti-corruption, because he realized that corruption was what demoralized the Army and thought he could strengthen the combat capability of the Army by eradicating corruption.
On February 12, 1972, on behalf of Vice President Tran Van Huong, my brother, and Judge Nguyen Thanh Van, entered Bishop Jean Cassainge's bedroom, founder and director of Di Linh leprosarium, to reward him with the National Medal.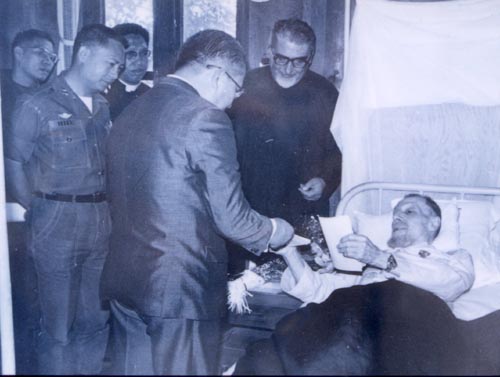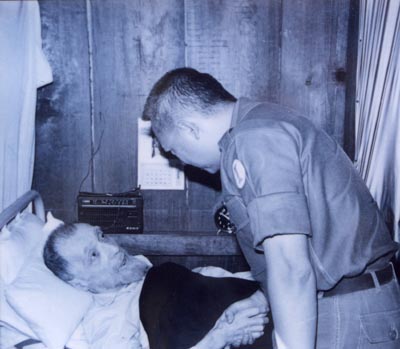 The Biographic Data on MG Hieu of the American Embassy writes, "When Hieu left I Corps to take up his new position, he appeared eager to confront what he called "the most pressing problem facing the Republic of Vietnam." My brother "had personally observed the decline of the Chine Nationalist Government in the forties, a decline he attributed in large part to the inability of the GRC to deal adequately with corruption." My brother "said that he had reached the point where he is convinced that "either we correct our faults or the Communists will correct them for us." He was also "convinced that if no means are found to attack the problem effectively, it could well become a decisive factor in swinging the population toward the Communists in a future political struggle."
The first corruption target my brother aimed at was the Military Retirement Fund. This fund was built out of a monthly contribution of 100 piasters each of the one million soldiers. Its capital had bulged up to more than 3 million piasters and was used by General Vy to do business in the creation of one bank and six companies: COGIVINA, SICOVINA, VICCO, VINAVATCO, ICICO. My brother "stated that his staff consisted of himself and one aide, which was totally inadequate." And that "in May 1972, the anti-corruption campaign was getting nowhere and that the cabinet Ministers and the Prime Minister were not cooperating with him", furthermore "some pressure had been exerted from various quarters against investigators of SMASF. Some military security service officers working on the case were reminded by persons in the Ministry of Defense that after the investigation was concluded, they would still be under the Ministry of Defense discipline. This was taken as a threat by the Military Security Service officers involved."
Despite lack of adequate working conditions and collaboration from various governmental offices, my brother was able to put a final touch of the Military Retirement Fund investigation – a 50-page report – and presented it directly to " people of the nation, generals, and fellow soldiers " on TV on July 15, 1972.
Ambassador Whitehouse comments:
General Hieu's televised, detailed charges of SMASF corruption and mismanagement are unprecedented in Viet Nam. Lt. General Nguyen Van Vy, Minister of Defense, and Lt. General (Ret.) Le Van Kim were among those accused by General Hieu of allowing or participating in irregular financial activities. Following General Hieu's report and acting on the recommendation of Vice President Huong, President Thieu removed General Vy from office and imposed disciplinary measures on several other principals in the SMASF affair.
In parallel with the Military Retirement Fund, my brother also investigated the corruption of general officers. However, Vice President Huong decided to put a moratorium on this domain. In a meeting with Ambassador Bunker on July 18, 1972, Vice President Huong said:
The Vice President agreed that an intensive campaign was desirable but pointed out that at present, President Thieu had to make use of competent and brave officers even if they were not entirely clean. When the military situation permitted it, such officers should be relieved. In this context, the Vice President stated that it was in part thanks to his efforts that Generals Lam and Dzu had been replaced. He also drew attention to the recent removal of the Vinh Long Province Chief on charges of corruption.
Instead, my brother envisioned and made big plans to attack all directions. He mentioned the Power Company, Air Vietnam, the Presidential Special Advisor, Lieutenant General Dang Van Quang, the Judicial Branch, the Judicial Police, and Phung Hoang Program.
The investigation of the Power Company, Air Vietnam, the Presidential Special Advisor, Lieutenant General Dang Van Quang, could not be carried on because of President Thieu's intervention (his daughter was about to get married with the son of Air Vietnam Director and the President protected General Quang, his closest associate).
The investigation of the Judicial Branch encountered stiff resistance from the Minister of Justice, Le Van Thu, who gave protection to Judge Huynh Khac Dung. My brother said that "there were indications that the gasoline stolen from Shell at Nha Be may have been transported to Cambodia and sold to the NVA. In any case, he said, the prevalence of corrupt practices within the GVN Judicial System, including collusion among judges, lawyers, prosecutors, and plaintiffs, was a serious matter."
The investigation of the Judicial Police was disrupted by Colonel Nguyen Khac Binh's action. Instead of punishing the culprits, he instigated a total transfer of all judicial police officers from the region to the district level.
The main issue in the Phuong Hoang program was "pay-offs in return for the release of alleged VC suspects." My brother said that "there were too many such allegations involving the Phung Hoang program and that this kind of blackmail was particularly harmful both to GVN prestige among the people and to the effectiveness of Phung Hoang."
In a meeting with an American Embassy official on February 23, 1972, my brother advanced the following remarks:
Hieu said he considered the results so far "disappointing." What successes had been achieved were in no way commensurate with the dimension of the problem. He attributed the relative lack of success to the following factors:

(a) Although Vice President Huong appeared to have been given blanket authority by the President in the anti-corruption campaign, Huong in fact, had discretionary powers to conduct investigations or to request those investigations be conducted, only against persons of the rank of district chief or less.
(b) For investigations of individuals of the rank of province chief or above, Huong will not initiate action without first obtaining clearance from the President. Hieu said in a number of cases this clearance had not been forthcoming.
(c) Considerations other than the facts themselves often were introduced, even in investigation of cases at the district chief level and below. Those factors, Hieu said, included the relationship of the accused to prominent personalities either through family ties or through other ties of influence. Hieu said that he spent much of his time attempting to fend off the introduction of such factors into consideration of corruption cases, but he implied that Vice-President Huong himself sometimes felt obliged to give these factors weight.
(d) The Vice-Presidency still lacked adequate staffing and funds to carry out sufficiently broad-scale investigations of corruption. (Hieu has made this point frequently to Embassy officers).
My brother was disappointed because Vice President Huong was reluctant to investigate corruption cases linked to President Thieu.
General Hieu cited as an example a member of the lower house who had clearly been involved in corrupt activities. Hieu said he took the dossier to Vice President Huong, who noted that the legislator was a member of the pro-administration bloc and the day before had had dinner with the President. Huong advised not pursuing the matter. Another example, Hieu said, was police colonel Pham Kim Quy, chief of the judicial bloc, national police. According to Hieu, gross corruption int eh national police immigration service, a branch of the judicial bloc, has been traced directly to Col Quy, who is known to be close to Presidential Assistant Dang Van Quang. Vice President Huong is also reluctant to pursue this case, Hieu declared.
During the course of year 1973, my brother spent most of his time investigating corruption of some province chiefs: Colonel Nguyen Van Nghiem, Province Chief of Phu Bon (March 1973); Colonel Nguyen Van To, Province Chief of Phu Yen (March 1973); Colonel Tran Trong Nghia, Province Chief of Go Cong (May 1973) and in particular Colonel Mach Van Truong, Province Chief of Long Khanh (August 1973).
Hieu said that Col. Mach Van Truong, recently appointed Province Chief of Long Khanh, had in the last few weeks made a number of approaches to Major Sung, one of his district chiefs, demanding that Sung extort money from lumber operators in his district and provide Truong with a major portion of the proceeds. Hieu said that Major Sung, who had been Commander of the 8th Regiment, 5th Division, when Hieu was Commanding General of the 5th, was well known in ARVN for his strict honesty. Sung had reported to Hieu the approach made by Col. Truong, saying that he had told Truong that he could not accede to the request and therefore wished to be transferred. Hieu commented to the Embassy officer that Truong was an old associate of LTG Nguyen Van Minh, CG MR 3 and that Hieu was convinced that Minh had appointed Truong as province chief partly in order to ensure his hold over the lucrative lumber trade in Long Khanh. Hieu was recommending that this case be investigated but noted that this depended on President Thieu and on the outcome of contacts between Thieu and LTG Minh.
When he was asked about his attitude toward his job, my brother
repeated the basically pessimistic line that he has given to Embassy officers in the past. The corruptions problem is enormously difficult, he said and is complicated by such factors as inflation, which eats into pensions and therefore increases the temptation for improper money-making activities. On top of these problems is that of sorting out real from false charges of corruption, the latter instigated by the Communists in some but not all cases. Alleging corruptions is considered an easy way to destroy the reputation of a personal or political enemy. Hieu said that "drastic" measures are required which would constitute a virtual "revolution" in the public and governmental approach to the corruption problem.
My brother "noted that there had been all too few successful cases and that one of the primary reasons for that was the lack of real support from the President."
In assuming the task of Special Assistant in Charge of Anti-corruption, my brother showed he had skills other than military ones. He dealt with dexterity issues in the domains of law, justice, finance, business, economy, and politic and interacted with ease with ministers and experts in law, justice, finance, business, economy, accounting, and politic.
The job of Special Assistant in Charge of Anti-corruption had taken a toll on him. He aged considerably as a result.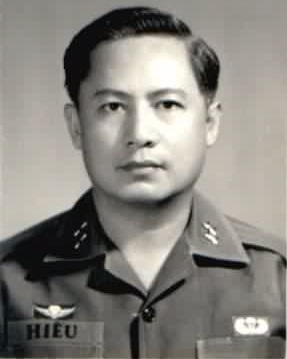 Special Assistant in Charge of Anti-corruption
During the time he worked at the Vice Presidency, my brother lived at Cu Xa Si Quan Chi Hoa. I had more opportunities to visit him than before. He offered me home cooking meals and said he could not afford the take me to a restaurant.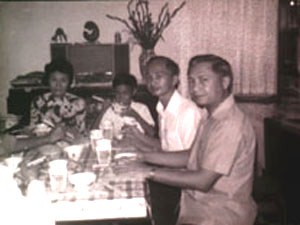 Madame General Nguyen Xuan Thinh said that her family and my brother's often met on Sundays while attending mass at the Redemptorist Church. At that time General Thinh was Artillery Commander. She added that on each of those occasions, they invited my brother's family to have breakfast at their house because they knew my brother did not have the luxury to take his wife and children to a Pho restaurant, despite of his salary of a special assistant in charge of anti-corruption!
Nguyen Van Tin
29 January 2015
---
=>content