Story about my Brother, General Hieu
Chapter VIII
5th Infantry Division
My brother was assigned the 5th Infantry Division Commander on August 14, 1969, and left this position on June 9, 1971. My brother replaced General Pham Quoc Thuan.
Madame General Thuan told me that a soldier recounts to her:
One night General Hieu wandered leisurely toward the soldier quarters and approached a poker game site. One player, not knowing his commander was standing next to him in the dark, chased him away: "You! Go and play somewhere else. Since you showed up your face, I lost my luck." General Hieu quietly walked away!
A close relationship between General Tri and General Hieu
Colonel Nguyen Khuyen, Director of III Corps Military Security Bureau, narrates:
When General Tri assumed the Command of III Corps, coincidently all three divisional commanders of III Corps were graduated of 3rd Class of Dalat Military Academy: Major General Nguyen Xuan Thinh held the command of 25th Division, Major General Hieu, 5th Division and Major General Lam Quang Tho, 18th Division. Among these three Commanders, General Tri seemed to favor General Hieu the most because General Hieu used to be his Chief Of Staff at the I Corps and II Corps in 1963.
President Thieu brought General Tri back from South Korea and assigned him III Corps Commander in replacement of General Le Nguyen Khang on August 5, 1968. General Tri immediately appointed General Lam Quang Tho 18th Infantry Division Commander in replacement of General Do Ke Giai and maintained General Nguyen Xuan Thinh at the helm of 25th Infantry Division. He wanted to bring my brother to take over the command of the 5th Infantry Division from General Pham Quoc Thuan, but he encountered resistance from President Thieu because General Thuan was his protégé. It was only one year later, on August 14, 1969, that General Tri was able to fulfill his wish.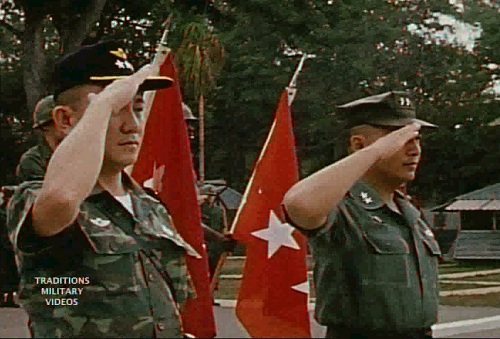 General Tri and General Hieu
General Tri fully endorsed my brother and followed to my brother's advice in switching the tactic Eagle lunges using helicopters with the tactic herding foxes into a trap using tanks in operations conducted in the III Military Region. In November 1970, he created theIII Corps Armored Assault Task Force.
General Tri relished in showing off my brother's marksmanship to the other generals. Captain Paul Van Nguyen narrates:
In 1969, as an aide de camp accompanying Lieutenant General Nguyen Van Minh, Governor of Saigon-Giadinh and Capital Special Military Zone Commander, I witnessed General Hieu's marksmanship in the use of various weapons, from Colt 45, M16 to machine gun M60, and hitting bull-eyes at fixed and mobile targets at the firing range. That time, Lieutenant General Do Cao Tri, III Corps Commander, invited Commanders of Capital Special Military Zone, 5th, 18th, and 25th Infantry Division and some high ranking officers of other units to participate in trying out various weapons using infra-red vision devices introduced by the Americans to equip ARVN snipers.
In July 1970, President Thieu summoned General Tri to the Presidential Palace and offered him the position of IV Corps Commander, in replacement of General Ngo Dzu, because the military situation in the IV Military Region was deteriorating. He was promised another star if he agreed to it. General Tri responded that he preferred to give that star to one of his protégé. President Thieu asked who that might be, General Tri's answer was General Hieu, 5th Division. President Thieu ignored the suggestion and later assigned General Truong to replace General Ngo Dzu as IV Corps Commander.
In October 1970, President Thieu cleverly pushed aside General Tri out of the helm of III Corps and exiled him to France for health reasons, replaced by General Nguyen Van Minh. In the letter dated 6 June 1970, Captain Wayne T. Stanley, secretary of G3 of the American Advisors of the 3rd Corps, wrote to Lieutenant Colonel John L. Huestis, Fort Braggs, North Carolina: "General Tri continues to rule the land with fire and determination. He is now on vacation in Europe, and he continues to plan on being CG, III Corps until he retires in 18 months." After a while, General Tri was able to make arrangements for his return. Upon setting foot on the homeland, he immediately went to the 5th Division HQ and stayed put with General Hieu. He threatened to use force with the aid of units of the 5th Division. President Thieu was forced to relent and gave back III Corps command to General Tri.
In February 1971, President Thieu once more summoned General Tri to the Presidential Palace and expressed his desire to assign General Tri to take over the command of I Corps from the hand of General Hoang Xuan Lam, because the military situation of Operation Lam Son 719 in Lower Laos was deteriorating. At that time, General Tri and General Hieu were implementing the Luring the tiger down the mountains plan to entrap the enemy at Snoul, inside the Cambodian territory. General Tri set the condition that he only accepted the new position provided he was replaced by General Hieu at the helm of III Corps. President Thieu did not approve the proposition, and when General Tri suddenly died in a helicopter accident on February 23, 1971, he selected General Nguyen Van Minh as III Corps Commander.
Improving the combat capabilities of the division
When my brother assumed the command of 5th Infantry Division, the division fared poorly in combat capabilities.
On November 14, a month and a haft after the day my brother assumed the command of the 5th Division, General Abrams mentioned my brother in his Weekly Intelligence Estimate Update (WIEU):
Leadership—where that's good, they're good. Where it's mediocre, they're mediocre. Here it's piss poor, they're piss poor. It's just that simple. We've had some very dramatic examples here of where one man has changed—one man, just the commander, and in a month and a half time you've got an entirely new outfit. Used to be flat on its ass, wouldn't go anywhere, couldn't fight. Only changed one man—transformed the whole thing.
Furthermore, in the meeting of November 15, General Abrams said
The other day I was out, and I got a good briefing by General Hieu, 5th ARVN. That's the first time I've been to the 5th since he's been the division commander. And I must say it was—this doesn't have too much to do with how the division performs, but the quality of the briefing was very high, including a very frank and, I would guess, honest discussion of personnel strengths, desertions, desertions by regiment, and all this kind of stuff, including the fact that desertions are up, which—that's not a good sing, of course, but I must say it's a change of pace out there in the 5th Division to be leveling on things like that.
The American Advisors' evaluation:
- Colonel John G. Hayes, Senior Advisor, 5 Div (20 November 1969)
Combat effectiveness of the 5th Infantry Division (ARVN) is improving. Since Major General Nguyen Van Hieu took command, the Division has initiated a program of carrying the war to the enemy. This initiative is a vital element which the Division has lacked. The employment of the Cavalry Regiment in an offensive role was a dramatic departure from their "Palace Guard" mission.

MG Hieu has evidenced that he is receptive and will react to meaningful suggestions. It cannot be overemphasized that he is a strong commander, and will only implement ideas which will definitely improve the combat effectiveness of the Division.

Definite progress is being made in all areas within the Division. Basically, improvements can be attributed to positive leadership which has forced the maneuver units to seek and destroy the enemy.

The new Commanding General definitely removes the leadership problem formerly faced with the Division Commander.

[...] Through Dong Tien and implementation of the Commanding General's offensive tactics, Regimental Commanders are pressed to field good unit leaders.

[...] With the assumption of command by MG Nguyen Van Hieu on 14 August 1969, 5th Division units are changing from a defensive to an offensive posture.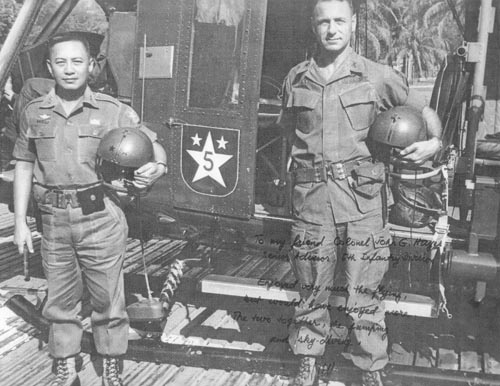 Colonel John Hayes, Senior Advisor
- Lieutenant General Julian J. Ewell, Senior Advisor, III CTZ (2 February 1970)
We have no pressing need for division commanders at this time. Hieu should be able to move the 5th Division. Tho likewise the 18th. Thinh and Dong are doing fine with the 25th and Airborne Divisions.

The failure of the 5th Division to show improvement is, in my judgment, attributable to the turbulence caused by the: (1) take-over of Lai Khe in February; (2) assumption of responsibility for a two-province area of operations upon the departure of the 1st US Infantry Division in March; and (3) the replacement of two regimental commanders in this same period. More time will be needed for this division to gain in effectiveness and confidence, but there are indicators that this unit is beginning to come up now.
- Colonel John G. Hayes, Senior Advisor, 5 Div (7 February 1970)
MG Nguyen Van Hieu, DOR 1-11-67, 20 years service. General Hieu is an above-average commander. Good qualities include dedication, experience as a combat leader, ability to stimulate and maintain morale, and ability to control those in his command. He is quite religious and patriotic and demands high standards of conduct and discipline. He is methodical but decisive. He is rated better than the average US Division commander in overall performance.
- Major Edgar C. Doleman, Jr, G3 Plans/Training Advisor (22 April 1970)
After General Hieu took command of the division in October 1969, the general staff seemed to infuse with more life.
Lieutenant Colonel George G. Layman, Deputy Senior Advisor, noted in his 4th Quarter 1970 Assessment report, that General Hieu put his Armored Cavalry Regiment to a rigorous and intensive training program:
The 1st Armored Cavalry Regiment has conducted an intensive training program this quarter. The 1st Troop spent nine days at the Tu Duc Training Center with instructors from the ARVN Armor School. The 2nd and 3rd Troops conducted classes at Lai Khe. All troops have utilized the Trang Bom Range for firing of all organic weapons.
- Major Delbert F. Shouse, DCAT G3 of the 5th Division, expressed the following assessment on General Hieu's use of the tandem Infantry-Armor formula in his 4 April 1970 evaluation report:
The employment of one infantry regiment and one armored cavalry regiment into enemy sanctuaries and supply bases in Cambodia in May and June enabled the division to exercise itself in military operations involving large unit airmobile operations, long-range resupply and sustained large unit operations. The resultant capture of enemy weapons, ammunition, food, and other equipment increased troop morale and demonstrated to the ARVN that they could destroy enemy effectiveness.

The release of the division armored cavalry regiment from route and static security missions has allowed this unit to exploit its firepower and mobility against North Vietnamese regular force units in Cambodia and northern Binh Long Province. However, Cambodian operations suggest that the M41 tank was not employed as a tank. The M113 of the armored cavalry troop was more suitable for employment in the single canopy jungle and was capable of defeating any enemy threat in that area.
Le Dinh Lam, Secretary-General of Supervisory Office narrates:
General Hieu's reputation preceded him at the Vice-President Office, in particular I had heard someone witnessed the following incredible scene: in a cross-border operation into Kampuchea, General Hieu, 5th Infantry Division, stripped out of his uniform, wearing only a T-shirt and a pair of knickers, jumped down onto the muddy road to lend a hand to the soldiers in pulling out a bogged down military vehicle.
Major Nguyen Tuong Tuan wrote:
I was 7/5 Recon Company Leader, 7th Regiment, 5th Infantry Division. I had the privilege and honor serving under General Hieu while he was the 5th Infantry Division Commander. Although a recon company of a regiment, it was only a few times that my unit got the chance to station in Lai Khe base camp (for the troops to rest while the other Recon Company, 5th, 8th, and 9th took the turn to conduct operation). I cherished a memory about General when our unit was operating in the Bui Gia Map area (Phuong Long), and he came all the way down to the battlefield to visit the unit and to operate together with us. Around that time, the 7th Regiment Commander was LTC Pham Van Niem, and Deputy Commander was LTC Ly Duc Quan. General Hieu talked to me lengthily and inquired about my welfare, "Do you need any assistance from the division?" I, with my spontaneity of a youngster, responded, "I only ask you to grant me a few weeks of R&R in Saigon, and I would be satisfied." For me personally, as well as many soldiers in the 5th Infantry Division, General Hieu was the most genuine hero symbol of an ARVN combatant.
Major Khuc Huu Chap, Ranger wrote:
General Hieu was my idol, and I knew him since when he came to the 5th Division. At that time, I was with an attached unit that jumped into a cross-border area which was under his loving tender care. When we were about to enter Krek, he gave the order to retreat when B-52 air support pre-approval was suddenly reversed by higher authority. He said, "Without support, I refuse to commit my troops into combat." He was an honest general, a general who took great care of his men and virtuous. He deserves my highest admiration.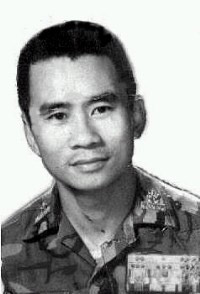 Khúc Hữu Chấp
On January 5, 1970, George W. Ashworth of the Christian Science Monitor published the following assessment of the 5th Division:
LAI KHE, VIETNAM- When the Vietnamese battalion commander at Fire Base Mahone was killed in action, his battalion was quickly pulled off the line.

In the American Army, the battalion would have fought on. But the loss of a key man was a major blow to the Vietnamese battalion and raised real questions as to whether the battalion could continue in combat.

In almost any Vietnamese Army division, the loss of a senior officer in an important position has an impact. This is particularly true in the Vietnamese 5th, which now is just venturing out into difficult action after years as a garrison-hugging "coup division."

President Thieu formerly commanded the 5th, and it was his power base as he began his rise to sovereignty. Under later commanders, the 5th, stationed near Lam Son north of Saigon, was available should there be a need to save the palace from insurrection.

It was not until this fall that the disgruntled American command was able to prevail upon the Vietnamese to remove the politically safe and militarily cautious commander of the 5th and replace him with another Vietnamese officer, Major Gen. Nguyen Van Hieu. While not considered brilliant, General Hieu is thought of as moderately diligent by both Vietnamese and American officers.

Now the general is trying to lead his division to some higher level of competence. Most observers agree that if the 5th does become good, it will bode well for the Vietnamese Army, for the 5th now is just about the worst of the 10 Vietnamese divisions.

At one time, not so long ago, there was something of a running competition among American advisers as to who could claim to be with the absolute worst divisions. The 5th, the 18th, and the 25th were all in the running, as horror stories were swapped.

It was not until 1969 that the desire for real, measurable improvement in these divisions became more than a matter of hope. In March, Secretary of Defense Melvin R. Laird told the command here in no uncertain terms that it had to get much more serious than ever before in preparing Vietnamese units – even the worst – to assume the burdens of war. Galvanized into action, the command began looking around to ways to step up progress.

Last summer, the American and Vietnamese units began working much more closely together in combined operations. Units of the 5th have been working with elements of the U.S. 1st Infantry, in particular, as well as the U.S. 1st Cavalry Division (Airmobile).

Since the 1st U.S. and the Vietnamese began working together under the program called "dong tien," which translates as "progress together," there have been substantial increases in enemy killed, captives, Hoi Chanhs (ralliers to the government side), and weapons captured. In terms of these conventional measures, the 8th Regiment of the Vietnamese 5th is doing about three times as well as before.

The Vietnamese in general are compiling better records than the Americans. During one month, for instance, the Vietnamese 5th elements and territorial forces garnered all but eight of the 61 ralliers in the U.S. 1st Infantry's area of operations.

The 5th Division's kill rates are high, particularly in the cases of the better battalions. But American officers agree that the various tallies are an imperfect measure of a division's performance and capabilities. So far, however, nothing better has been devises.

The tallies that look so promising are somewhat a product of the special environment of the Dong Tien program, in which vast quantities of U.S. helicopter transport and gunship support, as well as massive artillery and air support, are available. Under such circumstances, high kill rates can be expected.

When one battalion of the 5th completed a cycle of working with the Americans and then worked for a similar period away from the Americans, there were few signs of continued progress. As one adviser put it, the battalion "had about held its own."

While there are doubtless advantages to be gained in working with Americans, exposure to the relative plenty of the American war machine can lead to problems, many military sources believe. The Vietnamese quickly learn that going by helicopter is easier than going by truck, that trucks are better than walking, that supplies can be quite plentiful, and that the fallen will be quickly evacuated.

But, when the Americans are gone, the supplies won't be so plentiful. There will not be so many helicopters. Medical evacuation may not be so swift. Many things will only work if the Vietnamese make them work. American help won't be so readily available.

American officers agree that the 5th Division is being given a great deal – perhaps too much – now. But, they say, this does improve Vietnamese effectiveness. At best, sources say, this plenty may be a sort of "pump priming" that will lead to a much higher level of performance when the Americans leave. In the meantime, one American said, a "hot-house environment" is needed for improvement.

Another officer was worried over the enormous problems that continue to plague the 5th. He asked: "Are we showing them things that aren't germain?"

At present, the division's three regiments are rated good, acceptable, and weak. In terms of battalions, most U.S. officers who have worked with the 5th say that about one-fourth are very good, another fourth rather marginal, and the rest somewhere in the middle.

There are excellent battalions. One is the 1st of the 8th Regiment, which recovered after the loss of its commander and is now doing well in the field. The Americans thought so highly of the slain commander, Lt. Col. Chau Minh Kien, that they renamed Fire Support Base Mahone in his honor.

The 1st was replaced at Kien by the 3rd Battalion of the 8th, which has also done well, racking up better scores on the inevitable charts than other American battalions, including the U.S. battalion based with the Vietnamese battalion at Kien.

When a Vietnamese unit is good, it has a marked advantage over a similar American unit in terms of its ability to gather intelligence and to find out what is happening in its area. When Vietnamese units behave themselves and don't steal or destroy, they are in a better position to be accepted by the people and to work with them.

When a unit is bad, the situation can be disastrous. For instance, one battalion of the 5th is so bad, Vietnamese commanders won't let it out of training camp.

The 5th remains beset by shortages of officers, noncommissioned officers, and enlisted men. Officers of appropriate rank are often unavailable to command units. Some battalion commanders are captains. One commander, a captain, told me he had officers to head the administrative, logistical or civil-affairs sections of his headquarters.

When an officer is lost, there is often no one qualified to replace him. Promotions are slow, and a Vietnamese unwillingness to move officers around denies many the broad base of experience they would need to fill a new post adequately.

This officer problem is compounded by the fact that in war, many of the best officers get killed. The casualty rate is far higher among the courageous and the capable.

Desertions remain a constant source of trouble for the 5th. Unlike the 18th Division nearby, which is now exempted from taking habitual or likely deserters into its ranks, the 5th takes all who are sent. And they can be a mixed bag. An estimated half of all new men sent to the 5th are rated as desertion-prone for one reason or another.

The 5th's location within easy hiking distance of Saigon doesn't help, for deserters often find it easy to lose themselves from the authorities in Saigon.

General Hieu has taken some steps to improve the situation. There are signs of greater interest at headquarters now in the concerns of the troops. And the general has tried to get the internal squabbling that has always plagued the division within manageable levels. But pay remains very low. There isn't much dependent housing and what there is is not very good. Also food is scarce and costly.

As one Vietnamese source put it, "General Hieu has very many problems."

Within the area the 5th shares with the U.S. 1st, the enemy strength is rather low. Including Viet Cong and North Vietnamese, strength totals perhaps 5,500. There are almost no concentrations. Thus the enemy can be found usually at squad strength or less.

Since the effort to improve the 5th went into full force in mid-1969, many elements of the division have moved away from the populated areas, leaving security to territorial forces and civilian defense groups. Those working with the U.S. 1st are largely in upper Binh Duong province north of Saigon. Other units are working with the U.S. 1st Cavalry closer to the border.

There are 55 hamlets rated as Viet Cong-controlled in III Corps, which surrounds Saigon and includes the populous center of the country. All but two are in Long An Province, leaving the 5th with only two to cope with in Binh Duong.

If the Americans were to leave Bind Duong now, with the Vietnamese 5th left responsible, the 5th would succeed, most sources say. If the enemy situation were to be stronger, the 5th might encounter difficulties, they add, while agreeing that the 5th will have troubles enough as it is.

A concerted drive is now underway to overcome some of the 5th's most serious problems, and senior Americans hope for marked improvement by April. By then, they say, strength should be generally higher, and there will have been time to gain experience where it is most sorely needed.

This will not remove concerns. One senior American said he was convinced the 5th could fight the big, conventional sort of battles, but such battles appear as a thing of the past. Now, he said, there is a need for the Vietnamese to learn how to fight well in small units, in decentralized operations, with an emphasis upon stealth, endurance, and a willingness to persevere.
Visits
My brother's wife and children used to spend the weekends at the division headquarters in Binh Duong.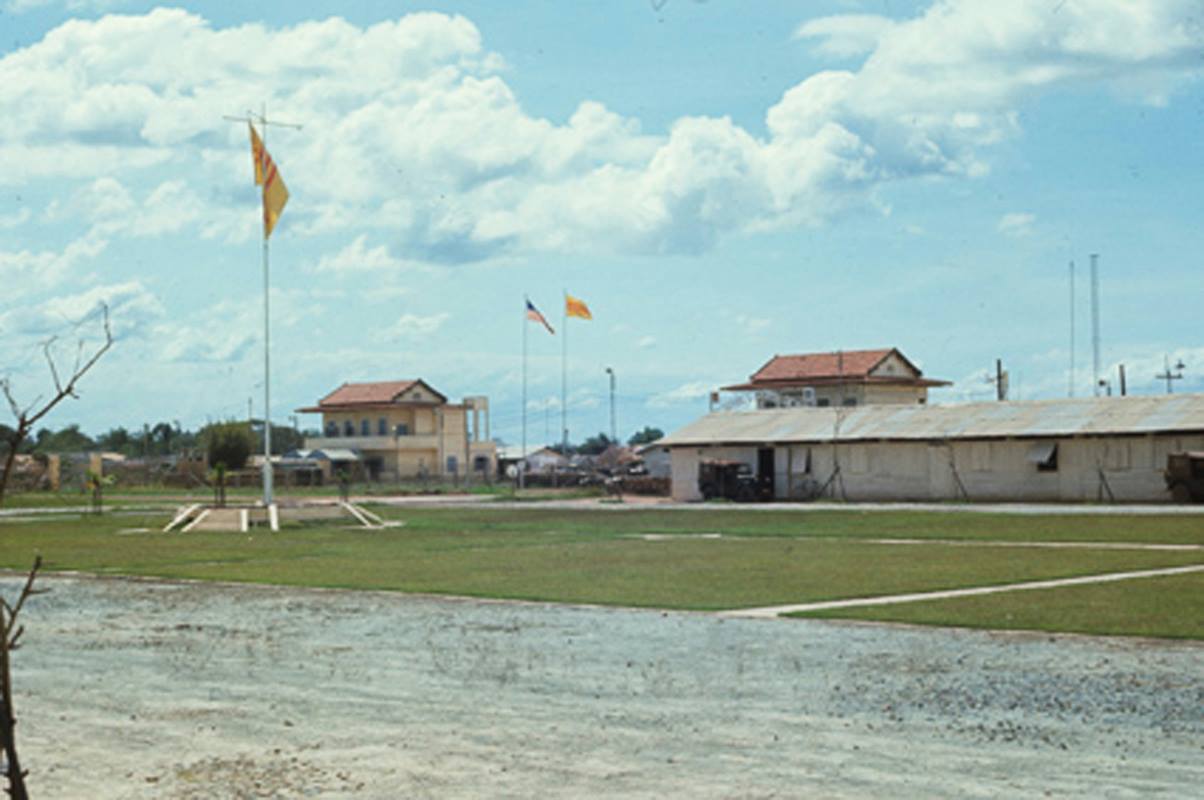 5th Division Headquarters, Phú Cường
A couple of times, I accompanied them to visit my brother.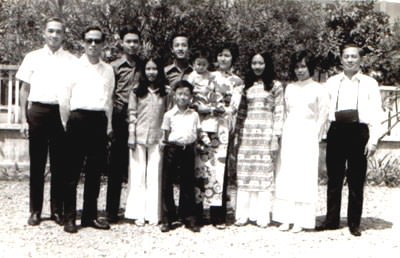 Bình Dương 1969
On those occasions, my brother took me to the firing range to practice shooting pistols and M-16 rifles. I got the chance to witness my brother's marksmanship, hitting bull eyes ten out of ten shots.
In our conversation, I remember asking him two questions in particular.
1. "What is a good General?" He responded:" A good General would know the enemy well and would know how to use his units appropriately: where a squad is needed, then only commit a squad; where a battalion is needed, then only commit a battalion."
2. "What differs a good General from a bad General?" He points to a tactical map and answered me:"When preparing for a military operation, a bad General would just take out a red pencil, mark two locations A and B with two dots, use a ruler to draw a straight line joining these two dots, then order his units to march without deviation along this straight red line, unaware of terrain conditions between these two locations. On the contrary, a good General would inspect the area of operation in person and would know exactly what types of obstacles his units would have to surmount while moving from location A to location B."
A major incident
On Saturday, February 7, my brother and LCT Roy Couch, Deputy Senior Advisor flew to the border of Kampuchea to visit a remote base camp.
General Hieu and LTC US Advisor Roy Couch came to visit my unit, the 4th Battalion, 9th Regiment, 5th Infantry Division. At that time, I was a second lieutenant standing with a platoon receiving the arrival of the Division Commanding General and the American Advisor visiting the unit. Right after the incident, within a minute, an American Advisor told me that General Hieu was very lucky; he walked ahead of Roy Couch, and the helicopter's blades hit Roy Couch's body. After the accident, the chief pilot came to the rear of the aircraft, knelled down and put a hand to his forehead in the reflection of the accident. I was speechless because of the unexpected and sudden accident, and could only sympathize with the unfortunate fate of Roy Couch.
On February 10, my brother pronounced the following eulogy:
Distinguished guests, Colonel Hayes, and members of advisory team 70:

We are assembled here today to pay our respects to Colonel Roy E. Couch. It is hard to believe that Colonel Couch is no more among us, among our organization, among our division.

When the news of the fatal accident reached the division headquarters on that afternoon of 7 February, it must have been a shock to all the members of the advisory team. I was myself in a state of shock, for I was a few steps in front of him when it happened.

I knew Colonel Couch in August 1969 when I arrived here to take command of the 5th infantry division. At that time he was assigned as the senior advisor to the 9th regiment and shortly after that, I have come to know him very well when he was assigned as the deputy senior advisor to the division. To all of you who have been closely associated with Colonel Couch, and I think that you all agree that he was a real professional soldier, dedicated to his duty, quiet but very efficient, always showing an understanding to everyone.

To me, as we became really acquainted through the daily contact at the division headquarters, he was not only a gallant soldier, but he also was a close friend.

I would like, on behalf of all the officers and men of the 5th infantry division, to express our deep sorrow and sympathy for the loss of a good officer, a good man, and a true friend.

General Tri, the III Corps Commander, has asked me to convey his sympathy and condolences.

And again, I would like to express to you Colonel Hayes and all the members of advisory team 70- my deep sympathy and I would like to ask you to convey my personal deep sympathy and condolence to Mrs. Couch and family.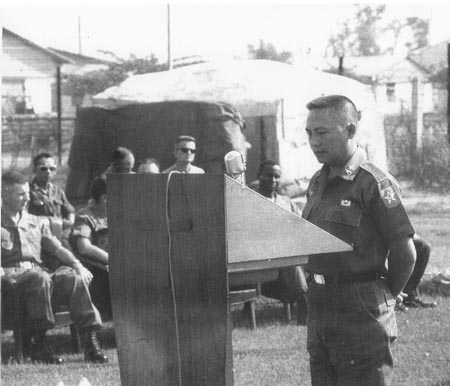 Eulogy For Colonel Roy E. Couch
Colonel Robert P. Lott, who replaced Colonel Couch as Deputy Senior Advisor writes:
I was associated with him principally from January to July 1970 while I served as a Deputy Senior Advisor, Advisory Team 70 and General Hieu commanded the 5th Infantry Division, ARVN.

During temporary absences of the Senior Advisor it was my duty to accompany and assist General Hieu as he required. On a number of instances General Hieu walked into my office and asked me to go with him. We would mount his 1/4 ton vehicle - he would drive - and travel over portions of the division's tactical area. One or two other vehicles carrying a security squad would go with us.

On these drives, General Hieu initiated conversations covering wide-ranging subject matter: history of the area, political events in the U.S. with regard to the Vietnamese war, training and motivation of his young men, and possible futures of South Vietnam.

General Hieu was a brave and able soldier; however, in these conversations he defined himself to me to be much more - a christian gentleman.
Assuming Lai Khe base camp
Besides conducting Dong Tien joint operations with the US 1st Infantry Division, General Hieu busied himself with moving his divisional headquarters to Lai Khe relinquished by the US 1st Infantry Division. He performed this operation swiftly and was able to move his headquarters in on 02/ 27/1970, three weeks ahead of time.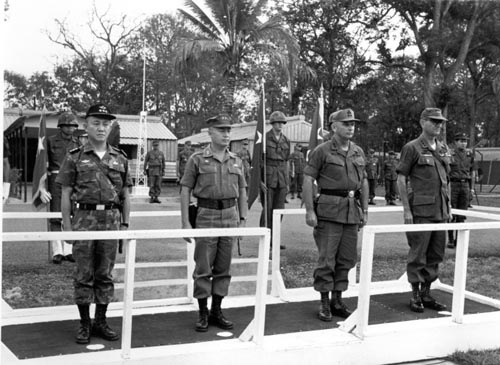 The ceremony of Lai Khe Base Camp Transfer
Watch video clip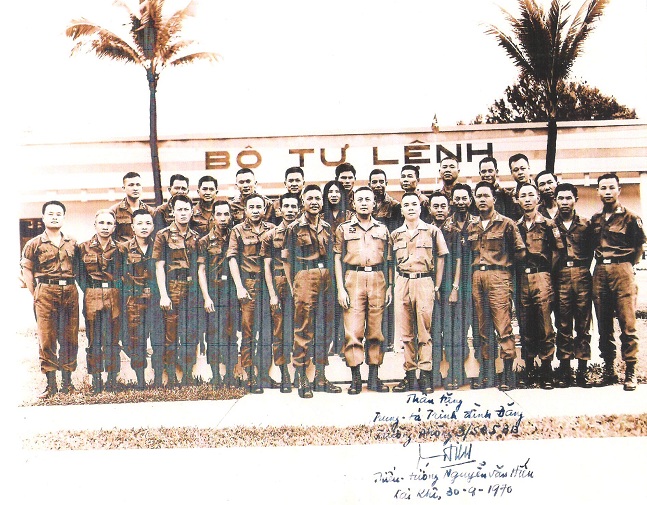 5th Division Headquarters, Lai Khê 9/30/1970
Pacification program and Vietnamization
Upon assuming the command of 5th Infantry Division, my brother made a great impression on General McAuliffe in terms of his broad knowledge when the two discussed the topic of pacification program on September 1, 1969 :
General Hieu then spoke about pacification. He commented that military operations are relatively straightforward and easy for a military man to comprehend. Pacification, on the other hand, is complex. Citing General Tri's recent guidance, he said that the 5th Division should move away from the pacified areas, leaving these to RF/PF forces to secure. He drew an analogy of thrusting one's fist into a fishbowl; the fish move away, and stay away as long as the arm is in the fishbowl; however, as soon as the fist is withdrawn, the fish return to that spot. He said that the same thing can happen with regard to VC in populated areas, i.e., when ARVN and US forces move away, the VC tend to return. He has spoken to all of the district chiefs in his AO, as well as to many village chiefs, and many are uneasy at the prospect of ARVN and US forces moving away from the populated areas. In his view, Binh Duong Province has sufficient RF/PF forces, but these forces require further improvement in combat effectiveness, and need the reassurance of support from nearby US and ARVN forces in order to keep out the VC and maintain security for the populace. Therefore, he indicated that he feels an obligation to over watch these territorial forces and to assist and support them as much as possible. I assured him that we shared this view. However, he considers this a most difficult problem, particularly in light of General Tri's guidance.


With an officer of US 1st Infantry Division

In a digression, he spoke about the generally narrow views which many district chiefs hold. Their concern, he said, is primarily about their pacification statistics, and they look at military activities only insofar as these will assist their statistical picture. General Hieu stressed, however, the desirability of battalion commanders (ARVN and US) coordinating daily operations with the chiefs of the districts in which their forces are operating -- as I pointed out is now being done in the Phu Hoa District.

General Hieu then talked about how to improve the coordination of both the military and political effort against the enemy. He commented that the regimental/brigade commanders are the ones who have sufficiently broad focus and the resources to plan, coordinate, and carry out major operations. Similarly, he regards the previous chiefs and sector commanders as having sufficiently broad responsibilities to view the situation beyond narrow district limits. Therefore, he announced that he is instructing his regimental commanders to meet daily with the provincial sector commanders in their area, as well as with the US brigade commanders for the purpose of planning and supervising the execution of military operations against the enemy, as well as those in support of pacification. In addition, he intends to suggest to the Bind Duong Province Chief that he conduct weekly coordination conferences aimed at the problems of military support for pacification. He envisions that his regimental commanders and the US brigade commanders who operate in Binh Duong Province, as well as the appropriate district chiefs and battalion commanders, would participate in the weekly provincial meetings. He hopes that such conferences would stress (among other things) the support and assistance required for RF/PF forces. I assured General Hieu that this concept of coordination was completely in accord with ours, and that we would cooperate completely.
In summary, in order to allow the Regional Forces and Popular Forces to perform well in the pacification and development program, General Hieu promoted close coordination between units of regular forces and units of Regional Forces and Popular Forces in ordering regimental commanders and battalion commanders to hold weekly meetings with province and district chiefs in their operational areas; he also insisted that regular army units lend unwavering support to units of Regional Forces and Popular Forces when needed.
Furthermore, my brother sets out the same action concept to units of Regional Forces and Popular Forces as to regular army combat units of 5th Division:
Our Division mission is to search and destroy the enemy. Each unit will be assigned an objective and must make efforts days and nights to destroy that objective. Sectors can also apply this concept to RF and PF units. If we all apply this concept of search and destroy the enemy, we will be able to annihilate all enemy forces within a short time.
In fact, it took my brother only approximately half a year after his arrival at 5th Division to render VC units ineffective in the provinces of Binh Duong, Binh Long, and Phuoc Long; and the National Front of Liberation of South Vietnam HQ lost their haven in Duong Minh Chau and Ho Bo sanctuaries and was forced to migrate inside Kampuchean territory. Therefore, in April 1970, units of 5th Division had their hands free to participate in cross-border operations Total Victory 42,..., 46 together with units of III Corps, IV Corps, and US units.
Besides, when my brother took control of 5th Division, US 1st Infantry Division, US 1st Calvary Division, and US 11th Armored Cavalry Regiment were still active in 5th Division's operational area with US 1st Infantry Division HQ located at Lai Khe, US 1st Cavalry Division HQ at Bien Hoa and US 11th Armored Cavalry HQ at Long Giao. After President Nixon announced the implementation of Vietnamization of the War, on September 1969, US 1st Infantry Division HQ relinquished Lai Khe camp to 5th Division and relocated to Di An in November 1969 and US 11th Armored Cavalry Regiment HQ relocated to Bien Hoa in October 1969, then to Di An in July 1970. Meanwhile, US combat units limited their activities to camp security in preparation for their total withdrawal to the USA. Units of the US 1st Infantry Division completed their removal in April 1970, those of the US 11th Armored Cavalry Regiment in March 1971 and those of the US 1st Cavalry Division in April 1971.
Big Red Division's operation area
While US units were withdrawing, General Tran Van Don came to the 5th Division HQ to study the consequences of the Vietnamization. He recounted in Fall of South Vietnam: Statements by Vietnamese Military and Civilian Leaders authored by Stephen T. Hosmer, Konrad Kellen and Brian M. Jenkins (1980):
I visited (some units in the field) and tried to understand the program of Vietnamization of the war...it was in the headquarters of 5th Division. I discussed the question with the commander of the division, General Nguyen Van Hieu, a most honest general, and capable, too. I was surprised by his answer; it opened my eyes. I asked him, 'What do you think of Vietnamization?' He said to me, 'It's impossible to be implemented.' 'Why?' He said, 'The 5th Division covers an area where there were two other divisions, Americans, and now with the departure of the two American divisions I have only my division to cover the whole area. I have three regiments for this area and must use one regiment to replace one division. How can I face the enemy like this? I have become weaker.' He looked very disappointed. I was surprised; he was a quiet man, a polite man, and he tried to do his best. But he said to me that this was impossible. 'How can I cover a bigger area with fewer units?'
He just said so. In reality, although he encountered many difficulties in troop's redeployment, General Hieu not only enabled the three 7th, 8th and 9th Regiments of 5th Division to carry the workload of US 1st Infantry Division, US 1st Cavalry Division, and US 11th Armored Cavalry Regiment, but he also ascertained a better security condition than when the three American big units were operating in the three provinces within the operational areas of 5th Division. The proof was that from 1970 to June 1971, when he was relieved of 5th Division Command, General Hieu pursued the enemy entirely with cross-border operations inside the Kampuchean territory, without having to be concerned enemy units could stir trouble in his back yard. This fact proves that General Hieu had succeeded in carrying out the pacification program within his areas of responsibility.
April 1970 was also when the 5th Division joined with units of III Corps, IV Corps, and American units in cross-border operations as ordered by President Nixon. In Operation Toan Thang 46, from May to July 1970, the 9th Regiment of 5th Division joined the US 11th Armored Cavalry Regiment to attack the enemy in the Fish Hook area north of Loc Ninh.
In parallel with joint cross-border operations with American and Vietnamese forces (Toan Thang 42, 43, 44, 45 and 46), the 5th Division also unilaterally conducted cross-border operations at regimental level named Toan Thang 1/B/5, 2/B/5, 3/B/5, 4/B/5, 5/B/5 and 6/B/5 with air support provided by the US 317th Air Cavalry.
Snoul Battle
Cross-border operations were solely conducted by Vietnamese units. Within the III Corps operational areas, General Do Cao Tri consulted with General Hieu then entrusted General Hieu the design and the implementation of a luring tactic that would involve all three divisions of III Corps (the 5th, the 18th, and the 25th). General Hieu's concept was to establish a trap at Snoul city with the 8th/5th Division as bait and to have eight task forces composed of units of the 18th and the 25th Divisions conducting operations in the nearby areas of Chup Plantation as diversionary activities; these eight task forces comprising from 18 to 20 thousand troops would served as reserved forces which would corner the enemies when they fall into the trap.
At the end of October 1970, General Hieu launched Operation Toan Thang 8/B/5 composed of three task forces, in a cross-border recon assault into the Snoul areas to insert recon units and to implant sensors around Snoul for intelligence gatherings as the preparation phase in the luring tactic.
As the luring campaign was unfolding quietly, in February 1971, President Thieu intended to dispatch General Tri to I Corps to replace General Hoang Xuan Lam to salvage the Lam Son 719 Operation. General Tri wanted General Hieu to replace him as III Corps Commander. As things were still up in the air, General Tri was killed in a helicopter accident on 2/27/1971. But then instead of choosing General Hieu, President Thieu appointed General Nguyen Van Minh to the position of III Corps Commander. General Hieu sensed immediately that his large-scale luring plan was no more 100 percent backed by the leadership at the corps level.
At the beginning of May 1971, General Hieu advised the 8th Task Force Commander "to frequently remind units to take proper action in defending bases and camps, to dig defensive and combat fox holes in order to resist and sustain enemy attack until the arrival of reinforcement units." and in order to reassure the 8th Task Force, General Hieu reiterated that the reserved forces were standing ready nearby: "our two reserved main forces for this operation - 18th and 25th Divisions - are on the ready position, lurking not far away in the area southeast of Chup Plantation."
LCT Tran Van Thuong, former 1/8 Battalion Commander, narrates:
Especially on 5/16/71, general Hieu visited the battalion and ordered the 5th Division CP to provide more water containers and munitions which increased the defensive troops' resistant capability to about two weeks, in the event the battalion was encircled and completely isolated

General Hieu visited 1/8th Battalion at Snoul a lot of times. 1/8th Battalion was a battalion operating alone at the farthest outpost, the deepest one within the enemy sanctuary. General Hieu told me the truth about B52, "Don't believe in the Americans' promise about B52; you must rely on your resources to survive at this outpost position that ought to be held at all costs if you don't receive the order to withdraw. You must take initiatives in the matter of securing the lives of your battalion and of the armored company which is attached to your unit. If I give the order to withdraw, you must give a make-believe order to hold at all costs on the radio, because the Viet Cong certainly will hear clearly on the radio, and ask Colonel Dzan to have B52 bomb the route along which you plan to withdraw your troops. Afterward, withdraw swiftly!"
LTC Thuong writes a detailed narrative of the Snoul battle entitled, The Truth of a Forgotten Battlefield
But then when the enemy started to mince the bait with waves of attacks at a regimental level against 8th Task Force units in Snoul at the end of May, General Minh denied General Hieu the use of the reserve force composed of eight task forces to corner the enemy as planned. And General Hieu was forced to retreat the 8th Task Force to Loc Ninh.
During the period of the Snoul operation, my brother wrote three letters addressed to his wife.
March 1971

Sweetheart Huong,

Today I am going to Loc Ninh to command operation in Kampuchea. Although the operation will last an indefinite period, I will undoubtedly have the opportunity to return to Lai Khe. As of returning to Saigon, it will depend on the situation over there.

I take the opportunity of Dong's return to send you a March paycheck; if I wait for another chance, I am afraid you will run out of spending money.

If Hoang is still opinionated, you should use some psychology in reasoning with him and avoid talking badly about him in front of other kids or other adults. On the contrary, if he does something worth praising, you should speak up in front of other persons.

Our Benjamin has undoubtedly grown a little bit more and has learned some more tricks.

Love,

P. Hieu
April 1971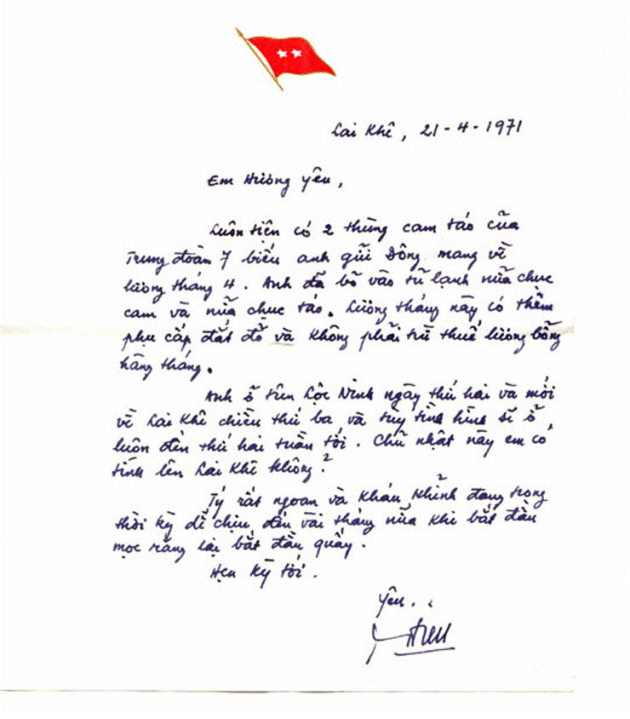 Lai Khe, 21 April 1971

Sweetheart Huong,

Since I am sending you two boxes of oranges and apples given by the 7th Regiment, I have Dong bring you back April paycheck. I had put half a dozen oranges and half a dozen of apples into the refrigerator. This paycheck has additional living standard subsidy and is exempted from monthly income tax deductions.

I stayed up in Loc Ninh last Monday and have just returned to Lai Khe Tuesday evening and depending on the situation will stay here until next Monday. Do you plan to come to Lai Khe this Sunday?

Ty behaves well and is lovely. She is in the tranquil period until a few more months when her teeth start to grow; then she will begin to be restless.

Hasta a la vista.

Love,

P. Hieu
May 1971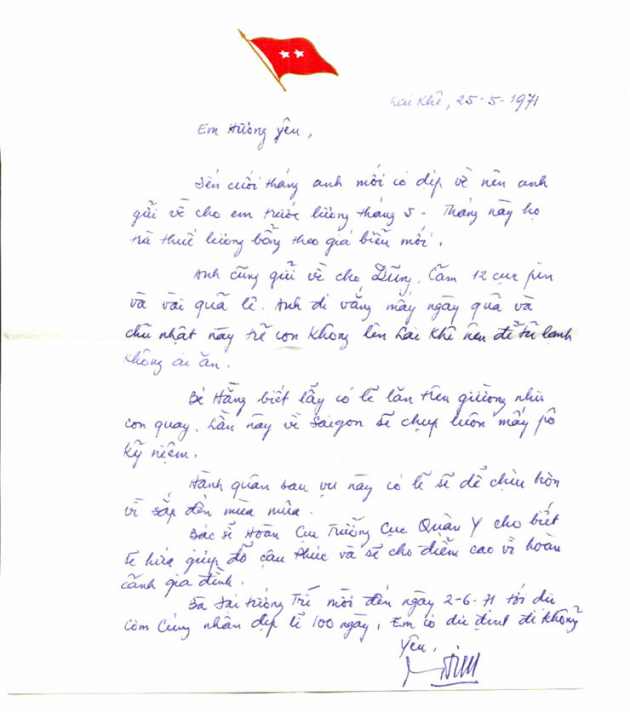 Lai Khe, 25 May 1971

Sweetheart Huong,

I will only have the opportunity to go home at the end of the month, that is why I am sending you in advance May paycheck. This month they deduct income tax according to the tax chart.

I am also sending back 12 batteries for Dung, Cam and some pears. I was away the last few days, and this Sunday the children did not come to Lai Khe. Consequently, nobody ate those pears stored in the refrigerator.

Hang has learned how to turn over and should be rolling all over the bed like a top.

After this operation, things should ease up a little bit because the rainy season is here soon.

Doctor Hoan, the Head of Military Medicine, told me that he promises to help your younger brother Phuc and will give him high marks in consideration of his family situation.

Madame Four Star General Tri invites for a religious ceremony and dinner commemorating 100 days on 2 June 1971. Do you plan to go?

Love,

P. Hieu
The Biographic Data on MG General Hieu writes:
15. In May 1971, General Hieu found his forces in the Snoul area facing an increasingly serious enemy threat. He requested permission to withdraw from Cambodia, but General Minh refused to grant him permission until the two 5th Division regiments were faced by a two-division enemy force. The two regiments were mauled in their withdrawal from Cambodia and General Hieu was blamed for the disaster. At American behest, and with General Minh's active consent, Hieu was removed from command of the 5th Division on June 9, 1971.
Major Tran Lien narrates:
I have a son, Major Tran Ba, who was KIA in the Snoul Battle. My daughter-in-law, together with other KIA officers' wives, among them was also the 8th Regiment Deputy Commander's wife, went to 5th Division HQ to express their sorrow to General Hieu and Colonel Dzan. They lamented, they pulled the sleeves, they seized the collar, they pulled shirt flap-end out of the belt, they thumped on the chest of General Hieu, who stayed still until their sufferings subsided and they let go of him.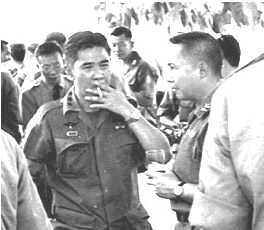 General Minh and General Hieu 5/1971
The reason for the American military establishment to wanting to oust my brother of the command of 5th Infantry Division was because my brother opposed the Dong Tien program and criticized the American Advisors of III Corps:
13. Hieu and the 5th Division were shortly involved in greatly expanded operations, a situation Hieu did not like because he believed the 5th Division was not yet ready for such an active combat role. By August 1970, at least one American advisor began to voice strong opposition to General Hieu's conduct of the 5th Division. The Deputy Senior Advisor, III Corps, a BG, stated: "General Hieu's pessimistic and contrary views, voiced freely and publicly, have colored the attitudes of many of his subordinate commanders and made them less responsive to efforts to get on with the Đồng Tiến program. It is hoped that time, which fortunately the Cambodian campaign has provided, and a growing realization that the 5th ARVN Division can perform its new and expanded mission, will modify General Hieu's outlook. If not, he should be relieved of command." This was to be the first of several reports which suggested the removal of General Hieu. Within a month and a half, two additional, critical reports on Hieu were filed by both the outgoing and incoming senior advisors to the 5th Division, the latter having been on the scene for slightly more than a month.
The same document also writes:
16. Hieu's dismissal, as reported by an Embassy officer on June 17, 1971, was a cause célèbre, primarily because of Hieu's well-known reputation for personal integrity and his strong personal interest in the welfare of his troops.

17. Hieu, although removed from command, was not in disgrace and on June 14, 1971, was appointed as the Deputy Commander of I Corps, under his former classmate LTG Hoang Xuan Lam.
Colonel Thanh Long narrates:
After the transfer of the 5th Division command to Colonel Le Van Hung ceremony, on June 1971, I approached General Hieu and invited him to go partying with a group of Colonels and Generals, which included General Lam Quang Tho, the Commanding General of the 18th Division, General Hieu excused himself with the pretext he had to attend to some personal affairs. After the party, I went home. When I reached Ben Cat, he saw General Hieu's car parked on the side of the road. I approached the vehicle and saw General Hieu and his driver, each one eating a loaf of bread with a ripe banana in one hand!
Nguyen Van Tin
20 January 2015
---
=>content