Story about my Brother, General Hieu
Chapter VI
I Corps and II Corps
On November 3, 1963, Colonel Tran Thanh Phong was assigned the 1st Infantry Division Commander. On November 11, my brother swapped position with Colonel Phong and assumed the position of I Corps Chief of Staff and moved to I Corps Headquarters located in Danang.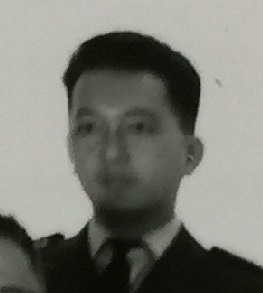 Trần Thanh Phong
My brother did not hold the position of I Corps Chief of Staff for long, just one month, because on December 12, under the pressure of the Buddhists, General Do Cao Tri and General Nguyen Khanh swapped positions as Commander of I Corps and II Corps. Concurrently, Colonel Ngo Dzu exchanged his position of II Corp Corps Chief of Staff with my brother's I Corps Chief of Staff. This has led to many people thinking that my brother went straight from 1st Infantry Division Chief of Staff to II Corps Chief of Staff.
Colonel Do Trong Thuan remembers that:
After our graduation, I only had the opportunity to see him again when he came to Danang to hold the position of I Corps Chief of Staff, while I was the 2nd Division Chief of Staff (1962 - 1964). During that time, we frequently met, and he was as jovial as in the old days.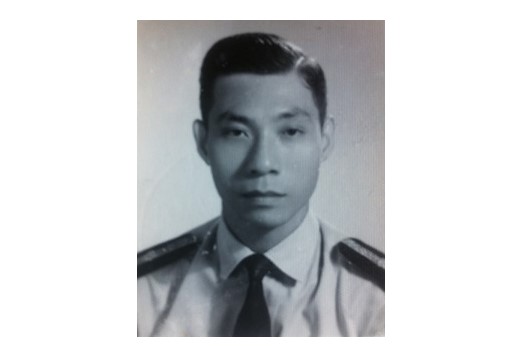 Đỗ Trọng Thuần
During his short stay in Danang, he had the time to register his two sons at Sao Mai school.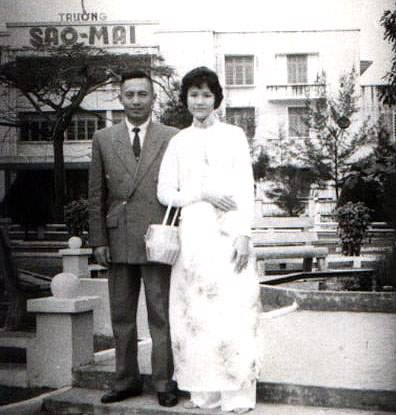 It was only on December 12, 1963, that my brother left Danang and accompanied General Tri to go to Pleiku.
He held the position of II Corps Chief of Staff through three II Corps Commanders: Do Cao Tri, Nguyen Huu Co, and Vinh Loc.
General Do Cao Tri
LTC Duong Dien Nghi narrates:
In the first days, I already heard a rumor about Colonel Hieu, spreading the news that an officer of the headquarters had presented to him a brand new trellis uniform, complete with a name tag and Colonel insignia, but was rebuked by him. He thanked the officer and told him to take the item back. When he needs it, he will ask. The news spread around in no time soldiers of all rankings, from the General Staff to the surrounding units heard the news and found it amusing. Such was his personality: direct, jovial, but mindful of discipline and standard.
General Tri trusted my brother entirely, and gave him full authority in the daily operation of II Corps. Brigadier General Pham Xuan Chieu was assigned II Corps Deputy Commander from February to March of 1964,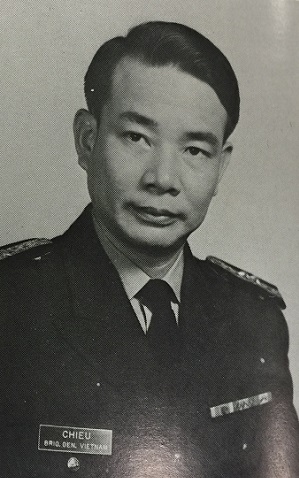 Phạm Xuân Chiểu (1961)
and Colonel Lu Lan from May 20 to October 24 of 1964. However, it appeared that these two gentlemen were assuming a sinecure position. General Lu Lan confides:
Years later, when the two of us met again, it was under an unusual circumstance. When this incident happened, Hieu was Colonel Chief of Staff of II Corps, and I was newly appointed Deputy Commander of Operations of II Corps, after being relieved of the Command of the 25th Division by General Do Cao Tri. Every Monday, II Corps headquarters started the day with the ceremony of saluting the flag, attended by soldiers of all levels serving at the headquarters. General Tri rarely presided this solemn ceremony and used to delegate his Chief of Staff instead. Colonel Hieu walked solemnly to the presiding podium; the military band conductor was about to strike his baton. Suddenly, Colonel Hieu raised his hand to stop the ceremony, when he noticed that I was standing among the ranks of General Staff's officers. He swiftly walked toward me and whispered: "This is not right. Will you please take over the presiding role.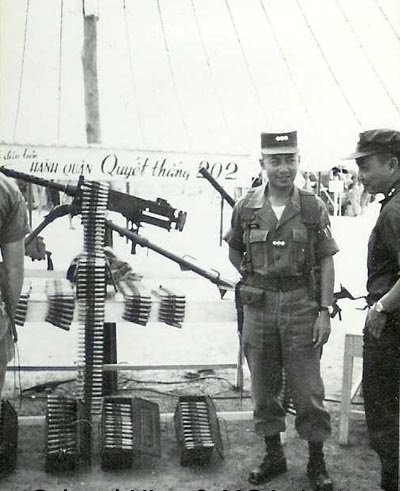 Colonel Hieu, CofS shows off his booties to Colonel Lu Lan, Dep Cmdr
In 1964, the press published a piece of news involving my brother. The story narrated that often when he was in Pleiku, General Tri used to have ladies and entertainers fly up to the headquarters of II Corps from Nhatrang on weekends. One such time, the airplane came under massive enemy anti-aircraft fires and could not safely approach the runway. After circling the aircraft for a while, the pilot decided to return to Nhatrang. General Tri went into tantrums and barked orders forcing the pilot to make U-turn and land down with high risk. Upon landing down, the airplane crew was imprisoned waiting to be court-martialed. The Presiding Judge of the Court Martial seat was held by the Chief of Staff. And so Colonel Hieu had to discreetly dismiss the trial based on technicalities and then called Air Marshal Nguyen Cao Ky to come up and retrieve his airmen!
In terms of military affairs, my brother did not sit still. He immediately set out planning to attack the Viet Cong Do Xa bastion, located at the junction of the three Kontum, Quang Tin, and Quang Ngai provinces. This camp base was also a location for ammunition and food storage as well as a troop resting area and a medical treatment center for wound combatants.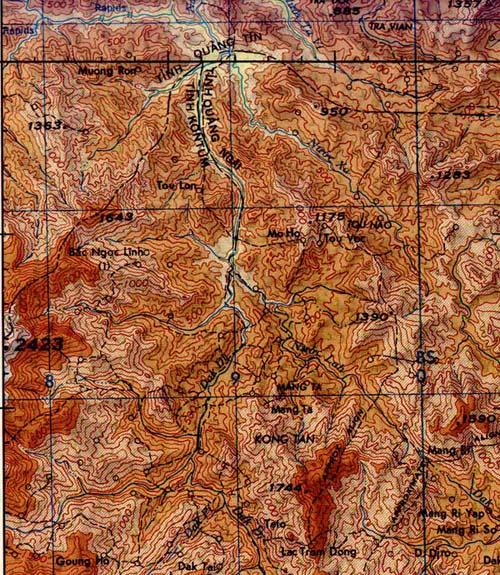 Do Xa bastion
The one month long Do Xa operation - it's official name is operation Quyet Thang 202 (Sure Win 202) – was launched on April 27 and ended on May 27, 1964
In this big battle, my brother had the opportunity to demonstrate for the first time his strategic skills and his military leadership toward the following well-known officers: Major Son Thuong (Rangers), Major Phan Trong Chinh (belonging to the 50th Regiment/25th Division), Captain Ngo Quang Truong (5th Airborne Battalion), Major Tran Van Minh (Air Force).
The victory of this battle was displayed through an exhibition and a parade of the Airborne Rangers who had participated in this battle.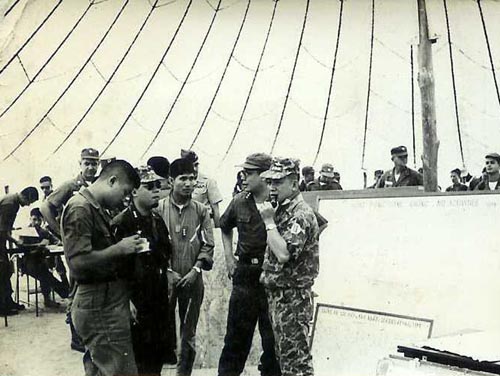 Exhibition of Do Xa victory
General Nguyen Khanh-Colonel Tran Van Trung-General Do Cao Tri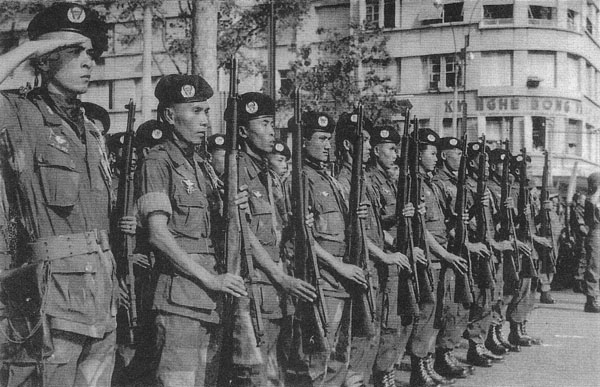 Airborne Rangers of Do Xa battle in a parade
More information can be found in Do Xa Campaign
On September 10, 1964, General Tri made my brother 22nd Division Commander.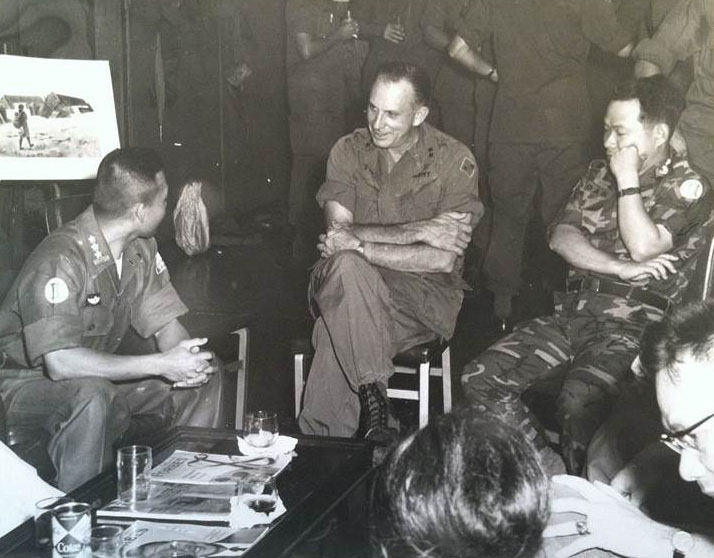 Colonel Hieu, 22nd Division Commander, Major General Charles Timmes, LTC Nguyễn Hợp Đoàn
A few days later, on September 13, General Tri was relieved of his duties and replaced by General Nguyen Huu Co, because he was suspected of colluding with General Duong Van Duc, his in-law, the head of the military coup against General Nguyen Khanh.
LTC Duong Dien Nghi narrates:
General Do Cao Tri was replaced by General Nguyen Huu Co. General Tri went into exile. I was demoted to the rank of 1st Class and discharged from the Army on discipline ground, together with 1st Infantry Division G2 Head and G4 Head.

Colonel Hieu had received the official mailgram from the Joint General Staff but chose to keep me in the dark, until a friend of mine, Captain Le Van Khan, General Tran Van Don's attaché privately communicate to me the news. I went to see Colonel Hieu and asked him to help me to be discharged, which was what I wanted.

The reason Colonel Hieu did not break me the news because it did not concern me: "General Tri had resolved the matter. He had phoned both General Tran Van Don and Tran Thien Khiem. Don't worry. It is only a psychological trick aiming at pleasing those out there, in particular, Colonel Nguyen Chanh Thi who was holding the command of 1st Infantry Division." He told me further: "The military service path still lies ahead, even if I help realize your wish, General Tri will not approve it. He is a man with a heart and a loyal. Furthermore, if you returned to civilian life, he would lose face and credibility."
The day General Tri was pushed out to become the Ambassador in South Korea, my brother flew to Saigon to bid farewell to General Tri at his residence 23 Phung Khac Khoan Street, undeterred by the glares of enemy party members. General Tri departed with the promise of "I shall return."
General Nguyen Huu Co
On October 24, 1964, General Co assigned my brother back to his previous position of II Corps Chief of Staff from his place of 22nd Division Commander.
General Nguyen Xuan Trang narrates:
When Major General Nguyen Huu Co was the 2nd Corps Commander, its Headquarters was situated in Pleiku, Central Highlands.

In 1964, Brigadier General Nguyen Xuan Trang was 1st Corps Deputy Commander, and Colonel Nguyen Van Hieu was its Chief of Staff.

The 22nd Infantry Division received orders from the 2nd Corps to coordinate with the Local Security Forces of Kontum Province to conduct military operations in the areas of Dakto and Plei Trap valley, to establish the two Special Forces of Dakto and Ben Het. These areas had strategic importance because they were close to the junction of the three Vietnam-Cambodia-Laos borders, where the Ho Chi Minh Trail cut across Bolovens highlands.

During that time, Brigadier General Trang and Colonel Hieu were both in Kontum.
General Co was frequently absent in Pleiku. He often flew to Saigon in pursuit of political ambitions and gave quasi full authority in the operation of II Corps to my brother.
During the first half of 1965, my brother helps General Nguyen Huu Co, II Corps Commander, in the planning of attacks and counter-attacks to defeat the Viet Cong's fall-spring campaign aiming at isolating the Central Highlands by cutting National Highways 19 and 1.
Colonel Theodore C. Mataxis, II Corps Senior Advisor, wrote in detail about this phase in Attack and Counter-Attack on Highway 19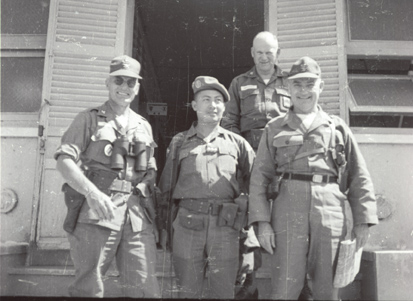 II Corps Advisor Team
My brother was very busy in the counter-attack against incessant Viet Cong's attacks:
- On 02/03, the VC attacked camp Halloway manned by the US Army 52d Combat Aviation Battalion.
- On 02/14, the VC ambushed a Regional Force company at Mang Yang Pass.
- On 02/20, the VC attacked CIDG firebase FOB1.
- On 02/20, the VC ambushed the relief force company from An Khe.
- On 02/21, the VC ambushed the relief force company on its return to An Khe.
- On 02/22, the VC ambushed the Suoi Doi company.
- On 02/24, the VC surrounded 220 troops at firebase FOB2.
- On 03/08, the VC attacked camp Kannah and camp Plei Ta Nangh.
- By the end of March, II Corps attacked the VC to relieve a garrison in Bong Son.
- On 04/10, II Corps launched a joint operation with the I Corps to relieve Hoai Nhon District.
- On 04/21, the VC attacked two Marine battalions on Highway 1.
- On 05/26, the VC attacked the village of Buon Mroc.
- On 05/28, the VC seized the Pokaha bridge in Kontum and Le Bac bridge in Phu Bon simultaneously .
- On 05/31, the VC overran Le Thanh District.
- On 06/01, the VC ambushed the Kontum Province Chief's party visiting Le Thanh District.
- On 06/03, a VC regiment ambushed a battalion of ARVN 40th Regiment on its way to relieve the Le Bac bridge near the village of Phu Tuc.
- In mid-June, the VC attacked the village of Toumorong west of Kontum.
On June 1, my brother celebrated the victory at Vung Ro.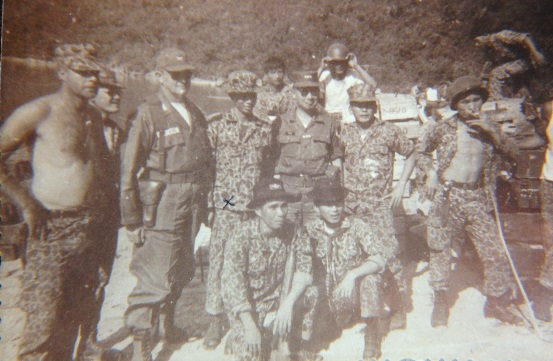 Photo courtesy of Colonel Tu Van
Colonel Tu Van, 5th Division Chief of Staff in 1974-75, narrates:
When I was the commander of 2nd Airborne Ranger/Special Forces Company, I noticed that Colonel Hieu was different from other commanding officers in that he often came to my unit to enquire and learn the particular tactic used by Airborne Ranger units to know how to utilize Airborne Ranger units appropriately when needed.
General Vinh Loc
On June 20, 1965, Brigadier General Vinh Loc replaced General Co as II Corps Commander (General Co became Minister of Defense).
Captain Nguyen Minh Am narrates:
I graduated with the 18th Class of the Reserved Officers Military School of Thu Duc with the grade of Aspirant Lieutenant. On June 1, 1965, I was already present at II Corps in Pleiku. I was brought in to meet with Colonel Hieu, the II Corps Chief of Staff. When I entered his office, Colonel Hieu was on the phone with someone. He asked me to sit down and wait for a while. Upon terminating his phone conversation, he turned to me and asked which was my strongest subject in the military school. I responded, I excelled in map reading. He pointed to the map on the wall and asked me to pinpoint the location of a unit. Although I was experiencing turmoil inside me for having to perform before a colonel, I was able to determine the "section" of the location and thus recited accurately 8 out of 10 numbers of the coordinates. The outcome of the brief quiz was my assignment to work at G3, where excellent skills in map reading were required.

I did not particularly like to work at G3 for many reasons. The first reason was that in this position, it was not easy to have an on-the-side job, as it was with other units. The second reason was the weighty responsibility of the post: the lives of soldiers in military operations depended on the accurate performance of the people working at G3. The third reason was the fact that the Military Security Unit imposed close monitoring on individuals working a G3 to prevent spies from infiltrating the Center of Operation. The fourth reason was that Colonel Hieu was intransigent toward his subordinates. All mistakes, be it small or big, were immediately detected by him. However he never raised his voice, but he merely corrected with a mild although stern voice. For example, while riding on a C&C helicopter, he asked me if the down below area was populated by the civilians, our troops or the Viet Cong. I mistakenly determined it was a Viet Cong controlled area. He told me I needed to review the operational map because if he ordered an artillery strike, it would kill our troops. The fifth reason was that working with Colonel Hieu was not a fast promotion track, as Colonel Hieu did not recommend promotions like some other commanders with a penchant for favoritism irresponsibly. However, when I needed a couple of days of absence, he would grant me an extended absence of a couple of weeks.

Colonel Hieu possessed an extraordinary memory. He knew by rote the coordinates of each unit in his areas without having to refer to a map. For example, in one instance I wrongly determined the coordinates of a location, he told me I needed to reconsider them because if he ordered an artillery strike, it would hit an armored unit in operation at that location. Aware of this fact, units in operation would not dare to cheat on their positions. In one instance, Colonel Hieu asked a unit which was ordered to attack an enemy hide-out if it had reached the destination; he got an affirmative response by the unit commander who, because he was afraid to confront the enemy, had lied. Colonel Hieu asked him to confirm his position once more because if he ordered an artillery strike, it would hit his unit and not the enemy. Our unit commander hastily requested more time to reach a more accurate location report.

Colonel Hieu taught us that while preparing for an attack, it was not sufficient to know the identity of the enemy units involved, it was imperative to know the favorite tactics of the unit commander, like "diversionary attack at the east but real attack at the west" or "putting up a siege around an outpost and ambushing the relief column troops". And to plan a military operation accordingly. Therefore Colonel Hieu always ordered that his G2 intelligence office obtained the identities of the enemy units as well as the profile of its unit commanders.

Each morning Colonel Hieu met briefly with each office of the general staff, G1, G2, G3,... to listen to reports of each office head and to give orders for the day. At the end of each session, he always provided a Q&A time, which usually was not necessary because he was very concise and clear in his orders.

The American advisors greatly admired Colonel Hieu. They wondered where he had acquired all his broad knowledge and recognized he was far better than them.

General Vinh Loc much respected Colonel Hieu. When encountering difficulties, he used to refer to "Uncle Hieu" to seek resolutions of the matters.
My brother kept on busying himself in dealing with Viet Cong's continuous attacks:
- On 06/30, a VC regiment ambushed an airborne task force at Cheo Reo in Thuan Man District.
-On 07/01, the VC launched a massive mortar attack on the garrison of the Thuan Man District.
-On 07/07, the VC attacked Dak To District in Kontum Province.
-On 07/16, II Corps launched a road-clearing operation on Highway 19.
-At the beginning of August, the VC, after besieging Duc Co camp during July, attempted to overrun this camp.
-On 08/09, the VC ambushed the relief column task force on Highway 19.
-On 08/18, the VC attacked Dak Sut District.
-On 08/19, II Corps launched a road-clearing operation on Highway 21.
-On 10/19, the VC attacked the CIDG Pleime camp.
Allow me to talk a little bit more about the Road Clearing operation and the Pleime campaign.
The Road-Clearing operation on National Highway 19 was different from other road-clearing operations in that instead of laboring painfully in the destroy of ambush sites that the enemy set up along the road one by one; enemy units are pinned down at their staging areas and not allowed to set up ambush sites. My brother talks explicitly about this originality in the after-action report of the operation:
But the essence of the concept was to forestall ambushes rather than intervene to disrupt and counter ambushes with relief forces.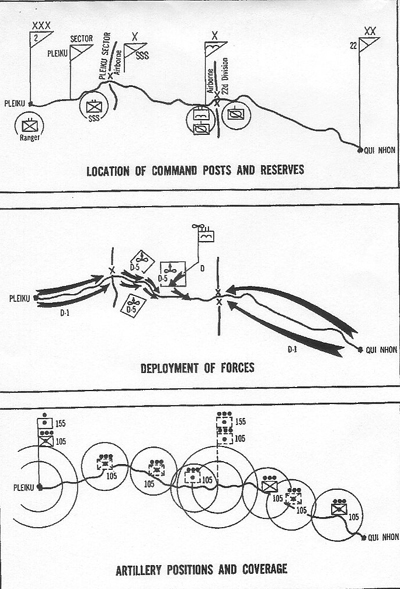 Road-clearing operation of QL19
This operation is depicted concisely and thoroughly in Road-clearing operation.
My brother was even more unique in the planning and execution of Pleime campaign. Until these days, very few people – including American and Vietnamese military historians – are aware that he was the initiator of the operational concept that used B-52 airstrike to destroy the three enemy regiments at the same time at Chu Pong massif; in particular, everybody has no knowledge that this operation concept was in studies as early as September 1965, a month prior to the Viet Cong's attack of Pleime camp. Furthermore, it is little known that it was my brother, a mere colonel corps chief of staff, possessed the skills of guiding American generals through the various phases in the execution of the campaign: General DePuy J3/MACV, General Larsen IFFV, General Kinnard 1ACD, and General Knowles 1ACD/CP Forward.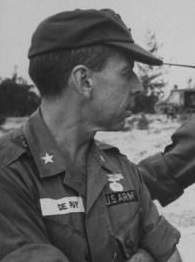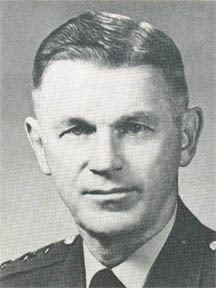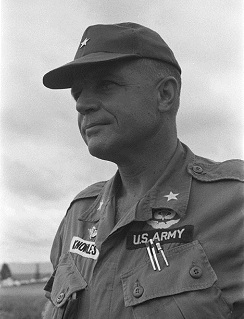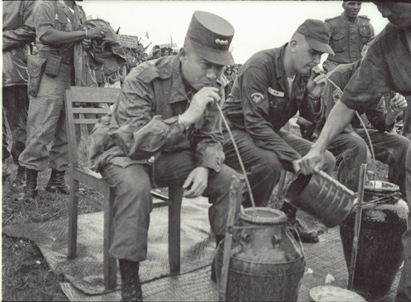 Celebrating the victory of Pleime
I have analyzed and described in depth this campaign in many essays – altogether 50 – posted on General Hieu's webpage. A typical one can be seen in, Air War Over Pleime-Chupong
After the Pleime campaign, Brigadier General Vinh Loc was awarded an additional star. Major General Vinh Loc named the II Corps Headquarters City of Pleime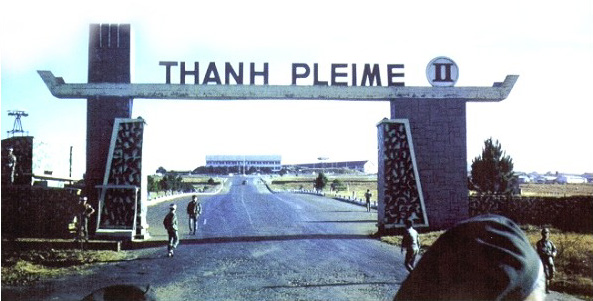 The two books that my brother, as II Corps Chief of Staff, wrote about the Pleime campaign bore the name of Major General Vinh Loc as the author.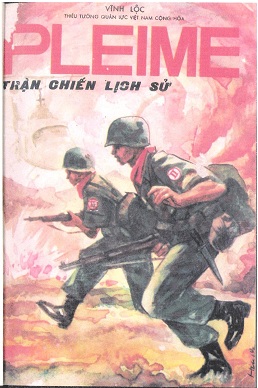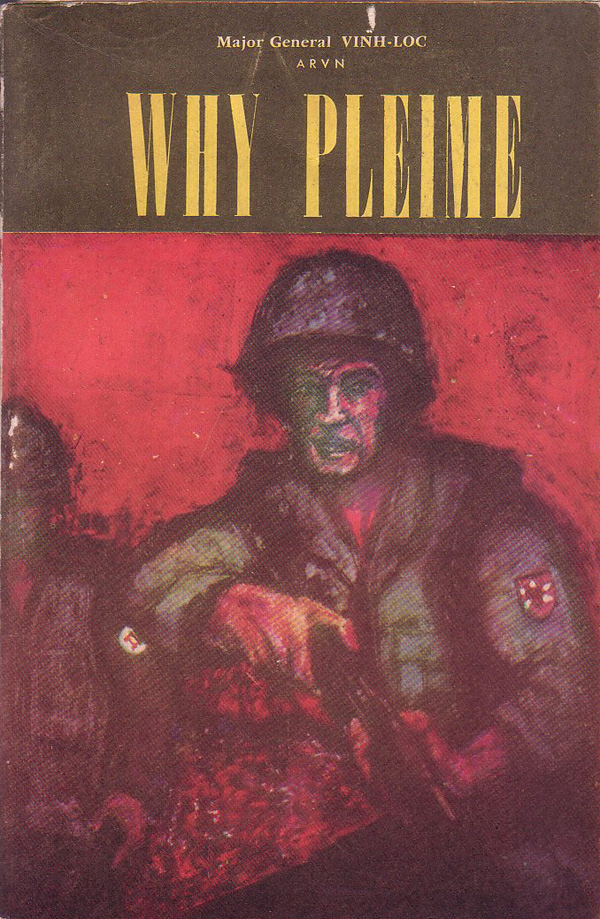 Nguyen Van Tin
14 January 2015
---
=>content