Story about my Brother, General Hieu
Chapter IV
US Command and General Staff College
According to the Biographic Data on MG Nguyen Van Hieu prepared by an American Embassy official, my brother was recommended by American advisors to attend the US Command and General Staff College twice in 1958 and 1959:
It is apparent from the report that Hieu had, during the six months he had been in I Corps, left a very favorable impression on the American Advisory Group in Danang. Hieu was highly recommended for attendance at the US Army Command and General Staff College at Fort Leavenworth, Kansas.

A little more than a year later, on October 6, 1959, Hieu received another evaluation which echoed his earlier one. He was again highly recommended for attendance at the Command and General Staff School.
However, it was only after General Le Van Nghiem replaced General Tran Van Don as 3rd Military Region Commander at the end of 1962 that my brother was assigned to attend this military college. In this American Embassy document, my brother let know the reason for the delay was due to his refusal to join the Can Lao party:
Hieu recently told a senior US official in MR-3 that he was denied promotion for an extended period because he believed it inappropriate as a military officer to join Diem's Can Lao Party even though he was importuned to do so. This probably explains being passed over many times for Leavenworth.
His 3rd Class of the Dalat National Military Academy classmates that were sent to attend the USCGSC included: Major Do Ngoc Nha in 1957, Major Huynh Van Ton in 1957, Lieutenant Colonel Lu Mong Lan in 1958, Lieutenant Colonel Bui Dzinh in 1960, Major Vo Dinh in 1960, and Major Do Trong Thuan in 1961.
My brother attended the Associate Course from January 5 to May 10, 1963. His classmates were Major Do Ke Giai, Major Dang Thien Ngon and Lieutenant Colonel Nguyen Xuan Thinh.
Academic Report
US Army Command and General Staff College
Fort Leavenworth, Kansas
1. English Proficiency: Major Hieu demonstrated an excellent command of written English and had an excellent command of the spoken language.

2. General Attitude: Interested, eager, and cooperative, Major Hieu participated in the academic and social activities of his section.

3. General Comments: Intelligent, inquisitive, with a quick analytical mind, Major Hieu established an excellent academic record, demonstrating complete knowledge of the principles taught at this College. He was well-liked and respected by his classmates. He is considered very highly qualified and is recommended highly for higher command and general staff duties in his country's armed forces, for duty as an instructor in general staff subjects, and duty with a high-level international staff. His sponsor was Major George E. Kimball, Armor – 080942.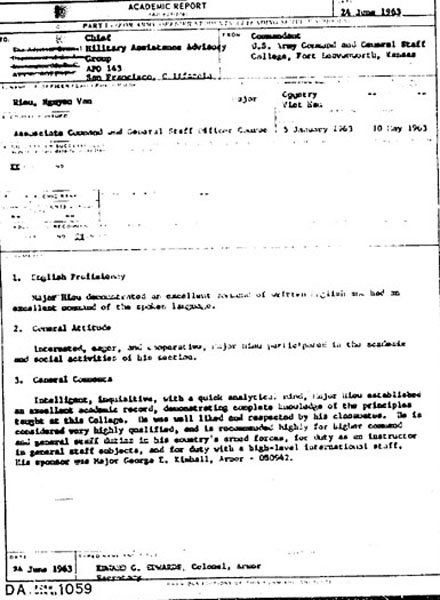 After his graduation, my brother had the opportunity to visit San Francisco.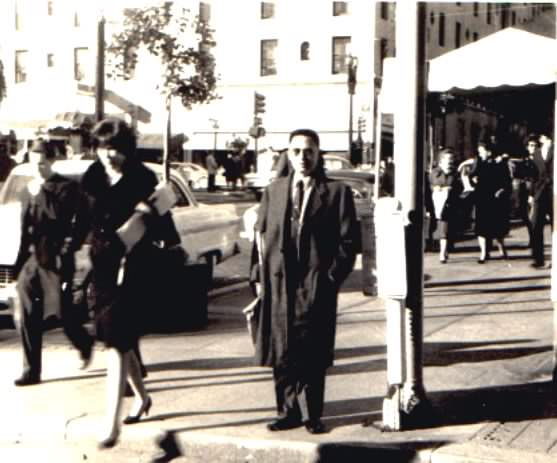 San Francisco 1963
Nguyen Van Tin
8 January 2015
---
=>content