Story about my Brother, General Hieu
Chapter III
Early Years of Military Career
Upon graduation, my brother succumbed to tuberculosis and was admitted into Lanessan Hospital in Hanoi. General Lu Lan recounts:
After graduation, I was assigned to a unit garrisoned in Quang Tri and participated continuously in many big operations. After being promoted to the rank of Captain, I was sent to Hanoi to attend a General Staff training class. I immediately sought out Hieu, who was convalescing at Lanessan hospital. We went to a dinner on Hang Dao street to talk. Hieu listened to the passionate narration of my military exploits with envy then lamented: "I am now disabled. I am doomed for the rest of my life."
When he was treated at the hospital, my brother encountered a young girl by the name of Huong who came to visit her brother by the name of Long, his hospital roommate. They exchanged personal photos.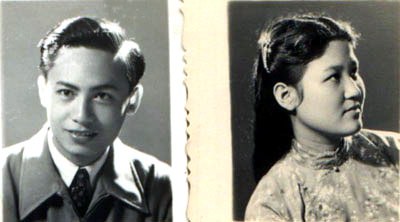 After his convalescence, my brother was assigned to work at the General Staff Office in Saigon and his language skills in French, English, and Chinese were fully utilized because he had to work with the officers of various delegations, French, American, and Taiwanese. During this period, he boarded at the bachelors' quarter within the General Staff compound. Mr. Tran Ngoc Nhuan, then a First Lieutenant, notes:
I resided at the bachelors' quarter of the General Staff compound and had as roommate Lieutenant Nguyen Van Hieu. Since then we knew each other well. He was a kind, religious and polite officer, extremely helpful toward his comrades."
My brother worked at the General Staff Office until October 30, 1952, when he was assigned to the High Command, also in the general staff, in the 3rd Military Region (at that period, the 3rd Military Region also included North Vietnam).
Hanoi 1-13-1953
My brother was promoted to first lieutenant on July 1, 1953,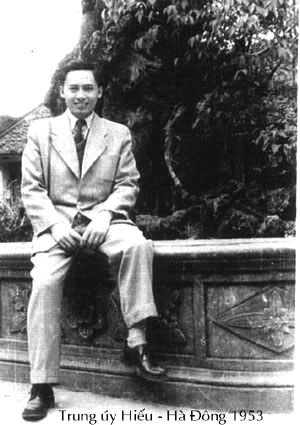 and he remained in North Vietnam until May 16, 1954.
In the Summer of 1954, he went back to Hanoi and got married.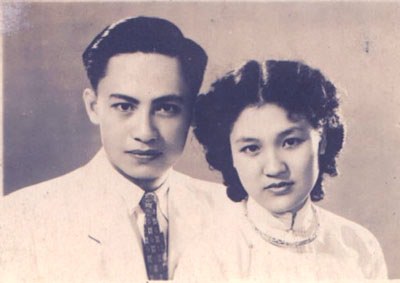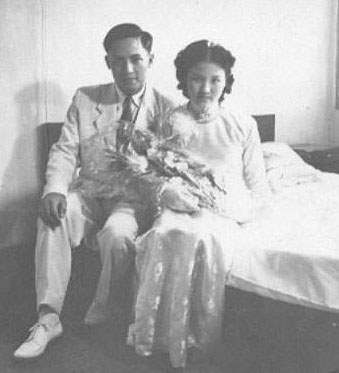 Hanoi 7/6/1954
Upon returning to Saigon, he was assigned to the Operations Section of the Headquarters of the ARVN in Saigon. He was promoted to captain on April 1, 1955, and to major some two years later on October 15, 1957.
In the beginning, like other officers, he was temporarily housed at Nghia Hiep Hotel in Khanh Hoi, then moved to apartment 25 of the Khanh Hoi compound.
Colonel Quan Minh Giau wrote:
After the splitting of the country into two parts, I was transferred to G3 staff at the Joint General Staff, in charge of the General Research section; not long afterward, Hieu was also moved here as Deputy Head. I was overjoyed by our reunion. The first thing I noticed was he remained the same in his behavior and attitude, as in the old days. During the period we worked together at G3, I noticed that Hieu was very intelligent and diligent, sharp and quick in making decisions in strategy matters. Every staff member held him in high esteem. Sometimes at lunch break, he stopped by my desk or I stepped into his office to chat about family, society, military operations...
During his time at Joint General Staff as Deputy Head of G3, Major Nguyen Van Manh was Head of G3, Major Cao Van Vien, Head of G4, Major Tran Thien Khiem, Head of G5, Colonel Tran Van Don, Chief of Staff and Major Dang Van Quang, Deputy Chief of Staff.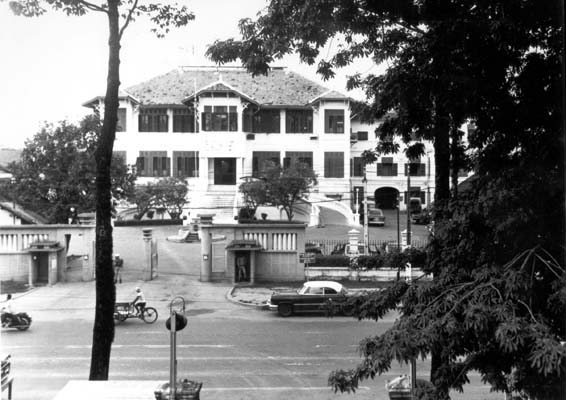 Joint General Staff, Cho Quan, 1954
On February 16, 1958, Hieu was assigned as the Assistant Chief of Staff for Operations in I Corps. Lieutenant General Tran Van Don was the I Corps Commander.
Colonel Le Khac Ly recounted:
We knew each other way back in 1957, when General Hieu was still 1st Corps G3 Chief, and I was 1st Division G3 Chief. We had to muster all our skills to work in unison in an extremely delicate situation, in which constant clashes occurred between our two respective bosses, General Tran Van Don, 1st Corps Commanding General and General Ton That Xung, 1st Division Commanding General.
On weekends, my brother relished in practicing shooting at the firing range. General Lam Quang Thi recounted:
After our graduation, I had the opportunities to meet frequently with Hieu when we were both Major serving at Corps I: he as Chief of G3 General Staff, and I, Chief of Artillery Unit. Every weekend, we practiced pistol shooting. He was many better than me because he put much efforts into grooving his pistol to gain quickness.
And Colonel Nguyen Ngoc Quynh remembered:
Major Hieu was extremely helpful in assisting the needs of our division. Furthermore, he was reputed an excellent pistols shooter. Nine out of every ten shots hit the mark. Besides that, during his shooting practices, Major Hieu did not use ordinary bullets but rather self-made ones. He used chewed then packed rice-paper instead of metal bullets. What's amazing was that these paper bullets were as hard as the metal ones and the aiming accuracy was the same.
No doubt my brother was an effective assistant to General Don in the opening of strategic highways and outposts as well as in organizing exercises in military operations of I Corps as narrated by General Don in his book Viet Nam Nhan Chung, pages 148-149:
As I Corps Commander, I ordered the construction of many critical strategic highways. President Diem wanted to open the new National Highway 14 connecting Ban Me Thuot, Pleiku, Kontum, and Thua Thien. The Army and the Engineering Unit of I Corps and II Corps - headed by General Ton That Dinh at that time - jointly accomplished those important strategic highways. In 1959, I used a jeep to ride along this newly built highway from Hue to Kontum, passing through Mo Duc (Quang Ngai) Plateau G.

I also used to ride on these highways to go from Hue or Danang to approach the Laos frontier to study terrains and to establish 14 outposts, from the 17th parallel alongside the boundary to Kontum, such as A Luoi, A Shau, Tabat, Ba Choc. Ba Choc was next to the 17th parallel. I placed a Company composed of about 35 soldiers at each outpost.

The work in setting up the 14 outposts was finished in 1960. Furthermore, I Corps and II Corps organized exercises of joint operations to counter the theoretical enemy invasion through the 17th parallel, either frontally or laterally and made a plan for civilian evacuation. These operations maneuvered seven divisions of the two Corps at the same time. Later nobody would train troops at such a scale.
Major General Nguyen Xuan Trang wrote:
At that time, Colonel Nguyen Xuan Trang, 1st Corps Chief of Staff and Major Nguyen Van Hieu, Deputy Chief of Staff, coordinated closely with various offices and departments of the 1st Corps General Staff to give instructions to different units in the operational areas to conduct joint military operations.

In 1961, in order to interdict troops and materials infiltration from the North into the South, the 1st Corps instructed the 1st Infantry Division of Colonel Nguyen Van Thieu together with ten Local Security Forces Companies of Thua Thien Province to conduct military operations in the A Shau Valley in order to establish 3 Special Forces camps: A Shau, A Luoi and Ta Bat at strategic points along the infiltration route. Camp A Shau was situated at 97 kms from Da Nang, 48 kms southwest of Hue, and two and a half kms of the Laos-Vietnam borders.

During that time, Colonel Trang and Major Hieu were both present at Lao Bao, Laos-Vietnam borders, on National Highway 9 Dong Ha- Se No - Savannakhet.

In 1962, the focus turned to the pacification of Tin-Ngai areas (Quang Tin and Quang Ngai Provinces). The 2nd Infantry Division of Colonel Lam Van Phat received orders from the 1st Corps to coordinate with the Local Security Forces to conduct military operations in the areas of Que Son - Nong Son. During that time, Colonel Trang and Major Hieu were both present in Tam Ky, Quang Ngai and Duc Pho, Quang Ngai.
Richard Tregaskis, the author of Vietnam Dairy (1963) wrote:
Maj. Wagner introduced me to the Vietnamese Deputy Chief of Operations in this Corps Area, Maj. Nguyen Van Hieu, a slight, alert, well-scrubbed individual whom Wagner, in an aside to me, characterized as "very bright." The Vietnamese operations chief spoke highly of the strategic hamlet program: "In each tactical area, the Army is responsible for support, barbed wire, and weapons, and we are making progress. Elections are being held in many of the strategic hamlets."


Nhatrang 1959

I went back to the barracks and started talking to Rathbun about the favorite subject of the officers hereabouts: how our side can win this war. He said, "One of the main things is you have to have the support of the people, we have to do that." I told him that at Corps HQ, Wagner and his opposite number, Nguyen Van Hieu, had been trying to get some of the static and useless outposts disbanded and some troops made into a mobile reserve. I also told him that Wagner had suggested that he'd like to have three or four helicopter companies in this Corps instead of one. I also mentioned that junior strategists at the O Club were talking about the firehouse concept of a Tiger Force standing by with the helicopters all the time.
The Biographic Data on Major General Hieu written by an American Embassy official stipulates:
It is apparent from the report that Hieu had, during the six months he had been in I Corps, left a very favorable impression on the American Advisory Group in Danang. Hieu was highly recommended for attendance at the US Army Command and General Staff College at Fort Leavenworth, Kansas; lauded for his administrative abilities; for his skillful and proper utilization of personnel, and for his superior attitude toward receiving and accepting advice from US advisors. The advisor concluded his report by stating: "He is a man who possesses a potential for the highest rank in the Vietnamese Army. He should be sent to a CONUS school as soon as possible, preferably Ft. Leavenworth. He should be assigned to field command jobs to give him more command experience. This officer, properly handled and developed, could well become a future competent if not eminent general officer in the Vietnamese Army. His attitude toward the United States is strong, and his language fluency would be an invaluable asset to Allied operations."

7. A little more than a year later, on October 6, 1959, Hieu received another evaluation which echoed his earlier one. He was again highly recommended for attendance at the Command and General Staff School. Hieu recently told a senior US official in MR-3 that he was denied promotion for an extended period because he believed it inappropriate as a military officer to join Diem's Can Lao Party even though he was importuned to do so. This probably explains being passed over many times for Leavenworth. Hieu received his permanent promotion to major on October 26, 1961.
Nguyen Van Tin
7 January 2015
---
=>content