General Nguyen Van Hieu, an Eminent ARVN General
Some ARVN generals are known for political roles they played during the Vietnam War (1954-1975), such as General Duong Van Minh (Big Minh), General Tran Van Don, General Nguyen Van Thieu, General Nguyen Cao Ky; some others for their combat roles in some significant battles, such as General Do Cao Tri (Cambodian cross border operations, 1970) General Ly Tong Ba (Kontum Battle, 1972), General Ngo Quang Truong (Quang Tri Battle, 1972), General Le Van Hung (An Loc Battle, 1972), General Le Minh Dao (Xuan Loc Battle, 1975). However, there was a less well known but extremely competent general officer, Major General Nguyen Van Hieu.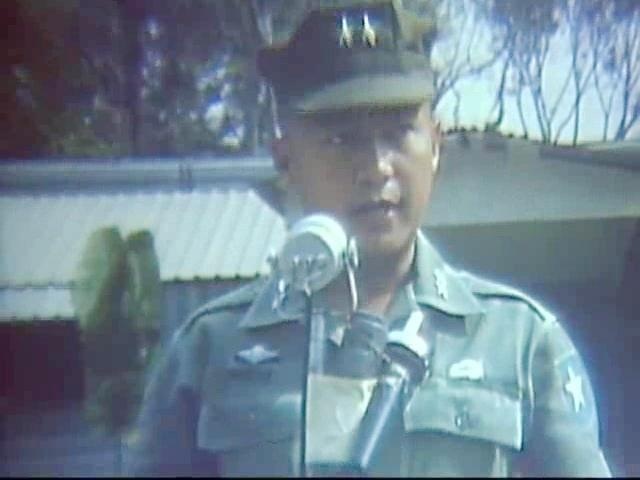 As early as 1958, when Hieu was still a major, assistant Chief of Staff in I Corps, an American Advisor spotted his military brilliance:
On February 16, 1958, Hieu was assigned as the Assistant Chief of Staff for Operations in I Corps. The Corps Commander was LTG Tran Van Don. In August of that year, Hieu received an evaluation from an American Advisor. It is apparent from the report that Hieu had, during the six months he had been in I Corps, left a very favorable impression on the American Advisory Group in Danang. Hieu was highly recommended for attendance at the U.S. Army Command and General Staff College at Fort Leavenworth, Kansas; lauded for his administrative abilities; for his skillful and proper utilization of personnel; and for his superior attitude toward receiving and accepting advice from U.S. advisors. The advisor concluded his report with: "He is a man who possesses potential for highest rank in the Vietnamese Army. He should be sent to a CONUS school as soon as possible, preferably Ft. Leavenworth. He should be assigned to field command jobs to give him more command experience. This officer, properly handled and developed, could well become a future competent if not eminent general officer in the Vietnamese Army. His attitude toward the United States is strong, and his language fluency would be an invaluable asset to Allied operations." (1)
Although he was again recommended to attend the U.S. College of Command and General Staff at Fort Leavenworth in the following year of 1959, he was passed over because he refused to join the Can Lao Party of President Diem. Less able officers were sent instead. He was only sent to attend the school in 1962.
Upon graduating fromthe U.S. College of Command and General Staff in 1963, he continued to serve in the general staff, first as chief of staff of the 1st Infantry Division in August 1963 in Hue and then chief of staff of II Corps in Pleiku.
In 1965, as Colonel Chief of Staff of II Corps, Hieu had the opportunity to show off his military genius in the Pleime campaign(2). This campaign was the ARVN's response to the NVA Plâyme campaign. The North Vietnamese Communists designed the NVA Plâyme campaign, in early 1965, to cut South Vietnam in two along National Route 19 from Pleiku, in the Central Highlands to Qui Nhon, in the coastal area. To achieve this goal, the NVA Command committed three Regiments – the 32nd, the 33rd, and the 66th under the command of B3 Field Front. The campaign was initially planned to start at the end of 1965 or the beginning of 1966. But because of the arrival the U.S. 1st Air Cavalry Division in Central Highlands, it was launched earlier than anticipated on October 19, 1965. The plan comprised three phases: (1) launch a diversionary attack against the Pleime camp with the 33rd Regiment to lure the main force of II Corps out of Pleiku and destroy it with an ambush set up by the 32nd Regiment; (2) overrun the Pleime camp with the two Regiments; (3) conquer the city of Pleiku with the three Regiments – 32nd, 33rd and 66th.
First, Colonel Hieu thwarted the first ploy of the enemy by anticipating that it was a mobile ambush waylay and countering it with a delay tactic. He also had troops remain inside the tanks when attacked at the ambush site and toss out hand grenades to neutralize enemy troops, which were readied to bayonet the combatants if they emerged from the tanks.
Second, Colonel Hieu pursued the withdrawing enemy troops, with the help of the U.S. 3rd Air Cavalry Brigade, into the Chupong massif where they regrouped with the 66th Regiment which had belatedly reached the battleground. By inserting the U.S. 1/7 Air Cavalry Battalion at LZ X-Ray as a distractive ploy, he fixed these three NVA regiments into positions of close proximity, making them targetable by B-52 strikes. B-52's then pounded the three NVA regiments over five consecutive days from November 15 to 19.
Third, Colonel Hieu wrapped up his counter-attack with the ARVN Airborne Brigade which anticipated the escape routes taken by the two remaining NVA battalions and destroyed them at two ambush sites along the Ia Drang River, the first one on the northern side and the second one on the southern side of the river(3).
After more than a month of operations, the Pleime campaign annihilated the entire B3 Field Front forces comprising some 6000 combatants. The three decimated regiments had to be entirely refitted with new recruits back in the rear bases located in the Cambodian territories.
Colonel Hieu attributed the success of the Pleime campaign to the obtention of intelligence of enemy military situation at all times throughout the campaign:
"The battle from phases 2 and 3 also introduced an aspect never seen up to now because for almost 20 years, during the Franco-Vietnamese war, seldom pursuit operation was considered after each time the enemy made appearance and when it was conducted, no significant results had been achieved. Therefore this time around, the determination not to allow the enemy to escape, coupled with the solid intelligence on the enemy situation had permitted the battle to develop to maximum degree and scale and at the same token lead to the biggest victory ever achieved by the ARVN and its Allied." (4).
Toward the end of the Viet Nam War, General Hieu, as III Corps Deputy Commander in charge of operations, had the opportunity to conceive and execute a significant blitzkrieg-like operation in the Duc Hue battlefront in April 1974. William Legro considered the operation the "last major South Vietnamese offensive"(5). In this vast operation, in order to relieve the pressure that the NVA 5th Division imposed on the remote outpost manned by a Ranger unit in Duc Hue facing the NVA stronghold of Svay Rieng in Cambodia, General Hieu employed corps level operational forces.
In Phase I of the operation, on April 28, 11 ARVN battalions of Infantry, Regional Forces, and Rangers conducted screening, blocking, and reconnaissance in force operations, supported by VNAF fighter bombers aiming at enemy troops locations and bases.
In Phase II, General Hieu launched the III Corps Armored Assault Task Force comprising three Task Forces – the 315th, the 318th, and the 310th – in a surprise sweeping attack 15 kilometers deep into the Cambodian territories aiming at the NVA 5th Division base. The armored task force attacks were supported by artillery firepower bases placed at three attack axis located along the border.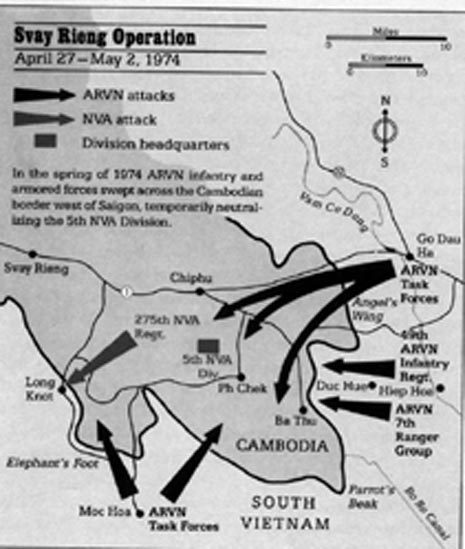 According to Samuel Lipsman and Stephen Weiss, "By May 10, when the last ARVN units turned for home, Communist communications and logistics in the area had been severely disrupted. The NVA had suffered more than 1,200 men killed, 65 captured, and hundreds of weapons lost. On the other hand, the speed, secrecy, and coordination of the multifaceted operation had limited ARVN KIA to fewer than 100." (6).
In between these two primary military operations, General Hieu had demonstrated his tactical and strategic acumen in designing and executing several other operations at divisional level, such as Do Xa campaign in 1964, Than Phong 1 operation in 1965, Dai Bang 800 operation in 1967 and Snoul battle in 1971. In comparison to other general officers of all various Armies – ARVN, U.S. and NVA - General Hieu had accumulated the highest number in significant battles in this Vietnam War that was mainly waged at battalion level because the North Vietnamese Communists had decided to adopt guerrilla warfare for the most part of the conflict.(7)
(Than Phong 1 Operation)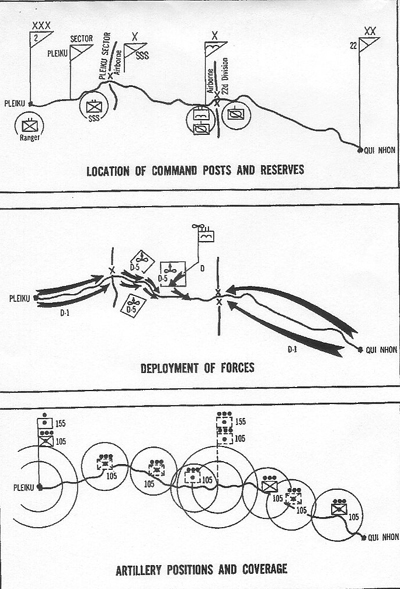 General Tran Van Don, with whom General Hieu worked at the beginning of his military career, valued him the most over any other ARVN general officers: "In February 1972, Don, who was a LTG and is currently a Deputy Prime Minister, stated to the Consul in Danang that Hieu was one of the most capable generals in ARVN and "the most honest general in the Army today". The latter assessment is broadly held and frequently voiced by ARVN officers. Don further stated that he would take Hieu over virtually any ARVN general he knew.(8)
General Hieu would have achieved more military feats were he not marginalized for being politically incorrect. Under the First Republic of Vietnam, under President Ngo Dinh Diem, he was slow in the rank promotion and was passed over many times for attending the U.S. College of Command and General Staff at Fort Leavenworth by less competent officers. Under the Second Republic of Vietnam under President Thieu, he was discarded and kept out of commanding posts in June 1971 until the collapse of Saigon.
Nevertheless, he was able to achieve a significant accomplishment while assigned as special assistant to Vice President Tran Van Huong in charge of anti-corruption, which Hieu viewed as "the most pressing problem facing the Republic of Vietnam" besides the threat of the North Vietnamese Communists. He successfully investigated the scandal of the Soldier's Mutual Assistance and Savings Fund (SMASF) in which President Thieu was forced to dismiss the Minister of Defense, LTG Nguyen Van Vy. However, subsequently, he was prevented from obtaining more successful cases due to the lack of real support from the President(9).
It is believed that due to his main role in fighting against corruption in the Army that General Hieu was assassinated on April 8, 1975, in his office, located in III Corps Headquarters, Bien Hoa, one day before the start of the Xuan Loc battle(10).
General Hieu was born on June 23, 1929, in Tientsin, China. His parents originated from North Vietnam. They migrated to China for business opportunities. He grew up in Shanghai, where he attended the Collège Français de Shanghai and received his Baccalauréat en mathematics in 1948. He attended the Université l'Aurore de Shanghai, where he studied in the Science Department until 1949 when he and his family fled China and returned to Viet Nam.
Hieu joined the Vietnamese Army and signed up for the 3rd Class of the Dalat National Military Academy on October 1, 1950. He graduated second out of a class of 135 on July 30, 1951. His military career followed the track of a general staff officer, starting as a member of the staff of the Ministry of National Defense, in Saigon. In September 1952 he was assigned to the High Command of the 3rd Military Region in North Vietnam. In May 1954, he was assigned to the Operations Section of the Headquarters of the ARVN in Saigon and was promoted to captain on April 1, 1955 and to major on October 15, 1957. On February 16, 1958, he was assigned as Assistant Chief of Staff for Operation in I Corps in Danang. On December 16, 1962, he entered the U.S. College of Command and General Staff at Fort Leavenworth, Kansas, and returned to Vietnam on May 10, 1965. He was appointed Chief of Staff of the 1st Infantry Division on August 13, 1963. After the military coup d'etat against President Ngo Dinh Diem, he was assigned Chief of Staff of II Corps on December 12, 1963, where he served under three consecutive General: Do Cao Tri, Nguyen Huu Co, and Vinh Loc.
On June 28, 1966, he was assigned Commander of the 22nd Infantry Division. On November 1, 1967, he was promoted to Brigadier General, and on August 9, 1969, to Major General. On August 11, he became Commander of 5th Infantry Division under General Do Cao Tri, III Corps Commander. During his time at the helm of the 5th Infantry Division, he fell into disfavor after publicly criticizing the Americans' Vietnamization policy as well as the corruption within the ARVN. Soon after the death of General Tri in February 1971, he was discarded from the military in June of that year until December 1973, when President Thieu needed his strategic skills to defend Saigon and its surroundings. Thieu assigned him III Corps Deputy Commander in charge of operations. In November 1974, the American Ambassador in Saigon stated: "Barring a severe military setback, it is likely, therefore, that Hieu will remain in highly responsible positions for the foreseeable future." (11).However, it did not turn out that way: he was assassinated in the secure environment of his office in Bien Hoa on April 8, 1975.
Nguyen Van Tin
1 January 2013
---
(1) American Embassy Saigon, Airgram A-231, Biographic data on MG Nguyen Van Hieu, November 7, 1974, paragraph 6.
(2) Major General Vinh Loc, Why Pleime, Information Printing Office, Saigon, September 1966.
(3) Major General Vinh Loc, Why Pleime, Information Printing Office, Saigon, September 1966, page 97.
(4) Major General Vinh Loc, Pleime, Trận Chiến Lịch Sử, Information Printing Office, Saigon, July 1966, page 126-133.
(5) W. Legro, Chapter 9 - 1974, Year of decision Vietnam: Cease Fire To Capitulation , US Army Center of Military History -CMH Pub 90-29 – 1985
(6)Lipman S. and Weiss S., The False Peace, The Vietnam Experience, Boston Publishing Company, page 124.
(7)There were a dozen major battles/operations during the Vietnam War (1959-1975): Do Xa (1964), Pleime (1965), Khe Sanh (1968), Tet Offensive (1968), Cambodia Incursions (1971), Lam Son 719 (1971), Snoul (1971), Kontum (1972), Quang Tri (1972), An Loc (1972), Duc Hue/Svay Rieng (1974), Xuan Loc (1975). General Hieu planned and executed four of the twelve - Do Xa, Pleime, Snoul, and Duc Hue/Svay Rieng. Xuan Loc might well also be his battle since he was III Corps Deputy Commander/Operations and was assassinated the day before that battle started on April 9, 1975. At 8 o'clock in the morning of April 8, he was conferring with Brigadier General Tran Quang Khoi, III Corps Armored Assault Task Force Commander at Go Dau Ha in preparation for the eminent NVA offensive.
(8) American Embassy Saigon, Airgram A-231, Biographic data on MG Nguyen Van Hieu, November 7, 1974, paragraph 23.
(9) American Embassy Saigon, Airgram A-043, Review by MG Nguyen Van Hieu of the Anti-Corruption Work of the Vice-Presidency, March 5, 1973.
(10) New York Times, General Kills Self In Saigon Dispute, Saigon, April 9, 1975.
(11) American Embassy Saigon, Airgram A-231, Biographic data on MG Nguyen Van Hieu, November 7, 1974, paragraph 23.