Rear Admiral Tran Van Chon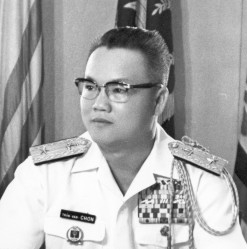 Full Name: Tran Van Chon
Date and Place of birth: September 24, 1929, Vung Tau (South Vietnam)
Family status: Married, ten children
Education:
- Brevet d'Etudes Techniques du 2e degree (Technical Studies Certificate, Secon degree), 1941
- Brevet de Radiotelegraphiste de Bord de 2e Classe (Navy Radio-Telegraphist Certificate, Second Class), 1942
- Certificate of Graduation, Vietnamese Naval Academy, 1952
- US Naval Command, 1960

Present position: Chief of Naval Operations, Vietnamese Navy, since November 1, 1966

Former positions:

- Vice Commanding Officer, 23th Assaulting River Group, 1953
- Vice Navy Commander, 1956
- Navy Commander concurrently Director of Naval Dockyards, 1957
- Commmander, Security River Force, 1961
- Deputy Commander, Regional Force and Popular Force, 1962-1966

Decorations, awards:

- 3 National Orders of Vietnam, 3rd, 4th and 5th classes
- 3 Navy Distinguished Service Orders, 1st and 2nd classes
- 2 Army Distinguished Service Orders, 1st and 2nd classes
- 9 Gallantry Crosses
- Purple Heart Medal
- Navy Gallantry Medal, gold anchor
- Hazardous Service Medal
- Armed Forces Honor Medal, 1st class

Who's Who In Vietnam
Vietnam Press, Saigon 1970
Courtesy of Adam Sadowski

Note: Following is an email from a reader regarding Rear Admiral Chon's birth date: "I stumbled into the list of ARVN generals in generalhieu; I would like to contribute a comment: Rear Admiral Tran Van Chon's C.V. indicated he was born in 1929. Although I do not know which year he was born, but I know he was the fourth child in the family. His eldest sister was born in 1916 and his ninth brother in 1924 (?) or 1925 (?); which, in my humble opinion, places Rear Admiral Chon's birth date in 1918 or 1929 but not 1929." Ngo thuy Hoang Mai. 11/29.2008.