A Doctrinal Lesson on the Use of Arc Lite in Pleime Counteroffensive
Principle:
B-52 airstrike needs a targetable objective, which means the object has to be sizable, relatively immobile and its location can be pinpointed with an accuracy of at least (XX'YY' or 1km x 1km=1km2).
Feasibility:
The annihilation of the three NVA Regiments – 32nd, 33rd and 66th – after the relief of Pleime camp by B-52 airstrike can be done, because B3 Field Front intends to regroup its entire forces in preparation for a second attack against Pleime camp; and with godsend intelligence source provided by open communications between Chinese Advisors at regimental and divisional levels, allowing to determine the locations and the times at which point those three regiments become targetable for B-52 airstrike.
Operational Concept:
To stalk (1) the enemy movements until their troop units gather together close enough, particular attention should be focused on when the enemy get closer (assembling phase) (2) and much closer together (staging phase) (3) and provision should be ascertained in prolonging the staging time (4) to provide a better margin window for Arc Lite strike; and to schedule the B-52 airstrike accordingly.
Planning:
The planning of Arc Lite strikes is assumed by a coordination team comprising II Corps (Colonel Hieu, Colonel Williams), 1st Air Cav Forward CP (General Knowles, LTC Stoner), IFFV (General Smith, Colonel Barrow), MACV (General De Puy, Colonel McCord).
Execution:
- October 27: The herding operation (1') started with the 1st Air Cavalry Brigade conducting All the Way operation. Spotted enemy units were broken up further in small pieces and pushed back westward to Chupong-Iadrang complex.
- End of October 27, the lead elements of the 33d had closed on it forward assembly area, the village Kro (ZA080030);
- October 28, the 32d Regiment had nearly closed its base on the north bank of the Ia Drang.
- October 29, the 33d Regiment decided to keep the unit on the move to the west, to Anta Village (YA940010), located at the foot of the Chu Pong Massif.
- October 31, the constant harassment from the air and the sudden and unexpected landing of infantry troops at points throughout the area was causing consternation in the enemy ranks. Elements continued to disintegrate and fragment into small parties or, in some cases, individual stragglers. Many of these, left to fend for themselves, soon fell into the hands of Cavalry units. Contributing to the problems of the 33d was the acute shortage of food and medicines since many units could not reach their pre-stocked supply because of the sudden thrusts of the helicopter-borne troopers.
- November 1, the 33rd regiment headquarters closed in at Anta Village.
- November 2, the 33d Regiment now received orders to head deeper into the Chu Pong sanctuary. By 0400 on the 2d, the regimental CP had arrived at Hill 762 (YA885106). But while the head of the column had comparative safety, the body and tail, still stretching back to near Pleime, was anything but safe.)
- November 3, the 33d Regiment, meantime, was still trying to pull its bruised and battered tail into the Chu Pong sanctuary. But it became just another day of constant harassment from the air and ground marked by the loss of still more medical supplies and ammunition.
- November 4, the 33d Regiment was ordered out of its base at Hill 732, which it had hardly reached, and onto the eastern slopes of Chu Pong in the vicinity of YA922010 with its battalions (when they closed) to take up positions from Hill 732, down through Anta Village (940010) to the north bank of the Ia Meur (980000).
- November 8, the enticement move started with the 3rd Air Cavalry Brigade ordered to switch the operational direction from west to eastward.
- November 8 and 9, the 33d Regiment began to assess its losses and to count noses. There were many missing.
- November 9, B3 Field Front took the enticement bait and decided a second attack on Pleime camp scheduled for 11/16.
- November 10, B3 Field Front ordered troop units into assembly areas (2') for reorganization, training and rehearsals.
- November 11, the three regiments became targetable with the 66th center of mass (vic YA 9104); the 32nd (YA 820072), the 33rd (YA 940011).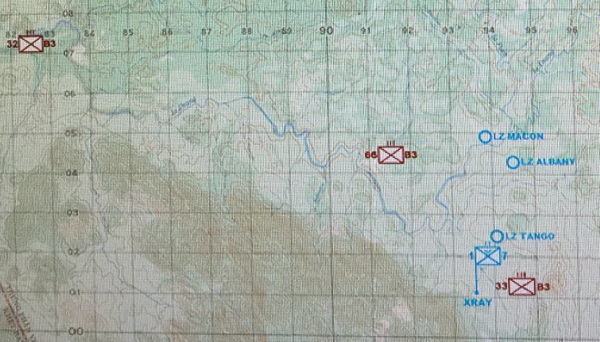 - Arc Lite scheduled to strike before 11/16, either 11/14 or 11/15, depending B3 Field Front moves.
- November 12, while the assembling phase was on going, 1/7th Air Cavalry Battalion was ordered to get ready to be inserted into Chu Pong massif.
- November 13, B3 Field Front forces began staging (3') in preparation for movement to Pleime and the projected 16 November attack. Some recon parties and transportation units already had moved out.
- November 14, 1/7th Air Cavalry Battalion was inserted in LZ X-Ray in a distracting move (4'), forcing B3 Field Front to delay the attack against Pleime and to refocus its attention onto new threat and to maintain its troop units concentrated at staging area for Arc Lite strike scheduled for noon Nov 15.
- November 14 noon, B3 Field Front engaged the 1/7th Air Cavalry Battalion with two battalions. Reinforcement with 2/7th Air Cavalry Battalion was sent in.
- November 15 noon, Arc Lite suddenly struck at B3 Field Front forces center of mass (vicinity YA8702) and continued for the next 5 days in 96 sorties.
- November 17, Arc Lite's targets included LZ X-Ray.
On November 15 and 16, B-52 airstrikes aimed mainly at the positions of units of the 33rd and 32 Regiment; on November 17, 18 and 19, units of the 66th Regiment; and on November 20, units of the 32nd Regiment. ̣
- November 18, the "coup de grâce" operation started with Airborne Brigade conducting Than Phong 7 operation.
- November 26, as no more contacts were made with the enemy, the Airborne Brigade withdrew from the area of operations, terminating the third phase of the Battle of Pleime with 265 VC killed (BC), 10 others and 58 weapons captured.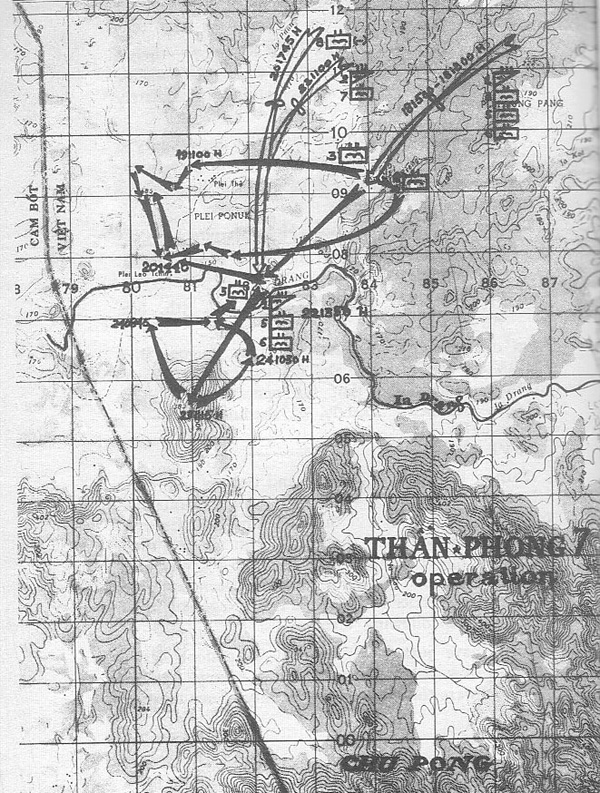 II Corps Headquarters, Pleiku City
Colonel Nguyễn Văn Hiếu
Chief of Staff
---
Like Hunting a Pack of Wolves
Colonel Hieu in his hunting for the pack of B3 Field Front Force wolves,
- round them up in Chupong-Iadrang complex with 1st Air Cav;
- enticed them to regroup by faking east aiming west with 3rd Air Cav;
- distracted them into staying immobile in staging area with the insertion of 1/7 Air Cav;
- took a deep breath and hit his target bull eye with an arclite bullet;
- and "finished 'em" with the Airborne Brigade's surgical "coup de grâce".
Nguyen Van Tin
10 January 2012
Documents
- Primary
- Books, Articles
* Pleiku, the Dawn of Helicopter Warfare in Vietnam, J.D. Coleman, St. Martin's Press, New York, 1988.
* We Were Soldiers Once… and Young, General Harold G. Moore and Joseph L. Galloway, Random House, New York, 1992.
* "First Strike at River Drang", Military History, Oct 1984, pp 44-52, Per. Interview with H.W.O Kinnard, 1st Cavalry Division Commanding General, Cochran, Alexander S.
* The Siege of Pleime, Project CHECO Report, 24 February 1966, HQ PACAF, Tactical Evaluation Center.
* Silver Bayonet, Project CHECO Report, 26 February 1966, HQ PACAF, Tactical Evaluation Center.
- Viet Cong