Mourning Thoughts About
General Nguyen Khoa Nam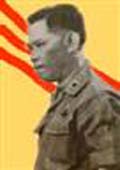 At the end of March 1998, Thoi a former cadet of class 3/Thu Duc Military Academy came to my house to borrow General Nguyen Khoa Nam's photo and to give a special issue on Nguyen Khoa Nam, published by my brother's classmates a few years ago. He asked me to write a few lines about my older brother Nam. I was very troubled by the request! For many years, I didn't want to write about my brother anymore. I want to let my personal feelings settle down and my heart-broken sorrow to go away with time. But I could not turn down a request coming from Thoi and classmates and also friends of my brother. Even to this day, although over 70 years old, you still sit down and together write for each other and for the soldiers of the ARVN, sharing your feelings and your experiences. You all should be commended for this. I respect your dedication. What I am about to write on General Nguyen Khoa Nam, in parts came from my own knowlege, and in parts from what I had been told by other officers, especially during my 12 years of captivity in communist prisons. During the time General Nguyen Khoa Nam was in the military service, from 1953 to 1975, I knew very little of him, because we lived far apart, following different careers under different environments.
1. General Nguyen Khoa Nam's ancestry originated from An Cuu Tay village, Huong Thuy district, Thua Thien province. He was born in Tourane (Danang) on September 23, 1927.
Ours was a big family, but all our first born boys died at young ages. In 1975, what were left were our sister, Nguyen Khoa Dieu Kham (82 years old, still residing in Saigon), my brother Nam and me, the benjamin. Nam is 8 years older than me - 7 years, 7 months to be exact. Our father was an Academic Inspector in Danang, known as Honorable Nguyen Khoa Tuc. He retired in 1941 and lived in Hue. Our mother is Cong Ton Nu Moc Can, of the royal lineage of Tuy Luy Vuong.
2. Nam attended primary school at the all boys Ecole des Garcons in Danang, from 1933 to 1939. He then went on to study at Lycee Khai Dinh as a boarding student. He passed and obtained the Junior High School Diploma and continued on to Senior High School. In 1946, the war broke out, our entire family had to move out of the city. My brother, who was 19 years old at that time, intended to joint the resistance against the French with the Thanh Nien Tien Phong (Front Line Youth League), but my mother opposed and did not let him go. In 1947, we returned to the city, and Nam resumed his study in Senior High School majoring in Mathematics, but then changed his major and attended a program in civil administration in Hue. In 1953 he worked as an administrative manager until 1953 when he was drafted into the army and joined the 3rd Class of Thu Duc Military Academy. At that time, I was also called by the army because I reached the age of 18 but then was exempted due to the fact I was about to take the Final High School Exam in a couple of months.
3. In September 1953, I went to Saigon to attend the College of Sciences (University of Saigon). During that period I saw Nam every Sunday. On Sunday afternoons, I accompanied him to Grall Hospital, where he boarded a military vehicle to return to Thu Duc Military Academy.
In October 1953, he graduated and opted to serve with the Airborne Unit. He underwent a special training then followed his unit to the North. I was kept in the dark at that time (both our parents had died and he just acted on his own interest). It was not until I received a letter with an APO from the North that I learned that he had joined the Airborne Brigade and was stationing up there. I had no opinion on this matter because I knew once he decided to do something no one could stop him.
In August 1954, after the Geneva Agreement, he followed his unit to Saigon. I came to visit him and saw he was wearing the rank of Lieutenant. I asked him if he intended to get married, since he had reached the age of 27 and the country was at peace. He smiled and answered back: "I am a paratrooper, if I married someone, that person would soon become a widow. That's too cruel." I knew then he did not want to get married. Many of our relatives tried to introduce him to many good ladies, but he did not show any interest.
In 1955. he became a Company commander in the 7th Airborne Battalion and was battling the Binh Xuyen Force in Saigon. Afterwards, he was promoted to the rank of Captain and was sent to Pau (France) to undergo a technical training program for a 8 month period. Around this time, he bought a small one-bedroom/one living-room house in the Airborne Housing Complex located opposite to Phu Tho Horse Race Track. He lived in this house which was never touched up until April 30, 1975. In reality, he rarely came back to this house, prefering to stay in the Aiborne Unit compound where it was apparently more pleasant than the lonely setting of his house. In May 1975, I did go to visit this house, but the view of two guards standing in front of the house made me walk away without looking back.
In 1956, Nam returned from France and was assigned to command the Airborne Technical Company stationed in camp Hoang Hoa Tham. He remained a Captain from 1955 to 1964. It was not until the beginning of 1965 that he was promoted to the rank of Major when he assumed the command of the 5th Airborne Battalion. As the 5th Airborne Battalion Commander, he criss-crossed all over the four Tactical Regions. Around March 3, 1966, his unit was attached to the 22nd Infantry Division in Lien Ket 66 operation in Quang Ngai and thus he had the opportunity to visit my family. He loved my children and whenever he was free he would come to our house to take a bath, to eat and to play with the kids. At that time, I was principal of Tran Quoc Tuan's Junior High School in Quang Ngai.
This was the time we met each other the most. Noticing his sadness although we were winning the war, I asked him and he responded: "War brought with it deaths and sorrows. Hundreds of young 15, 16 years old Viet Cong laid dead on top of the mountain. Our units sustained a dozen casualties. What a pity. Their wives and children suffered without doubt tremendously. Upon returning to the base camp, I will have to attend to the needs of our KIA's families." That time, he was decorated with National Order of Vietnam Fourth Class medal.
Afterwards in May 1966, he reluctantly went with the 5th Airborne Battalion to Hue to squashed a buddhist uprising.
In 1967, he was promoted to the rank of Lieutenant Colonel and was appointed 3rd Airborne Brigade Commander. This Brigade became well knowned with the Ngok Van Hill battle in Kontum. At the end of 1967, he was promoted to the rank of Colonel with a National Order of Vietnam Third Class medal.
In 1968, The 3rd Airborne Brigade returned to Saigon to participate in the battles of Mau Than 1 and 2, around the outskirts of Saigon Cholon.
In 1969, he was appointed 7th Division Commanding General, Tien Giang Tactical Region. In November 1969, he was promoted to the rank of provisional Brigadier General. And in October 1971, to the rank of tenured Brigadier General.
In 1972, he was promoted to the rank of provisional Major General; in October 1973, to the rank of tenured Major General.
In November 1974, he was appointed 4th Corps/4th Tactical Region Commanding General until April 30, 1975.
On May 1, 1975 evening, Lieutenant Danh, Major General Nguyen Khoa Nam's Aide-de-Camp went to Saigon to notify my sister Dieu Kham, that Major General Nguyen Khoa Nam had committed suicide. He also recounted that the Major General killed himself around midnight of April 30, 1975. He was sitting in his armchair, fully dressed in ceremonial outfit decorated with all his medals. He used his right hand to shoot himself at his right temple. His head slumped to the left. On the desk, laid his briefcase containing his personal papers and approximately 40,000 piastres. Lieutenant Colonel Hoang Nhu Tung, M.D. and a few soldiers attended to his final rituals and buried him in the Can Tho Military Cemetary on May 1, 1975.
On May 2, 1975 morning, my sister Dieu Kham and her daughter went down to Can Tho to put up a memorial tomb stone.
In March 1994, General Nguyen Khoa Nam's sister-in-law, Mrs. Nguyen Khoa Phuoc, from Saigon went down to Can Tho to collect his remains; at that time, I was imprisoned in Nam Ha-Ba Sao camp. When his remains were unearthed, my wife noticed an intact skeleton with a healthy denture in excellent condition with all teeth untouched by cavities, a dog tag under the name of Nguyen Khoa Nam, a buddhist prayers book contained in a plastic bag and a Browning pistol. The skeleton was creamated on the spot. The ashes were put into a porcelaine jar and carried back to Saigon.
A few days later, a funeral ceremony was held in Gia Lam Pagoda with the participation of all relatives. Major General Nguyen Khoa Nam's ashes are currently displayed on a shrine in Gia Lam Pagoda, on Le Quang Dinh street, Go Vap district, Gia Dinh.
It's difficult for me to touched upon the personality of Major General Nguyen Khoa Nam because of our age difference.
In our family, General Nguyen Khoa Nam was a taciturn and introverted individual who never confided to anybody.
During the time he was a civil servant as well as when he was a commander in the army, I noticed that Major General Nguyen Khoa Nam displayed warm consideration to everybody but remained aloof towards his own relatives. Many relatives complained because they could not extract any favor from him.
I think Major General Nam did have feelings, but his feelings were evenly spread out to everybody, especially to the poor families of the soldiers. If any of his relatives approached him for any favor, he would not receive them. As a straight military man, Major General Nguyen Khoa Nam did not want to mix politics and religion into the army. While he was Commanding General of the 7th Infantry Division, he refused to grant an audience to a buddhist high ranking dignitary who came to ask him for a favor. Priests and monks alike got the same treatment from him.
Major General Nam was an artist. When he was young, still attending high school, his art works were displayed at an exhibition. During the year of 1946-1947, he busied himself all day long with his picture frames, producing all kind of oil, powder and lead paintings. He also had a predisposition for music and possessed a good knowledge of theorical music.
Major General Nguyen Khoa Nam liked to live by himself since his young age. He immersed himself in Confucianism and Buddhism. He continuously chanted: "Colors, Colors, Nothingness, Nothingness." He performed his duties with utmost diligence and was always earger to learn.
Nguyen Khoa Phuoc