Général de Corps Hoang Xuan Lam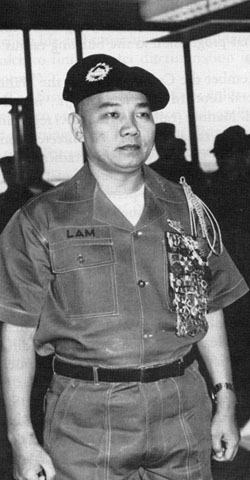 Nom: Hoang Xuan Lam
Date et Lieu de Naissance: 10 octobre 1928, Phu Loc, Quang Tri (Centre Vietnam)
Famille: Marrié, six enfants
Education: Baccalauréat
Position Présente: Inspecteurr, Défense Civile
Anciennes Positions:
- Commandant de Peloton Blindé, 1ère Companie Blindée, 1951
- Commandant, 4ème Compagnie Blindée, 1954
- Commandant, Centre de Formation de Cavalerie Blindée, Ecole d'Officiers de Réserve, mai 1955
- Simultanément Officier représentant l'Armure dans la 1ère Région Militaire, 01 novembre 1955
- Simultanément, Commandant, Cavalerie Blindée, 1ère Région Militaire, 1 avril 1956
- Chef de la Branche d'Armure, Etat Major Général, 1957
- Directeur d'Instruction et Chef des Armes et Services, Ecole de Commande et d'Etat Major, Dalat 1960-1963
- Commandant, 23ème Division d'Infanterie, 1963;
- Commandant, 2ème Division d'Infanterie, 1964
- Commandant, I Corps, 1966-1972

Who's Who In Vietnam
Vietnam Press, Saigon 1972
Fourni par Adam Sadowski

Phim thau cua Cuu Trung Tuong Hoang Xuan Lam ve tin sai lam ong ta da qua doi tai Vietnam ngay 5/8/2015. Xin bao tin nay cho nguoi khac biet. Cam on.





Video from General Hoang Xuan Lam on 5/8/2015 speaking about incorrect news articles reporting of his death.

Please share with others. Thank you.