Lieutenant General Hoang Xuan Lam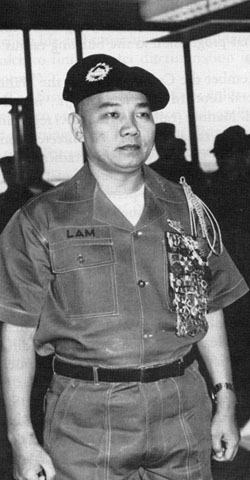 Full Name: Hoang Xuan Lam
Date and Place of Birth: October 10, 1928, Phu Loc, Quang Tri (Central Vietnam)
Family status: Married, six children
Education: Baccalaureate
Present position: Inspector, Civil Self-Defense
Former positions:
- Armored Platoon Leader, 1st Armored Company, 1951
- Commander, 4th Armored Company, 1954
- Commander, Armored Cavalry Training Center, Thu Duc Reserve Officers' School, May 1955
- Concurrently Officer representing Armor in the 1st Military Region, November 1, 1955
- Concurrently, Commander, Armored Cavalry, 1st Military Region, April 1, 1956
- Chief of Armor Branch, Joint General Staff, 1957
- Director of Instruction and Chief of Arms and Services, Command and Staff School, Dalat 1960-63
- Commander, 23rd Infantry Division, 1963;
- Commander, 2nd Infantry Division, 1964
- Commander, I Army Corps and 1st Tactical Zone and Government Delegate to Central Vietnam, Coastal Area, 1966-1972

Decorations, awards:

- Knight of the national Order of Vietnam
- Officer of the National Order of Vietnam
- Commander of the National Order of Vietnam with gallantry cross with palm

Who's Who In Vietnam
Vietnam Press, Saigon 1972
Courtesy of Adam Sadowski

Phim thau cua Cuu Trung Tuong Hoang Xuan Lam ve tin sai lam ong ta da qua doi tai Vietnam ngay 5/8/2015. Xin bao tin nay cho nguoi khac biet. Cam on.





Video from General Hoang Xuan Lam on 5/8/2015 speaking about incorrect news articles reporting of his death.

Please share with others. Thank you.