What I Knew About General Nguyen Van Hieu
Psychological Warfare

p>In June 1960, after finishing the course at the school of Civil Affairs and Administration in the United States, I reported to the Defense Ministry and was appointed Head of G5 (Psychological Warfare) of 1st Infantry Division General Staff, garrisoned at Dai Noi, Hue. Division Commanders: Colonel Nguyen Duc Thang; eight months later, Colonel Nguyen Van Thieu replaced Colonel Thang, and then Colonel Do Cao Tri replaced Colonel Nguyen Van Thieu.

1st Infantry Division Acting Commander

A couple of months at the helm of 1st Infantry Division, Colonel Do Cao Tri appointed Major Nguyen Van Hieu, Head of G3/I Corps, to be his Chief of Staff in replacement of Lieutenant Colonel Nguyen Ho. Not long after Major Hieu arrived at 1st Infantry Division, the controversy affair of Buddhist flag display on the occasion of Buddha Birthday occurred (in May 1963). Buddhist activists demonstrated in front of Hue Radio Broadcasting Station that night, and carried on their struggle, and people livehood had been constantly disturbed.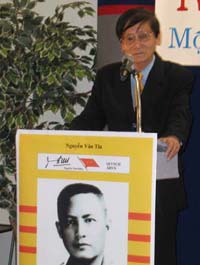 In the beginning, local authorities (Province and Sector) dealt directly with the issue and made attempt to restore normalcy. But progressively the situation spinned out of their control, and the Central Government gave to the Commander of 1st Infantry Division/11th Military Region full authority to restore order and security in Hue.
This was the first major event happening under the 1st Republic of Vietnam and also the first time the Army was directly involved in dealing with the situation.
We called this mission a psychological, cultural, intellectual warfare. Both sides used megaphones and mass media to exchange words in aiming to win the public opinion and to defeat propaganda of anti-government elements and local Communist instigators.
Colonel Do Cao Tri met with his General Staff to map out plan of action ; and my role of Psychological Warfare was considered as the main force with the collaboration and support of G2, G3, G4, Military Security; and the Division Commander gave Major Hieu and me full latitude and discretrion in carrying out the plan.
Besides local forces and means, like the Psychological Warfare Company, Hue Radio Broadcasting, Thua Thien Information Bureau, Information Inspection Bureau, the Saigon Authority attached to the Division a few Psychological Warfare counter-intelligence groups that infiltratred the population, etc. I worked close with Major Hieu and knew him well since then.
The situation was getting critical by the days. Hue University's students who were Communist sympathizers had shown their faces, under the direction of Venerable Tri Quang of Tu Dam's pagoda; and intelligence gatherings indicated that Communist moles had infiltrated the population which was following the Buddhist struggle to their advantages.
In many occasions, Major Hieu and I stayed up all night to solve urgent issues. Students groups instigated here, held meeting in pagodas there. Furthermore, Hue was the crib of Buddhism, and exerted significant influence.
Although very busy and under stress, Major Hieu always exhibited calmness and self-confidence. I followed him in fulfilling our job to the point of skipping meals and sleeps. Many nights, he sat alone in his office; I offered him to have movies shown as entertainment, but he gently said: "Let's wait until we finish our task; if we watch movies now, we would disturb the sleep of soldiers who had to stay overnight in the base camp."
He was always delicate in his dealings with others; he never uttured harsh words; he never showed his displeasure to anyone. At noon, he lunched at the officers' canteen; in the evening, he only went home for an hour to have dinner and came right back to his office, working at his dest with a folding-bed and a small radio to keep abreast with the news next to him.
Every morning, I presented to him and the Division Commander the local and global news briefs pertaining to Vietnam issues, and issues happening in Hue. He expressed reservation, doubt; but he advised me to hold firm, not to be overly concerned when the army must follow superiors' order.
One time, he told me to seek opinion from American advisors concerning Buddhist issue happening in Hue. I looked for opportunity to talk to the Captain advisor sharing the office with me. He said half serious half joking that I should be the one to provide him with advice in this case. I understood his meaning, and reported back to Major Hieu and Colonel Commander. Both just smiled.
Colonel Do Cao Tri used to warn me to be careful in writing editorials for radio and in composing flyers to be distributed to the public, and to consult with Major Hieu in all matters. One time, he dispatched me to Tu Dam pagoda to conduct negotiation with the monks on the matter of water and electricity discontinuation. I went to Major Hieu and suggested that my ranking was too modest, and a higher ranking officer should be sent instead, with me as an aide. Major Hieu told me not to worry, "The Colonel trusts you; you have the authority to deal with the Venerables and the like. It is our task, but be careful not to let them hold you hostage, which would complicate the matter; and don't forget to notify troops on duty in the vicinity before you go…"
Major Hieu took care of hall aspects of his task everyday. He entertained local as well as foreign press groups. He conducted his press conference with an impeccable English. I knew he was also fluent in French, Madarine and even German. He was very diligent, pleasant and very discipline. captain and lieutenant officers like us at that time looked up to him as our idol to be emulated. Crew cut head, impeccable uniform, friendly with rank and file alike; he was also simple in eating. He did not smoke. It seemed that he did not exhibit any specific overt interest.
The implementation of the action plan succeeded in forcing the protestors into retreat. The situation seemed calm by 9/1963; and Colonel Tri was promoted to Major General as a result. However, approximately two months later, on 11/1, a major event occurred. President Ngo Dinh Diem and his brother were assassinated. The Military Junta governed the country. Hue Buddhists seized the opportunity to claim credit in the overthrow of Diem regime, and attacked main players in the 1st Division; those they called "oppressors of Buddhists". Once again, I had to deal with the situation. The Central Government added another assignment to my portfolio: Director of Hue Radio Broadcasting Station.
The Central Directorate of General Officers promoted General Do Cao Tri to Lieutenant General. Major Hieu, Chief of Staff, was promoted to Lieutenant Colonel; Captain Ton That Khien, G3 Head, to Major; and I, Lieutenant to Captain.
Lieutenant General Do Cao Tri went to Saigon to meet with the Directorate of General Officers. At the Division, LTC Hieu unbuttoned his Major insignia from his shirt and buttoned it onto Ton That Khien. Ton That Khien unbuttoned his Captain insignia and buttoned it onto me. We all did not feel happy getting these new grades that were rather belated. LTC Hieu remained pensive. Major Khien and I, we were thinking about the drama of the 1st Republic of Vietnam, about its fall and felt sad for President Ngo Dinh Diem and his advisor Ngo Dinh Nhu. Hue University's students and Buddhists still focused on us with their accusations; in particular me, the most vehement oppressor of Buddhists although I had not resort to force and violence tactics. I again had to deal with those thorny and complex innuendos; nevertheless, I had gained unforgettable numerous beneficial lessons.
Despite the fact the Revolutionary Central Committee had taken hold of the government, the situation in Hue still seemed to be unstable; and when Lieutenant General Do Cao Tri was ordered to take over the I Corps Command in replacement of General Le Van Nghiem, he requested that LTC Hieu be promoted to Colonel and appointed 1st Infantry Division Acting Commander and Major Khien to LTC and 1st Infantry Division Chief of Staff. This special promotion took place around three weeks after the military coup.
II Corps Chief of Staff
Colonel Hieu took over the command of 1st Infantry Division. While he was reorganizing the unit, an order was issued swapping the positions of General Nguyen Khanh and General Do Cao Tri. General Do Cao Tri took over II Corps Command and Colonel Hieu followed him to hold the position of II Corps Chief of Staff. Colonel Tran Thanh Phong, I Corps Chief of Staff, became 1st Infantry Division Commander.
When I went to assumee my assignment at I Corps, General Nguyen Khanh had me report to him. He did not receive me in his office at the Center Governor Palace. He waited for me in the back garden along Huong river. When his chief of cabinet took me to see him, he was wandering aimlessly in the garden. I saluted him, introduced to him myself with ranking and name. He shook my hand, put his arm around my shoulder, and we walked along the river, talking. He told me not to worry and to work for him. He inquired about my current job, about the present situation in Hue, etc.
I went home, but I felt uneasiness; he told me not to worry, while I sensed something unfavorable to me was about to occur, because Hue University's students, and Buddhists activists were still after me. I went back to my quarter at Dap Da, before I stopped by Hue Radio Broadcasting Station to review the evening program.
I fell immediately to sleep. Around 11:00 p.m., a knock on the door woke me up. A G5/1st Infantry Division officer advised me that General Khanh had relieved me as Hue Radio Broadcasting Station Director, and returned me to the Defense Ministry. The news was announced on the Radio about half an hour ago. I thanked the officer and joke with him: I had just met General Khanh in the evening; yet did not hear him say anything; I might have some cloud, for he had to resort to subterfuge to dismiss me.
I stayed awake waiting for the morning, in order to call II Corps to advise Colonel Hieu and General Do Cao Tri about the news. I went to 1st Infantry Division HQ, which was located in Mang Ca camp, and was told to see Colonel Tran Thanh Phong, 1st Infantry Division Commander, before I had time to call II Corps. I hastened to go to meet with him and he admonished me: "Yield G5 job to your deputy, and go immediately to Danang today and see Colonel Ngo Dzu, I Corps Chief of Staff; the sooner the better." I returned to my office, assembled the personnel and broke the news to everybody. Then, I gave to the deputy officer all the documents, filled him in a couple of matters. Afterwards, I and my driver, we left Hue and headed for Danang. My coworkers, with whom I had shared joy and sadness, success and failure, were all shocked. They wanted to organize a simple farewell party, but I declined and told them without munching words that my presence here would cause bad things and unexpected things to happen.
I arrived at I Corps headquarters at 2:30 p.m. and reported to Colonel Ngo Dzu. He was pleasant and told me: "General Do Cao Tri and Colonel Nguyen Van Hieu wanted you to rejoin them in II Corps immediately. While waiting for transportation means, stay at the Military Governor Camp. Remember not to go anywhere; if you had to go somewhere, make sure to telephone the office of the Chief of Staff to let them know." Only by then that I felt safe and visualized I was present in Pleiku, near Colonel Hieu and General Tri. I spent the night at the Military Governor Camp. The following morning, a car of Colonel Ngo Dzu's office drove me to the airport to go to Pleiku, on a four-seated Cessna piloted by an American Captain.
I was assigned II Corps Psychological Warfare Bureau Head in replacement of Major Ho Hong Nam who had followed General Nguyen Khanh to I Corps. In the first days, I already heard a rumor about Colonel Hieu, spreading the news that an officer of the headquarters had presented to him a brand new treillis uniform, complete with name tag and Colonel insignia, but was rebuked by him. He thanked the officer and told him to take the item back. When he needs, he will ask. The news spread around… in no time soldiers of all rankings, from the General Staff to the surrounding units heard the news and found it amusing. Such was his personality: direct, jovial, but mindful of discipline and standard.
The operation into Do Xa VC stronghold was designed by II Corps General Staff. The forward command of the operation was set up at Quang Ngai Sector airport. General Do Cao Tri, Commander, conducted in person the troops invading the stronghold. Colonel Hieu, Chief of Staff, remained in permanence at the Command Post. I led press delegations coming from Saigon, including foreign correspondents, to follow the unfolding operation by air.
Everything was back to normal. However, the remnance of the Hue's Buddists affair still loomed around. Not long after the month long operation, with numerous positive results, General Do Cao Tri was replaced by General Nguyen Huu Co. General Tri went into exile. I was demoted to the rank of 1st Class and discharged from the Army on discipline ground, together with 1st Infantry Division G2 Head and G4 Head.
Colonel Hieu had received the official mailgram from the Joint General Staff, but chose to keep me in the dark, until a friend of mine, Captain Le Van Khan, General Tran Van Don's attaché privately communicate to me the news. I went to see Colonel Hieu and asked him to help me to be discharged, which was what I wanted.
The reason Colonel Hieu did not break me the news because it did not really concern me: "General Tri had resolved the matter. He had phoned both General Tran Van Don and Tran Thien Khiem. Don't worry. It is only a psychological trick aiming at pleasing those out there, in particular Colonel Nguyen Chanh Thi who was holding the command of 1st Infantry Division." He told me further: "The military service path still lies ahead, even if I help realize your wish, General Tri would not approve it. He is a man with a heart and loyal. Furthermore, if you returned to civilian life, he would loose face and credibility."
One night, General Tri summoned me to his residence to discuss about this matter. He told me he had anticipated all the eventualities. If I don't feel comfortable staying in II Corps, I can go to General Duong Ngoc Lam, his brother-in-law, presently Commander of Regional and Popular Forces, concurrently Mayor of Saigon-Cholon. I thank him for his concern, very much to my liking, since I want to go to Saigon to resume my studies at Saigon Law School. But at the last minute, General Nguyen Huu Co did not allow me to leave the Psychological Warfare Bureau. Fate wanted me to remain attached to the Highlands, and to Colonel Hieu, until he was assigned 22nd Infantry Division under General Vinh Loc, II Corps Commander.
Before General Do Cao Tri left Vietnam for Hong Kong, Colonel Hieu and I bode him farewell at his residence, located at 23 Phung Khac Khoan, Saigon. It was very emotional, and General Tri vowed that we would see one another again. He shook our hand and urged us to serve the country well.
Four years passed rapidly (1965-1969). Suddenly I received news that General Tri, Ambassador of Vietnam to South Korea was summoned back home by President Nguyen Van Thieu, gave him the command of III Corps in replacement of General Le Nguyen Khang. I immediately phoned General Hieu (at the time Brigadier General), 22nd Infantry Division to break him the news. At the other end of the line, General Hieu sounded elated. He inquired about my family, how many children, how have you been doing?
Two months later, General Tri asked the Joint General Staff to transfer me to III Corps General Staff, together with LTC Leu Tho Cuong, II Corps G3 Head. I reported to General Tri. He was very happy; he inquired about II Corps, about his acquaintances and about its situation. He assigned me to the position of Deputy Head of Political Warfare Bureau, in charge of Press Corps, then Head of Psychological Warfare Bureau/Press Corps. There on, I flew daily with him in military operations, in particular in Toan Thang campaign inside Kampuchea.
5th Infantry Division Commander
A few months later, I also got the news General Hieu came down to take over the command of 5th Infantry Division. Thus General Do Cao Tri's promise made when he went into exile four years ago was fulfilled.
One time, General Hieu came from 5th Infantry Division headquarters (Lai Khe) for a meeting at III Corps headquarters. He saw me walking through the flag pole courtyard on my way to the meeting. He had his car stop, and walked by foot with me. That was his personality: simple and cordial.
On February 23, 1971, General Tri died in an accident when his helicopter, after just taking off, tumbled down at the end of Trang Nho (Tay Ninh) airstrip. General Nguyen Van Minh, Capitol Special Zone Commander replaced General Do Cao Tri. General Minh, at the outside, faked respect toward General Tri, calling him "My Master", had General Tri's portrait hung in his office, but in the inside it was totally the opposite. He wanted to chase all officers General Tri had trusted, like General Hieu, Colonel Leu Tho Cuong and me out of III Corps, so that he could brought in his minions isntead. Sooner or later we had to go. General Hieu was replaced by Colonel Le Van Hung. Colonel Leu Tho Cuong, a Regiment Commander of 25th Infantry Division and I, a year later, were sent to attend the Command and General Staff School in Dalat.
The reason it took us longer than General Hieu to go was perhaps General Minh could not find any plausible pretext, in particular in me case. He hinted through some of my friends, through some correspondents I knew in Saigon, that it was better for me to submit a transfer request; I emphatically responded through these intermediaries that since I was drafted into Thu Duc, I had never requested for any position and always let the decision into my superiors' hand. That was why he had to wait until an opening at the Command and General Staff School to get rid of me. There on, I did not have the opportunity to see General Hieu. After my graduation (in August 1972), I went to IV Corps to work under General Nguyen Vinh Nghi, then Nguyen Khoa Nam until the end of the war (April 30, 1975)
The bad news concerning General Hieu (III Corps) came to me in the morning when I was still at my office desk. I was shocked and mourned while thinking of a General Officer with an outstanding personality and exceptional life. Not only military ranking and file personnel in units he had commanded admired him; but one can say that it was the same throughout the entire Army, including civilian public servants in the government of the Second Republic of Vietnam.
He was considered by all, a model in conduct, honesty, virtue, charity, respect toward human beings, love toward comrades in arm, and units, courage in combat and dedication to his country.
Each time I talk about him, I think of him as the type of gentleman idealized by Confucianism; a man made up of good and bad. Manh Tu said "man is born good." Tuan Tu held an opposite opinion: "Man is born bad." But Khong Phu Tu, who traveled all over the world, met and study mankind, thought "Man can better himself by exercising self-discipline." General Hieu, in my opinion, was a man who had learned to discipline himself, to aim high, to appreciate the good and the beauty; and he had succeeded in doing so. He really deserves to be called a hero.

Wealth could not seduce him
Power could not corrupt him.
If General Do Cao Tri, a hero in combat and had been admired by foreign press as the Patton of Vietnam, then General Hieu ought also be considered a hero in the sense that "hero who knew to conquer himself, who succeeded in realizing human qualities that others had failed."

LTC Duong Dien Nghi
(Speech delivered on the book presentation in San Jose on 4.23.2005)