The Patton of the Parrot's Beak
"This guy is crazy," says an American who has known Lieut. General Do Cao Tri for several years. "Even when he wasn't a general he always got right into the fight." In ARVN's bad old days, his combativeness made him an exception. Now that the army is beginning to shape up, he is a symbol of its feisty new spirit. As commander of ARVN's Operation Total Victory, which has involved some of the deepest South Vietnamese air and armor thrusts into the Parrot's Beak and beyond, Tri has waded farther than ever into the shooting. A newsman who joined him on one recent foray was astonished when Tri ordered his helicopter to land virtually in the midst of a skirmish, then ignored vicious Communist rocket and machine-gun fire to walk to a tank and order the reluctant driver to attack. "Go fast, man!" Tri shouted. "Go fast!"
At 40, standing 5 ft. 4 in., Tri cuts a figure that is every bit as dashing as his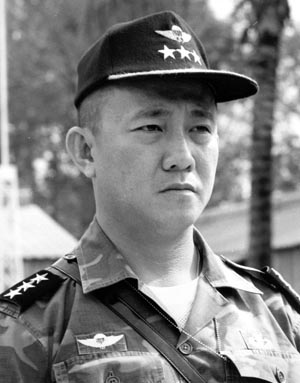 style of command. In addition to his trademark camouflage jungle suit, Tri's combat regalia usually include a black three-starred baseball cap, a snub-nosed Smith & Wesson .38 in a shoulder holster, a leather-covered briar pipe, and a swagger stick carried under the arm. "I use it to spank the Viet Cong," Tri says with a wide grin. -
He revels in his daredevil image, but he is also an obviously bright officer whose unusual nerve has produced some extraordinary exploits both on and off the field. The grandson of a Vietnamese mandarin and son of a wealthy landowner, Tri joined the French army in 1947 and received part of his cadet training in Hanoi. Since he won his first command as a young airborne officer, he has survived three assassination attempts, resulting in his conviction that he is a baraka—a French barracks term for one who enjoys immunity from death on the battlefield.
Many of Tri's early battles were political. He began making a name for himself in the mid-1950s, when he was a young lieutenant colonel commanding a paratroop unit in Saigon. When word came that three top generals were being detained in the presidential palace by one of the factions backing the late President Ngo Dinh Diem, Tri telephoned a brash ultimatum: "Free the generals in one half-hour or I will destroy the palace and everything inside it." One of the rescued generals was Nguyen Van Vy, now South Viet Nam's Defense Minister.
"I love the fight," Tri says. Pursuing the fight on a typical day last week, Tri covered more than 250 miles by helicopter, ranging from his III Corps headquarters at Bien Hoa to the huge Cambodian rubber plantation at Chup. For Tri, the day ended at 6:30 p.m., when he returned to his spacious family villa at Bien Hoa, 15 miles from Saigon, to relax with his wife, his six children and his swimming pool. Next morning at 7:30, he boarded a waiting helicopter with all the aplomb of a commuter headed for another day at the office—except that Tri's office these days is a large swath of disputed Cambodian territory and his day is spent in what he calls "a hunting game between my forces and the Communists."
Time Magazine
Monday, June 08, 1970