Academic Report
US Army Command and General Staff College
Fort Leavenworth, Kansas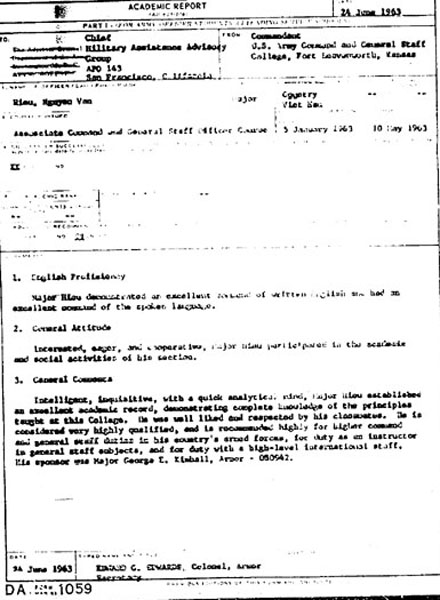 1. English Proficiency

Major Hieu demonstrated an excellent command of written English and had an excellent command of the spoken language.

2. General Attitude

Interested, eager, and cooperative, Major Hieu participated in the academic and social activities of his section.

3. General Comments

Intelligent, inquisitive, with a quick analytical mind, Major Hieu established an excellent academic record, demonstrating complete knowledge of the principles taught at this College. He was well liked and respected by his classmates. He is considered very highly qualified, and is recommended highly for higher command and general staff duties in his country's armed forces, for duty as an instructor in general staff subjects, and for duty with a high-level international staff. His sponsor was Major George E. Kimball, Armor - 080942.