Major General Nguyen Van Hieu
(Portrait of a Competent and Virtuous General)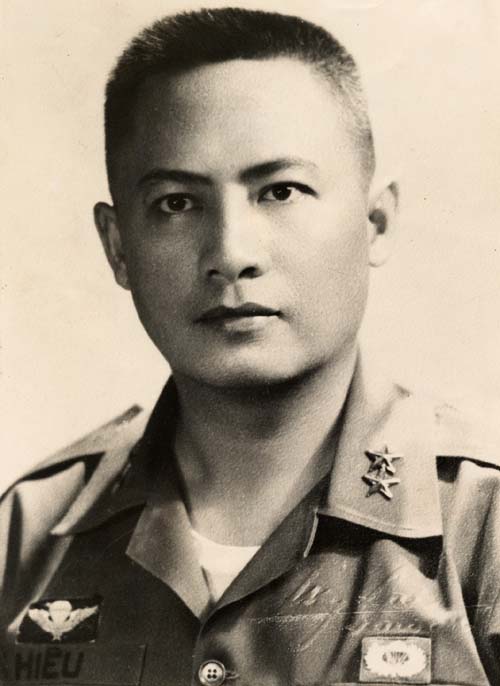 More than 20 years had gone by, reminiscing Major General Nguyen Van Hieu, I cannot repress my strong emotions, nor can I resist from admiring a competent, virtuous General. I don't possess literary writing skills to pay honor to Major General Nguyen Van Hieu, and I would like to record beautiful things I had seen and known about a General perfect in both competency and virtue.
Next to those heroic generals who dedicated their life to the country like Major General Nguyen Van Hieu, naturally there existed a few generals who committed mistakes in partisanship and corruption against the deepest aspiration of the country and the army; and now they could not erase their shameful behavior, because "stones can erode in hundred years, but rumors won't fade after thousand years." I, with 22 years of military service, present the sense of duties of some leaders in history and would not mention the private life of no one in this article. As a soldier, who would not admire competent and virtuous soldiers who sacrifice their whole lives to the country? Not only myself, one could say that even to this day, but the vast majority of ARVN also admire attractive traits of Major General Nguyen Van Hieu.
I have been told, Major General Nguyen Van Hieu was the son of Nguyen Van Huong, an accomplished revolutionary, with a clear-cut anticommunist stance. In 1975, after conquering the South, the Communists forced him into a reeducation camp. He was imprisoned at reeducation camp Ham Tan Z30D. During captivity, he was always unyielding and maintained his patriotic conviction. The wardens obliged him to salute them when crossing their paths, but he firmly stated: those younger than him must greet him first, then he would salute in response afterward. He was intelligent and excellent in foreign languages, in particular, French, English, German, and Chinese. He possessed an exceptional memory; many of us asked him about tough words in English or French, he would give a thorough explanation.
Major General Nguyen Van Hieu, who inherited a good foundation from his father, was one of the best among the elite former military cadets, class 3 of the Dalat Military Academy. His whole life was dedicated to the country and the army. His life was an honest one since the day he was a low-level officer until the day he reached the rank of general. I had the privilege to serve under his command at the 22nd Infantry Division from 1966 to 1968. His only enjoyment in his free-time was to practice pistol shooting. On weekends, he used to invite officers of the general staff to join with him in colt shooting competition. No one was as good as he was.
I remember one day, after work, the driver drove him back to his residence located in Qui Nhon city (the 22nd Division headquarters was located at Ba Gi, 10 km away from the city). When the jeep reached half-way, General Hieu looked back and saw a box of condensed milk cans of the Military Supply Unit. He asked the driver: "whose box of milk cans is this?" The driver replied: "Sir, madam general asked me to buy them for the children." General Hieu remained pensive for a while then asked: "Each month, how many cans does the Military Supply Unit sell to your family?"
"Sir, a soldier is allowed to buy six cans a month." General Hieu said: "Turn the jeep around and drive back to the division headquarters and give the box back to the Military Supply Unit and take only six cans because I am also a soldier just like you."
General Hieu's working style drew admiration and respect from soldiers at all levels at the 22nd Infantry Division, and everybody was proud to serve under his command. Toward those under his command, he was generous, intelligent, nonpartisan, incorruptible, accepting bribery from no one. Toward American and allies units, he commanded extreme respect and admiration for his dedication to the country and the army. In order to defend the sovereignty of the ARVN, General Hieu had to stand up against the American Commanding Lieutenant General of the 1st Field Task Force stationed in Nhatrang, who ordered the 22nd Division to put an infantry regiment commanded by a colonel under the disposition (OPCON) of a captain commander of a district in the Pacification and Development Program. This issue led to a complicated and heated argument, and General Lu Lan, the Commanding General of 2nd Corps, had to step in to mediate both sides.
In 1966, American and allies units disembarked at Qui Nhon. In Binh Dinh Province, there were three divisions: American 1st Cavalry Division in An Khe, Korean Tiger Division in Van Canh, and Vietnamese 22nd Division in Ba Gi. At the early stage, the three Vietnamese, American, and Korean general staffs frequently visited each other.
Major General of the Korean Tiger Division(*) was very arrogant. He considered himself as a competent general because he had graduated from the US Army Command and General Staff College, Fort Leavenworth, Kansas. One day, he visited the 22nd Division. During the conversation, he always prided himself on graduating from that prestigious institution. The Korean Army had very few people capable of attending this college. He asked Major General Hieu how many ARVN officers had undergone this training. Major General Hieu courteously responded: He did not know how many in the ARVN, but in the 22nd Division, himself and Lieutenant Colonel Le Khac Ly, the chief of staff, had graduated from that institution. The Korean Major General of the Tiger Division opened wide his eyes with surprise, and from there on, he started to respect Major General Hieu and his general staff.
Colonel Trinh Tieu
Sacramento, California, May 1995
---
(*) "It was through this working arrangement that one of the major campaigns of the war took place in Binh Dinh Province in September 1966. The Capital Division, commanded by the young and extremely capable General Lew Byong Hion, worked out the details with the commanding general of the 1st Cavalry Division, Major General John Norton, and General Nguyen Van Hieu of the 22d Vietnam Division, with headquarters in Qui Nhon." (www.history.army.mil/books/Vietnam/allied/ch06.htm, p.139)